A couple quick reminders before getting to today's newsletter (with a wonderful project by Teri Calia!): The 40% off Sale on ALL Flower & Leaf Beads and Charms ENDS TOMORROW NIGHT (Monday, March 14th)!
Did you see Design Team Member Shannon Cooper's A Spring Escape Garden last Thursday? It's a beautiful (and tiny: 1:24 scale) garden scene with an arbor (that inspired those sale sections). And see below for the 1:12 version of the arbor, that Teri covered in vines and wisteria!
Note: If you are participating in the Mad, Mad, Mad House Swap, artwork needs to be postmarked by Monday, March 14th (tomorrow).


The Forgotten Garden is a beautiful (and a bit strange) miniature creation by Design Team Emeritus Teri Calia.
Strange as in mysterious, ghostly, weird and perhaps even a little unearthly. If you were to come upon it on a foggy morning, by yourself, out in the middle of the English countryside it may even unnerve you a bit.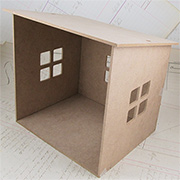 Inspired by The Garden Kit, and Teri's wonderfully, somewhat demented mind she came up with The Forgotten Garden.
Made from the new (and very sturdy!) Wooden Market Stall that is perched upon a 6x7x2 Platform Base. Clever girl that Teri is didn't use the roof for the Market Stall, instead she used 1/4 Inch Square Dowels laid across the top of the stall.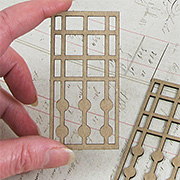 As you approach the back of the building you may find yourself thinking, "Hmm… this place looks pretty dead but the roses certainly look like they're taken care of, even if the climbing vines have been left to grow wild." Being a rose lover, you turn the garden hose (that surprisingly looks quite new) on and give the roses a quick drink.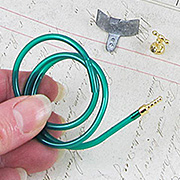 Walking around to the front, aiyeeee! What the hell is that? Is that… a skeleton? How many could be buried around here?
(Aside: I love the dandelion that Teri made… growing out of the skeleton.)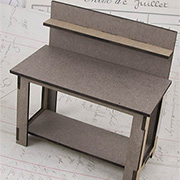 Instead of turning around to run, the Jessica Fletcher in you has to check out the inside. Maybe there's something on the Workshop Table that can give a clue who the maniacal gardener may be!
Walking up the steps, there's an ugly old shovel to your right, and then a bunch of rusted gardening tools as you walk in. Only bottles and boxes, a crate, just rotting gardening supplies it seems.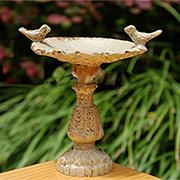 Not finding any clues, you wander over to the arbor (abandoned, too, but populated with some wildlife, and a toppled birdbath and mossy planter) to ponder: who is the keeper of the bones in The Forgotten Garden? You'll have to read Teri's blog to find out more info.
(Psst! Teri's blog post also includes a tutorial on putting together the Workshop Table!)
The Forgotten Garden Supply List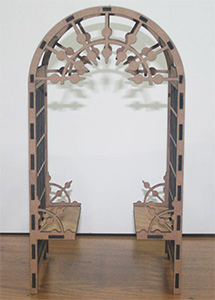 Hooray for the The Forgotten Garden Giveaway!
I picked out a mix of items from Teri's (expansive) The Forgotten Garden supply list to make this sweet Giveaway (psst! that link is to the supply list, with photos and links to all of the goodies Teri used):
– 3 Inch Lattice Shutters
– Arbor Kit – 1:12 Scale
– Cottage Base – 9x9x1
– Dollhouse Birdbath
– Enchanted Garden Pathway Scrapbook Paper
– Leafy Green Underbrush
– Miniature Garden Supplies Collage Sheet
– Set of Miscellaneous Flower Pots
– Resin Straw Hat
To enter The Forgotten Garden Giveaway drawing all you have to do is leave a comment BELOW on this blog post TODAY or TOMORROW (the deadline is 11:59 pm PST, MONDAY NIGHT, March 14, 2016).
AND TO ENTER THE DRAWING, please tell me: What would you make with this Giveaway? A forgotten garden like Teri's? Multiple projects or just one?
Don't forget to leave your (hello! correct) email address, too, so I can contact the winner; your email address does not need to be made public. Note: I'm offering free shipping, too, but only within the USA. International shipping will still apply.
Please be patient! Spammers try to post crap here a lot so comments are moderated. So if you don't see your post in the comments section, be patient and check back in a few hours before re-posting it, please!
After midnight, I'll randomly pick the winner (via Random.org). So make sure to check back to see who won! And check your mailbox on Thursday morning for the next Giveaway and Newsletter!
Hey, who won the More Tiny Flowers Than You Can Shake A Stick At Giveaway? That would be Verna S!
And she replied to my query "Are you going to try your hand at making tiny flowers? If so, how will you use them after they're made? And what kinds of flowers will you make?"
I would love to try my hand at tiny flowers. I would make a pin for my spring sweater. I would probably find A LOT of places for tiny flowers! Thanks for the giveaway.
Congratulations! Check your email for more info.
Posted by Leslie, March 13th, 2016