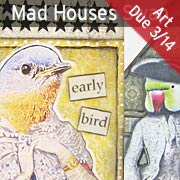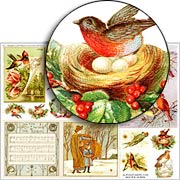 A couple quick reminders before getting to today's newsletter: The 50% off Sale on Birds Collage Sheets ENDS TOMORROW NIGHT (Monday, March 7th)! Yes! A nice, big, fat section, too! From spring birds with nests to winter birds in the snow, or Aesop's Fables, or Four and Twenty Blackbirds… (The Winter Birds Collage Sheet from the sale section is shown at left.)
Next: If you are participating in the Mad, Mad, Mad House Swap, artwork needs to be postmarked by Monday, March 14th (a week from now).

We are very excited to announce that Miz Betsy Skagen has joined the Alpha Stamps Design Team!
"A couple years ago I made a leap and traded in my life as professional writer and graphic designer to follow my passion — altered art and paper crafting. I like to think the design skills forged during my earlier professional years provide a solid foundation for my eclectic crafting style.
I consider myself the impossible and unworthy love child of Tim Holtz, Oprah Winfrey and Jenny Lawson, since I am known for infusing art tutorials with slightly irreverent humor, compassion and a little bit lot of angst. Like many of you, I love collecting vintage stuff — everything from teeny tiny toys to mid-century graphics to anything related to the circus.
I have long used crafting as a sane reprieve from the hectic lifestyle of my ADHD, unicycling, tightrope-walking and counter-surfing family, consisting of husband, son, daughter and two large dogs (you can take your best guess on who does what). We all live in the arctic circle of Minnesota, where long winters allow plenty of time for crafting."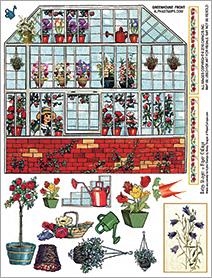 Sounds like she'll be fitting right in, don't you think? Betsy dug right in (pun intended) and was inspired by this month's Garden Theme (mixed up with elements from the Odd Houses Add-On Kit) to create a marvelous Greenhouse (see wide photo below in addition to the one above). Betsy's Greenhouse includes the new Greenhouse Collage Sheet Set and Greenhouse Elements Collage Sheet, both designed by Betsy in case you'd like to create your own. I'm going to let Betsy tell you all about her project:
"For my debut Alpha Stamps project, I created a three-dimensional Greenhouse from two 6.5 inch tall House Oddities Boxes, complete with a mossy roof, wind chimes, iron bridge and gorgeous blue flower urns.
I covered the two House Oddities Boxes with light blue, Provincial Mail and Provincial Cobblestone papers. Then I cut away some of the bricks from the Greenhouse Collage Sheet Set that I designed for this project and layered it over the first set of papers so that crumbling brick would reveal a stone foundation. Now, the true magic literally unfolds when you open the box and discover the accordion-fold buildings inside!
One side of the accordion shows the interior of the greenhouse, where shelves are heaped with just about anything a gardener could want to purchase. Perhaps our miniature shoppers will want some spring bulbs in clay planters, crates full of tiny seed packages or an adorable garden gnome.
Other items to peruse are a crate full of pumpkins, potted roses or a carnivorous plant that looks suspiciously like Audrey from the Little Shop of Horrors.

It could be that the shoppers may need a birdhouse and water fountain complete with running water. Or perhaps they just want some crates of garden fresh fruit and vegetables. After shoppers are done perusing the inside of the greenhouse, they can make their way to the lush grounds on the other side of the accordion assemblage to visit the beautiful gardens!"
Greenhouse Supply List
Visit Betsy's blog for loads of photos, directions to make your own Audrey and a tutorial on how to make Spring bulbs!

Highlights of Today's New Goodies – ALL on Sale! View All

Hooray for the A Greenhouse for Spring Giveaway!
I picked out a mix of items from Betsy's clever project (and a few new items) to make this Giveaway:
– Little Bird House
– Mini Garden Iron Bridge
– Single & Double Lamp Post Set
– Fancy Lamp Post & Sconce Set
– Floral Panels Collage Sheet
– Greenhouse Elements Collage Sheet
– Greenhouse Collage Sheet Set
– Decorative Windows Set 1:24
– House Oddities Box (whew!)
To enter the A Greenhouse for Spring Giveaway drawing all you have to do is leave a comment BELOW on this blog post TODAY or TOMORROW (the deadline is 11:59 pm PST, MONDAY NIGHT, March 7, 2016).
AND TO ENTER THE DRAWING, please tell me: Wow! A greenhouse like Betsy's? Something else using houses, outdoor items (like lamp posts, a bridge, and a birdhouse) — and lots of flowers? What would you make with this Giveaway?
Don't forget to leave your (hello! correct) email address, too, so I can contact the winner; your email address does not need to be made public. Note: I'm offering free shipping, too, but only within the USA. International shipping will still apply.
Please be patient! Spammers try to post crap here a lot so comments are moderated. So if you don't see your post in the comments section, be patient and check back in a few hours before re-posting it, please!
After midnight, I'll randomly pick the winner (via Random.org). So make sure to check back to see who won! And check your mailbox on Thursday morning for the next Giveaway and Newsletter!
Hey, who won the Thistles & Mushrooms Giveaway? That would be Elizabeth H!
And she replied to my query "What will you make with all these items? A wagon like Nichola's? A different project?"
I would make a gypsy wagon. Great choice of items!
Congratulations! Check your email for more info.
Posted by Leslie, March 6th, 2016