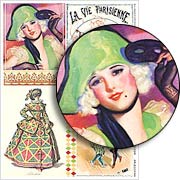 One quick reminder before the beautiful artwork by TWO Design Team Members: The 50% off Sale on Venice/Carnival Collage Sheets ENDS TUESDAY NIGHT February 7, 2016 (Fat Tuesday)!
(The Arlecchina Collage Sheet and Art Deco Valentine Collage Sheet from the sale section are shown at left. And another is included in the Giveaway below.)


As part of her countdown to Valentines Day, Design Team Member Laura Carson has two more beautiful, romantic themed pieces to share.
"I started by covering a piece of chipboard with the Papillon Scrapbook Paper, adding an image from the Juliet Collage Sheet and one of the frames from my Elegant Frames Set Download. Oh, I also printed the frame twice and cut away part of the bottom of the frames (the back of the frame is covered with coordinating cardstock). I love using large frame images to give a piece structure.
Next came the smaller burgundy and white roses to the tag. At the bottom there is a Chipboard Wrought Iron Flourish painted gold, two Dresden white swans rubbed with Inca Gold Gilders Paste and black Swarovski crystals for eyes. The final touch is the red and gold glass heart bead."
Star Crossed Lovers Supply List
For the Queen of Hearts, I used the reverse side of the Papillon Scrapbook Paper, an image from the Juliette Collage Sheet as well as the same frame that I used for the Star Crossed Lovers.
[Psst: the Black & Ivory Harlequin Diamond Scrapbook Paper is a good substitute for the black & white diamond patterned paper used as the background.]
I added half of a chipboard gate (painted gold) to give the piece even more of an architectural feel. Once the gate was on, I glued the image on top of it then started building her heart crown. For the base of the crown, I used one of the crowns from the Natures Crowns Collage Sheet.
Using Heart Stick Pins I added small heart beads and glued the stickpins behind the crown. In the center is a glass heart bead to the stickpin in addition to the small heart bead. The final touch is the Sugared Mini Blooms with acrylic leaves.
Queen of Hearts Supply List
For more detailed instructions and for more photos please visit Artfully Musing.


How amazing is this Gypsy Wagon that Design Team Member Nichola Battilana is so crazy about? Oh the possibilities with this!
"This Gypsy Wagon. It was love at first sight. I swooned. I 'oohed' and 'ahhhed'. Finally, I could resist no longer and had my way with it!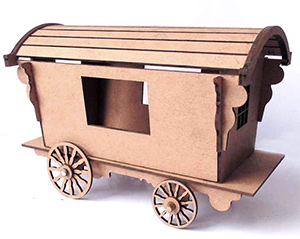 The 4 Panel Windows are a good fit for the side openings and these Victorian Scroll Corners look amazing as decorative elements on the wagon. I've placed a Faux Metal Number Plate on the back… just because I'm smitten with them and use them at every opportunity.
Now for my full-on gushing. There are plenty of opportunities for embellishment with this piece. You could go absolutely bonkers with filigrees, frills and decorations. You could lose yourself in colour and trims. Really, this is one of those projects to pull out that 'something special' that you've been saving for just the right time. It's a crafty splurge! AND… don't forget the insides! Even with the roof fixed into place it's fun to peek through the windows and see what the little people have been up to.
Gypsy Wagon Supply List
Visit Pixie Hill to see more pictures, as well as TWO videos; one for the wagon assembly and one to walk you through how Nichola decorated her wagon.

New Collage Supplies – All on Sale!

Hooray for the Gypsy Lover Giveaway!
Wow! This is a great little Giveaway, with a few bits from all 3 projects shown today:
– Gypsy Wagon Kit
– Gypsy Fortune Teller #1 Collage Sheet
– 10mm Clear Glass Marbles
– 2 Sets of Chipboard Gates
– Colorful Heart Stick Pins
– Natures Crowns Collage Sheet
– Juliet Collage Sheet
– Large Red/Gold Glass Heart Bead
– Tick Tock Collage Sheet

PLUS (not shown in the photos at right) I'm including:
– Clown Valentines Collage Sheet (shown below — one of the collage sheets on sale!)

To enter the Gypsy Lover Giveaway drawing all you have to do is leave a comment BELOW on this blog post TODAY or TOMORROW (the deadline is 11:59 pm PST, MONDAY NIGHT, February 8, 2016).
AND TO ENTER THE DRAWING, please tell me: What would you make by mixing up all of the items in this Giveaway? (Can't wait to hear your ideas!)
Don't forget to leave your (hello! correct) email address, too, so I can contact the winner; your email address does not need to be made public. Note: I'm offering free shipping, too, but only within the USA. International shipping will still apply.
Please be patient! Spammers try to post crap here a lot so comments are moderated. So if you don't see your post in the comments section, be patient and check back in a few hours before re-posting it, please!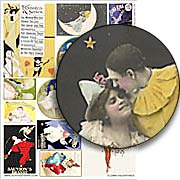 After midnight, I'll randomly pick the winner (via Random.org). So make sure to check back to see who won! And check your mailbox on Thursday morning for the next Giveaway and Newsletter!
Hey, who won the Regency Traveling Theatre Giveaway? That would be Brenda Moehlig!
And she replied to my query 'What kind of travelling theatre would you make?"
Wow, I see Magicians Studio and Traveling trunk show written all over this. What mysteries would lie in wait to be unpacked in such a magical playground. Wishing you all Queen of Hearts Luck.
Congratulations! Check your email for more info.
Posted by Leslie, February 7th, 2016