Note: most of the links on this post no longer work, as we moved to a new Web site in 2018. But you can try searching on the same names (as links below) on the new site.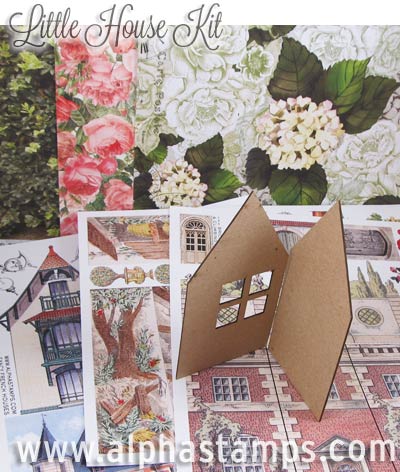 The theme for February's kit is Little Houses. This is the more floral/colorful kit of the two being announced for February (the Add-On Kit: Odd Houses has coordinating papers, collage sheets and more houses, but the scrapbook papers are more like building materials or wallpaper prints).
And there's a swap this month, too! The Mad, Mad, Mad House Swap. Both kits include images perfect for the houses in the swap.
Update: See the swap prize winner here!
Back to what is in this first kit, there are THREE new collage sheets!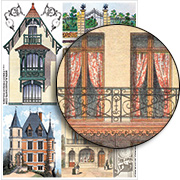 – Fancy French Houses Collage Sheet (3 houses that can cover the entire side of one of wider houses from the House Oddities Box (or the houses in this kit). Plus pediments sized to fit the width of the same wide houses, and extra bits like a wrought iron fence, large wrought iron window grille, and a set of Art Nouveau lamps.)
– Brick, Arches & Climbing Roses Collage Sheet (This one wandered around awhile before settling, but I like how it turned out. The 3 panels of a brick building in lower left fit the narrow houses in the House Oddities Box. Also includes a wide fence with wrought iron gate, and lots of options for arch-shaped doors (and climbing roses).)
– Rustic Trees & Foliage Collage Sheet (Silhouetted potted plants, a bench with a shrub, a tree, and a rooster (plus some tall panels of country cottages and bee skeps).)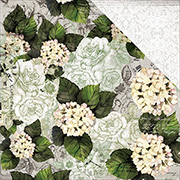 This kit also includes THREE 12″ x 12″ scrapbook paper (A mix of papers from the new Provincial Collection with some Springy pink roses.)
And finally, a sweet little set of chipboard houses (that could be used with the House Oddities Box — in the add-on kit or sold separately). And even used alone they can be hinged together to make a cute little house-shaped card all by themselves.
More info, photos and artwork are on the Little House Kit page.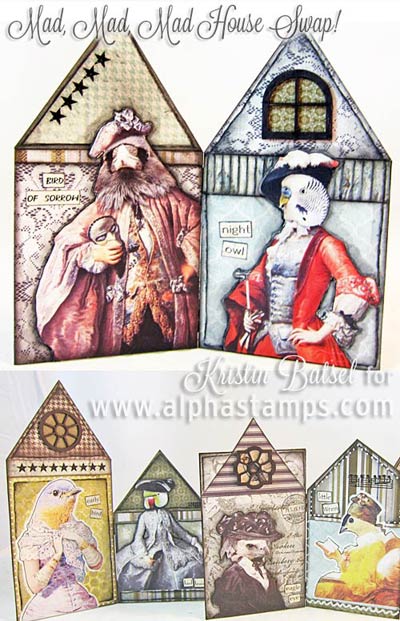 Next up, the Odd Houses Add-On Kit! (I know, I know… we're surrounded by adorable artwork for the swap. But both samples are made with the House Oddities Box (that is part of the Add-On Kit)!
This kit contains:
– New! House Oddities Box (A box with a door on the front cover (with cut-out panels in case you want to replace them with faux stained glass) and inside a set of 7 house shapes! Each house shape has a different silhouette (so that you'll be able to catch a peek of the houses behind the first one when you open the "cover" (door) of your box).)
3 collage sheets:
– New! Oddities Box Doors and Windows Collage Sheet (Large images sized for the front and both sides of the House Oddities Box. Includes multiple sizes of flowers in pots that can be used in window boxes or sitting in front of the front door. Note: the front door image on this sheet will cover the entire chipboard door of the House Oddities Box.)
– New! Window Frames & Shutters Collage Sheet (Windows, shutters, some ivy to go around a window (and a few Spring birds). All sized to fit the houses in the House Oddities Box (or any other small project needing windows).)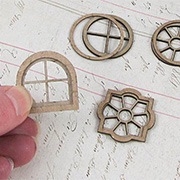 – Mini Old Windows & Doors Collage Sheet (Designed by Laura Carson for last Fall's Mini Haunted House Chipboard Set, but fit the houses in this kit, too.)
This kit also includes THREE 12″ x 12″ scrapbook paper from the new Provincial Collection. More industrial prints (like building materials or wallpaper prints) than the more floral prints in the Little House Kit. I'm kind of in love with that cobblestone pattern…
And finally, Decorative Windows Set 1:24! Adorable little windows, each about 1″ wide (4 shapes and each has a matching frame to give it dimension, so 8 pieces).
More info, photos and artwork are on the Odd Houses Add-On Kit.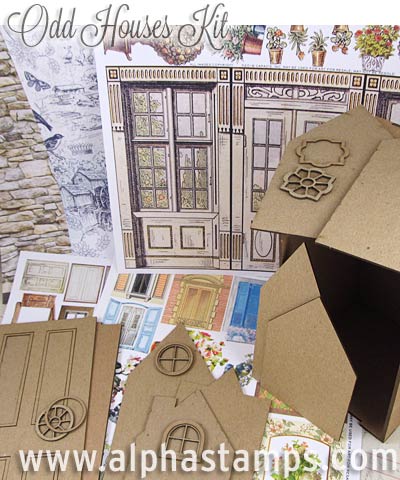 Hooray for the February Kits Giveaway!
No surprise here! Today's Giveaway is… BOTH NEW KITS!
– Little House Kit
– Odd Houses Add-On Kit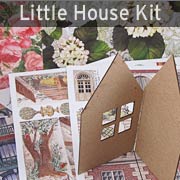 To enter the February Kits Giveaway drawing all you have to do is leave a comment BELOW on this blog post TODAY or TOMORROW (the deadline is 11:59 pm PST, MONDAY NIGHT, February 1, 2016).
AND TO ENTER THE DRAWING, please tell me: Are you joining the swap? And even if you're not able to, what crazy houses would you make with this Giveaway?
Don't forget to leave your (hello! correct) email address, too, so I can contact the winner; your email address does not need to be made public. Note: I'm offering free shipping, too, but only within the USA. International shipping will still apply.
Please be patient! Spammers try to post crap here a lot so comments are moderated. So if you don't see your post in the comments section, be patient and check back in a few hours before re-posting it, please!
After midnight, I'll randomly pick the winner (via Random.org). So make sure to check back to see who won! And check your mailbox on Thursday morning for the next Giveaway and Newsletter!
Hey, who won the Petite Pink Villa Giveaway? That would be Stacia!
And she replied to my query "Dollhouse Scales… which is your favorite? 1:12? (The bulk of the dollhouse miniatures we carry.) 1:24? (Like the half scale furniture in Nichola's artwork today.) 1:48? (Remember that cute White Rabbit's Hutch that Teri Calia made with 1:48 scale furniture inside a Miniature China Cabinet?)"
1/12 is easier to work with, but 1/24 makes finished scenes small enough to display… Yeah, I can't decide.
Congratulations! Check your email for more info.
Posted by Leslie, January 31st, 2016