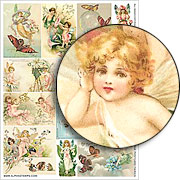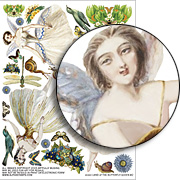 I can't really think of Nichola's creations without thinking of fairies. And even though there are no fairies in evidence in today's artwork (though the piece is small enough that fairies could reside there), I have put ALL Fairies Collage Sheets on sale! (The Vintage Postcard Fairies Collage Sheet and Land of the Butterfly Queen #2 Collage Sheet from the sale section are shown at left. Now I'm handing this intro off the Miz Bella!


A Petite Pink Villa from the Queen of Miniatures, Design Team Member Nichola Battilana!
Before I have Nichola tell you about her project, I'll let you know what the base of the Petite Pink Villa is. To start her project, Nichola took a Frame Front Room Box and added a Theatre Francais Facade to the top of it.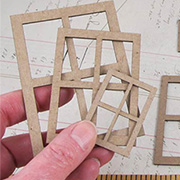 I'm sorry, what did you say? You didn't know that the Frame Front Room Box came with windows? Well…it doesn't! Nichola had her fairies busy, busy cutting holes on the side and back of the box so that she could put in Rectangular Windows! Don't they look fabulous and give a sense of airiness inside the villa?
"The Petite Pink Villa was inspired by this month's Amour Kit. Inside, you'll find a sweet little scenario of shared tea, crumbs and honey.
The table and chairs, as well as the china cabinet are made of chipboard, 1:24 scale, and assemble quite easily. I've kept them simple with a coat of paint and a snip of paper, but I'm certain with a bit of ingenuity they would provide a solid base if you wanted to be a bit more elaborate. Tiny cushions on those seats would be absolutely darling.
Can we talk about that Green Pumpkin Teapot for a second?! There are a number of those little veggie/fruit teapots at Alpha Stamps and I think they are freaking adorable.
Before we go upstairs, grab a tiny book from the bookcase and let's head up the wee ladder. It's so cute up here that my camera is jealous and refusing to show just how sweet it is. (What a jerk.) ANYWAY… there's a little bed for getting cozy, maybe reading a book, maybe do a bit of romantic snuggling *wink wink*, or just for having sweet dreams. And let's not forget that Gold Candleholder to read by."
A Petite Pink Villa Supply List
Head over to Pixie Hill for more pictures, and to find out how Nichola used a Stone Wall Texture Sheet to create the stunning exterior of the Petite Pink Villa.
Note: all the new 1:24 scale dollhouse furniture also have larger 1:12 scale versions. Links to the larger versions are on the smaller 1:24 pages.

Posted by Leslie, January 28th, 2016