I hope all of you who live on the east coast are safe and warm… that snowstorm looks like a doozy.
One quick reminder before the beautiful Marie Antoinette artwork by Tristan: The Standing Couples Gift Sheet announced in last Thursday's Newsletter is still on offer! FREE for all orders, regardless of order size (ENDS MONDAY NIGHT, January 25th)! If you place an all-digital order, I'll send you the Gift Sheet as a pdf file.
See Rhonda's artwork in Thursday's Newsletter (and a snippet at right) for her Jungle Love Theatre (that was my inspiration).
AND the related Mother Goose Collage Sheets 50% off Sale also ENDS MONDAY NIGHT! Even though that sounds like "just" a children's illustrations section, there are lots of Queen of Hearts collage sheets in the Mother Goose Collage Sheet section. Which makes them perfect for either a Valentine's Day or Alice in Wonderland project.



Design Team Member and Marie Antoinette Aficionado, Tristan Robin Blakeman, has a gorgeous theatre he's going to tell you about.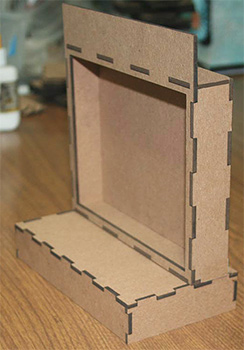 "This structure was begun with one of Alpha Stamps most versatile shadowboxes: the Square Shrine Shadowbox. Turned one way you get a wonderful little room or theatre with a 'header — turned upside down you get a charming little coach blank; add wheels and away you ride!
I also added three of the WONDERFUL miniature Victorian Coach Lamps across the back; a little luxurious perhaps – but I think Marie and her theatre are worth it! Besides the various metal findings and filigrees used, I found that Flower Soft was the perfect touch to add a bit of texture to the stage prop topiaries.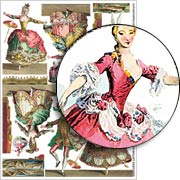 The stage Marie and the large Marie are 2 images that started as the same size (both from the French Ballet Costumes Collage Sheet); just printed at different percentages. The side panels with the columns and guards were cut from a collage sheet and added "wing style" to the sides of the theatre. From the front they look like they're part of the architecture; when actually they are just deceiving to the eye!"
Marie Opera Comique Theatre Supply List
For more details (like what percentages to print the Marie images at!) and photos, head on over to Tristan's blog.
And check out the Giveaway that Leslie pulled, below, for pretty much all the items to create your own version of Tristan's artwork!


Hooray for the Marie Opera Comique Theatre Giveaway!
I pulled a set of ALL the items from Tristan's Marie Antoinette Opera Comique Theatre supply list! (Just click on that supply list link to see all of the items with links to purchase.) And since we all know that Marie has a sweet tooth, I also included one of the new Glass Jar with Cookies!

PLUS (not shown in the photos at right) I'm including:
– that Standing Couples Gift Sheet (this is the FREE gift with order sheet)
and
– a yard of Iridescent Plastic Pearls (Strands) — not exactly the pearls Tristan used, but these will work just fine
and
– My Pretty Maid Collage Sheet and My Ladys Garden Collage Sheet (both shown below — these are some of the collage sheets on sale at 50% off through tomorrow!)

To enter the Marie Opera Comique Theatre Giveaway drawing all you have to do is leave a comment BELOW on this blog post TODAY or TOMORROW (the deadline is 11:59 pm PST, MONDAY NIGHT, January 25, 2016).
AND TO ENTER THE DRAWING, please tell me: What will you make with the Square Shrine Shadowbox? Are you game for a Marie Antoinette theatre?
Don't forget to leave your (hello! correct) email address, too, so I can contact the winner; your email address does not need to be made public. Note: I'm offering free shipping, too, but only within the USA. International shipping will still apply.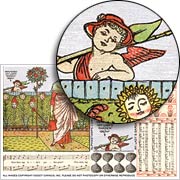 Please be patient! Spammers try to post crap here a lot so comments are moderated. So if you don't see your post in the comments section, be patient and check back in a few hours before re-posting it, please!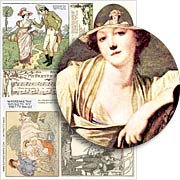 After midnight, I'll randomly pick the winner (via Random.org). So make sure to check back to see who won! And check your mailbox on Thursday morning for the next Giveaway and Newsletter!
Hey, who won the Love Paris Theatre Giveaway? That would be Emily Ann!
And she replied to my query 'What creative project would you make using ALL of the items in the Giveaway? Maybe just all 9 of the items in that grid? Would you make a theatre like one of Rhonda's? Something different?"
I'd make a can-can dancer collage.
Congratulations! Check your email for more info.
Posted by Leslie, January 24th, 2016