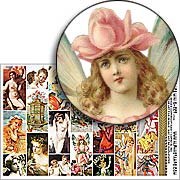 A quick reminder: The Pendants Gift Sheet announced in last Thursday's Newsletter is still on offer! FREE for all orders, regardless of order size (ENDS MONDAY NIGHT (January 18th))! If you place an all-digital order, I'll send you the Gift Sheet as a pdf file.
A preview is at left. From Alice in Wonderland to Valentine's Day cherubs to Pre-Raphaelite babes, all of these images are sized for inchies, slides or round cabochon settings.
See Caroline's artwork in Thursday's Newsletter for her use of oval cabochon settings as footlights (that was my inspiration).
AND the related Pendants & Ornaments Collage Sheets 50% off Sale also ENDS MONDAY NIGHT! That sample from the sale at right is the Fairy Inchies Mini Sheet. Now I'm handing this intro off the Miz Bella!


You're in for a treat (pun intended) today! Design Team Emeritus Teri Calia has worked out yet another miniature wonder, Maison de l'Amour Market Stall.
The first thing I want to show you is the actual Chipboard Market Stall – it's a flat, laser-cut chipboard set to put together that's a 1:12 scale stall. The Market Stall has a nice big window (with a shelf under it to show off your wares) and doors on either end to let in some light. Or you can paper over one (or both) of the doorways (like Teri did in her artwork).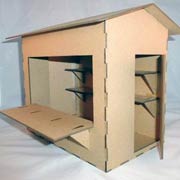 Teri started out by covering the Market Stall with the Amour Paper Collection that gives it a nice, bold palette of red, black and white. (Psst! Those nice, big 12″ x 12″ prints that Teri used are in the Amour Add-On Kit — and it's just been put On Sale!) Then she filled it up with all sorts fun treats. If you look inside on the top shelf, there are assorted candies (or are they candied fruits?) in over-the-top adorable Pink and Red Candy Dishes. By the way, the candy dishes are reproduction Depression Glass! You know they're already in my cart to order, oh yes they are.
Oh, you'd rather have a piece of cake? Well check out the confection on the Cake Platter and cut yourself a piece! Be sure to use one of the Pink Dishes with the little edge details, and grab a Goblet for some sweet tea while you're at it. Don't forget to grab a couple of cookies (diet schmiet) from that tiny Cookie Tin on the counter. Whatever you decide on, don't walk off with the Bichon!

I know you're checking everything out and trying to take it all in. The '50s valentines on the second shelf, shopping bags on the top shelf, candy boxes and heart-shaped candy boxes on the counter, and you're wishing that you had some of those for yourself. Guess what? Teri has created the Tiny Little Valentine's Collage Sheet that has all of those items on it so you can make your very own!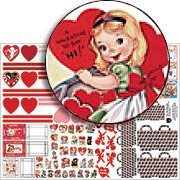 AND Teri has also provided a Snapguide for How to Make a Dollhouse Miniature Valentine Candy Box!
Here's the Maison de l'Amour Market Stall Supply List for even more red and pink goodies!
And check out Teri's blog post for more photos and her inspiration.
And check out the Giveaway that Leslie pulled, below, for pretty much all the items to create your own version of Teri's artwork!


Hooray for the Valentine Market Stall Giveaway!
I picked out a mix of items from Teri's Maison de l'Amour Market Stall supply list to make this sweet Giveaway (psst! that link is to the supply list, with photos and links to all of these products):
– Tiny Little Valentines Collage Sheet
– Teeny Tiny Tin Labels Collage Sheet
– Mini Chipboard Crest Signs
– Miniature Round Cookie Tins
– Chipboard Market Stall
– Metallic Gold Tassel
– Polymer Clay Black & White Cane
– Miniature Bichon Frise Dog
– Amour Add-On Kit (Note: This kit includes those tiny little pink, red, cream & black ribbons that Teri used to adorn her candy boxes! And it's On Sale!)

PLUS (not shown in the photos at right) I'm including:
– that Pendants Gift Sheet (this is the FREE gift with order sheet)
– the Little Household Goods Collage Sheet (shown below — so you'll have even more images for the Miniature Round Cookie Tin)

To enter the Valentine Market Stall Giveaway drawing all you have to do is leave a comment BELOW on this blog post TODAY or TOMORROW (the deadline is 11:59 pm PST, MONDAY NIGHT, January 18, 2016).
AND TO ENTER THE DRAWING, please tell me: What will you make with the Chipboard Market Stall?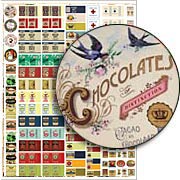 Don't forget to leave your (hello! correct) email address, too, so I can contact the winner; your email address does not need to be made public. Note: I'm offering free shipping, too, but only within the USA. International shipping will still apply.
Please be patient! Spammers try to post crap here a lot so comments are moderated. So if you don't see your post in the comments section, be patient and check back in a few hours before re-posting it, please!
After midnight, I'll randomly pick the winner (via Random.org). So make sure to check back to see who won! And check your mailbox on Thursday morning for the next Giveaway and Newsletter!
Hey, who won the Moulin Dude Theatre Giveaway? That would be Jennifer Pospichal!
And she replied to my query 'What creative project would you make using ALL of the items in the Giveaway? Would you make a theatre like Caroline's? Something different?"
The theatre is wonderful. I'd love to use the items in this batch for a theater of my own individual design. I might like something with a Carnival flair, as that's timely right now.
Congratulations! Check your email for more info.
Posted by Leslie, January 17th, 2016