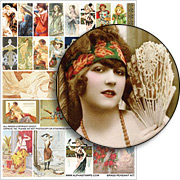 A quick reminder: The Gift Tag Collage Sheet announced in last Thursday's Newsletter is still on offer! FREE for all orders, regardless of order size (ENDS TODAY)! If you place an all-digital order, I'll send you the Gift Sheet as a pdf file.
See Laura's artwork in Thursday's Newsletter for some cute Valentine Cutie Tags using the gift tags as a base. This versatile sheet contains 12 blank tags (in two sizes) that can be used for any occasion.
AND the related Valentines & Romance Collage Sheets 50% off Sale also ENDS TODAY! That sample from the sale at right is the Brass Pendant Kit Collage Sheet.


Design Team Member Nichola Battilana presents a Fairy Godmother Travelling Sales Wagon that makes you want to put yourself into a shrinky-dink machine so you can hawk magical wares.
"There's a special place in my heart for fairy godmothers. Those fluttery, frilly, silly ladies make me positively giddy. I've often wondered where they get their godmotherly supplies from. Is there a shop? A fancy boutique? A travelling salesman!
And so this month I've created a tiny travelling sales wagon with magical and glittery godmother paraphernalia. The base is a Square Shrine Shadowbox to which I have added Tiny Fancy Wheels. I've also added Floral and Lace Border Strips for some flourish and a (New!) Mini Chipboard Crest heralds potential customers to the godmotherly goods.
Inside the wagon, all manner of items required for godmotherly duties. Fairy dust (in an adorable 2 Inch Glass Bottle), candy, pumpkins to turn into carriages; as well as Absinthe and stout to whet the pallet!"
Other themes that would be awesome in the "wagon" are Steampunk, a travelling bakery, quack medicine, or how about a travelling bar?
Oh! And those new miniature glass bottles (see pics below) would be fab inside a travelling wagon!
Fairy Godmother Travelling Sales Wagon Supply List
And check out the Giveaway that Leslie pulled, below, for pretty much all the items to create your own version of Nichola's artwork!

New Collage Supplies & Highlights – ALL on Sale!

Hooray for the Fairy Godmother Wagon Giveaway!
I picked out a mix of items from Nichola's Fairy Godmother Travelling Sales Wagon supply list to make this sweet Giveaway (psst! that link is to the supply list, with photos and links to all of these products):
– Square Shrine Shadowbox
– Mini Chipboard Crest Signs
– Chipboard Border Strips – Floral
– Tiny Fancy Wheels Set
– Fairy Dust Collage Sheet
– Fairy Wings Collage Sheet
– Miniature Wine Bottles
– 12 Tiny Glass Bottles
– Pumpkin Pods

To enter the Fairy Godmother Wagon Giveaway drawing all you have to do is leave a comment on this blog post TODAY or TOMORROW (the deadline is 11:59 pm PST, MONDAY NIGHT, January 11, 2016).
AND TO ENTER THE DRAWING, please tell me: What kind of wagon would you make with the Square Shrine Shadowbox? And note that Kristin Batsel used the same shadowbox in her Zebra Circus Wagon last week (but she turned the shadowbox upside-down)!
Don't forget to leave your (hello! correct) email address, too, so I can contact the winner; your email address does not need to be made public. Note: I'm offering free shipping, too, but only within the USA. International shipping will still apply.
Please be patient! Spammers try to post crap here a lot so comments are moderated. So if you don't see your post in the comments section, be patient and check back in a few hours before re-posting it, please!
After midnight, I'll randomly pick the winner (via Random.org). So make sure to check back to see who won! And check your mailbox on Thursday morning for the next Giveaway and Newsletter!
Hey, who won the Victorian Valentine Tag Giveaway? That would be DebR!
And she replied to my query 'What creative project (that's not a Valentine tag) would you make using all 9 of the items from today's Giveaway?"
Beautiful tags by Laura and a great giveaway! I'd use the items to embellish a mini album for my hubby of pics of us together to give to him for Valentine's Day.
Congratulations! Check your email for more info.
And please remember: Our offices were closed for 10 days. Please be patient while we catch up. If you have an urgent issue, please contact customer service. Thanks.

Posted by Leslie, January 10th, 2016