The theme for January's kit is Amour (Valentine Paper Theatres). Although the scrapbook papers in this kit were made for Valentine's Day, with their bold graphics (and French themed icons), I think they'll be useful far beyond February 14th.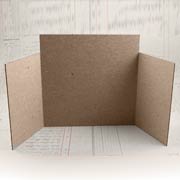 Note: I'm trying something new this month and have made FOUR smaller kits (the main kit plus THREE add-on kits):
– Amour Add-On Kit
– Cirque Facade Theatre Add-On Kit
– Theatre Francais Facade Add-On Kit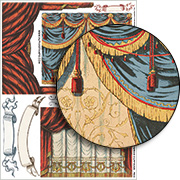 Back to what is in this kit, let's start with an item that's back in stock after a long while: Square Shrine – Gatefold. It's made of 3 pieces of sturdy chipboard, made to be "hinged" together (just with paper tape… or metal hinges if you're ambitious) to make a simple shrine. There are many collage sheets with images sized to fit this little shrine, and THREE new ones are in this kit:
– Square Shadowbox Curtains – Red Collage Sheet
– Gatefold Square Shrine Curtains Collage Sheet
– Gatefold Shrine B&W Elements Collage Sheet

Check out that adorable House of Alice Theatre by Shannon Cooper! It is such a creative piece (creative for the recipient, too, as it has multiple scenes that can be dropped into the theatre through a slot Shannon left open in the top).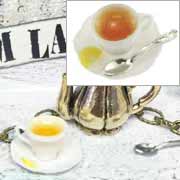 And i love that there's a tiny teacup in place of a rose in the bouquet on the header. Here's a link to Shannon's Supply List. And read more (and see more photos) on her blog.
Note: There are photos of paper theatres by THREE Design Team Members in the Gallery (and more will be added during January). Be sure to read the other two posts, too:
– Kristin Batsel's Zebra Circus Wagon (that clever girl used the new Square Shrine Shadowbox upside down so the header is a base for the wheels). And here's Kristin's Supply List.
– Tristan Robin Blakeman's Miniature Faerie Theatre (such a lovely piece that I built the Theatre Francais Facade Add-On Kit around Tristan's supply list!)
Preview pics are below but all 3 projects today are spectacular!

Posted by Leslie, January 3rd, 2016