Note: most of the links on this post no longer work, as we moved to a new Web site in 2018. But you can try searching on the same names (as links below) on the new site.
It's day SEVEN (the FINAL DAY) of this week of While the Cat's Away Giveaways!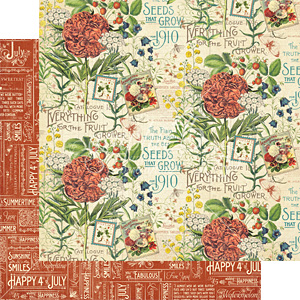 And today's theme is Paper Flowers & Leaves!
And a bonus: I forgot the Time To Flourish Papers during yesterday's scrapbook paper sale. But they are filled with pictures of posies, so it works out well to put them on sale today… And I've put these papers on sale at 50% off!
Yes, it's that time of year… it is cold, cold outside (at least on this coast!) and it may not be cold and grey but I could still use some hope of Spring. So, EVERYTHING in the Paper Flowers & Leaves section is on sale at 40% off today! That's a HUGE section (149 items)! Check below in the Giveaway section for some colorful picks.
And the winner of yesterday's Refill Your Paper Stash for 2016 Giveaway is Denise Bryant! Check your email for info about your prize package!


Hooray! A Pretty Posies Giveaway!
Color! I went looking for some colorful options in today's sale sections! Plus I threw in a couple floral collage sheets (that were already on sale) to round out the palette.
So here goes naming those photos:
– Time To Flourish – February Flourish Scrapbook Paper
– Petite Teastained Purple Pansies and Leaves
– Teastained Dahlias – Shabby Beige
– Mulberry Mini Flower Mix – Teastained Teal
– Vintage Velvet Hydrangea Picks – Sage
– Darjeeling Mini Pearl Daisies – Red Raspberry
– Botanica Sugared Mini Blooms – Teal
– Bouquets Collage Sheet
– Seed Catalog ATCs Collage Sheet

Reminder: Here's how these While the Cat's Away DAILY Sales and Giveaways will work: I've gathered items around a theme and put together a Giveaway Kit that will be awarded to one lucky person.
To enter the Pretty Posies Giveaway drawing all you have to do is leave a comment BELOW on this blog post TODAY (the deadline is 11:59 pm PST, TONIGHT, January 1, 2016).
Don't forget to leave your (hello! correct) email address, too, so I can contact the winner; your email address does not need to be made public. Note: I'm offering free shipping, too, but only within the USA. International shipping will still apply.
Please be patient! Spammers try to post crap here a lot so comments are moderated. So if you don't see your post in the comments section, be patient and check back in a few hours before re-posting it, please!
After midnight I'll randomly pick the previous day's winner. So check your mailbox on Sunday morning to see who won and for the next Giveaway and Newsletter! (And a hint: It's a big newsletter with the January kit announcement!)
More info on the Holiday Closure & Giveaway Rules (including how you can get entered twice in each day's drawing).
And please remember: Our offices are now closed. The whole "While the Cat's Away" theme is 'cause I'm the only one here! For more info about shipping (which will start when the staff are all back on 1/4/16) and the sale in general, please see the While the Cat's Away…" Daily Giveaways: Year 8! overview page.
A final note: Even though our offices are closed, orders for DIGITAL Collage Sheets and Digital Images are still fulfilled in real time!

Posted by Leslie, January 1st, 2016