It's day THREE of this week of While the Cat's Away Giveaways!
And today's theme is Miniature Cookie Tins!
Oh my! Look at those adorable (tiny!) things at right (by that goddess of tiny things, Nichola Battilana)!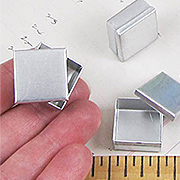 Today's little foray into cuteness started with the Miniature Square Cookie Tins that Teri Calia brought to my attention. I immediately thought of the need for cookie labels, but both Teri and Nichola have made collage sheets with labels to fit the tins (and their sister Miniature Round Cookie Tins) for all kinds of products: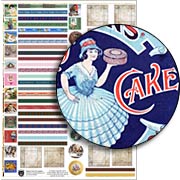 Absinthe, chocolate, cookies, crackers, jam, a variety of fairy-sized beer labels (yes, Nichola's collage sheet includes labels to fit more tiny bottles and cans, too), soap, spices, food stuff, motor oil, tea, coffee and canned fruit, veg, treacle and more.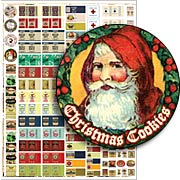 See the 'We Also Recommend' section at the bottom of the Little Household Goods Collage Sheet page for all the little dollhouse cans and bottles that Nichola's collage sheet labels fit.
Check out Nichola's blog for more info about her Fairy First Aid Kit.
And in honor of the goodies, ALL Miniatures for Kitchen & Sewing are On Sale at 20% off today!
And before I forget: The winner of yesterday's Chrysnbon Kits Giveaway is Rosemarie Grant! Check your email for info about your prize package!


Hooray! A Tiny Cakes & Cookies Giveaway! In addition to both of the new collage sheets (and one of the new Square Cookie Tins), I added these cakey items:
– Large Cake Rubber Stamp (already on sale, as ALL Alpha Stamps Rubber Stamps are on 35% off!)
– Mini Cake Stand Kit (part of today's sale!)
– Miniature Coffee Cup and Spoon (part of today's sale!)
– Ceramic Cupcake Bead
– Miniature Gingerbread Cookies (part of today's sale!)
– Mini Strawberry Cake

Reminder: Here's how these While the Cat's Away DAILY Sales and Giveaways will work: I've gathered items around a theme and put together a Giveaway Kit that will be awarded to one lucky person.
To enter the Tiny Cakes & Cookies Giveaway drawing all you have to do is leave a comment BELOW on this blog post TODAY (the deadline is 11:59 pm PST, TONIGHT, December 28, 2015).
Don't forget to leave your (hello! correct) email address, too, so I can contact the winner; your email address does not need to be made public. Note: I'm offering free shipping, too, but only within the USA. International shipping will still apply.
Please be patient! Spammers try to post crap here a lot so comments are moderated. So if you don't see your post in the comments section, be patient and check back in a few hours before re-posting it, please!
After midnight I'll randomly pick the previous day's winner. So make sure to check back tomorrow to see who won and to see what's on offer for Day 4 of the Sales & Giveaways!
More info on the Holiday Closure & Giveaway Rules (including how you can get entered twice in each day's drawing).
And please remember: Our offices are now closed. The whole "While the Cat's Away" theme is 'cause I'm the only one here! For more info about shipping (which will start when the staff are all back on 1/4/16) and the sale in general, please see the While the Cat's Away…" Daily Giveaways: Year 8! overview page.
A final note: Even though our offices are closed, orders for DIGITAL Collage Sheets and Digital Images are still fulfilled in real time!
Posted by Leslie, December 28th, 2015