Note: most of the links on this post no longer work, as we moved to a new Web site in 2018. But you can try searching on the same names (as links below) on the new site.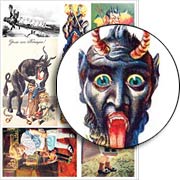 Yes, yes, less than a week till Christmas! And also just a coupla days before the longest night of the year (21st this year… well, depends where you are). So I greatly appreciate Lora's artwork today! Yes, I love Christmas but having a contrasting project just feels like a relief right about now.

A couple quick announcements:

First: a reminder that the 33% Off Sale on Christmas Collage Sheets has been extended through Christmas Eve! (That includes that Krampus Sheet shown at left.) There's still time to download some digital images or collage sheets for making last-minute gifts. AND I recently added the Angels and Saints Collage Sheets to the sale, too!

Next: yes, it's that time again: While the Cat's Away… More info


Design Team Member Lora Mahaffey has put together the most marvelous Krampus Sleigh. Aaah Krampus. That delightful sidekick to old St. Nicholas who doles out punishments instead of toys to naughty little girls and boys!
"This is kind of what I picture him riding around in. Kind of the anti-Santa's sleigh…all dark and sooty with horns that he shed from the previous year mounted on the back of his great big chair, his sack-o-children and birch branches tossed in the back.
The project was pretty straightforward. First I assembled the Chipboard Sleigh – Tabletop all but the outer sleigh railings which I set aside. I painted everything black, including the outer railings, let it dry completely, and then cut and fitted my red paper. You can use any paper you like…I just liked the sooty quality of the red paper. It sort of looks like a cast-off Santa sleigh to me. I glued the paper on and let it dry. Alpha Stamps doesn't carry the paper that I used, but the Red Music Paper is a good alternative.
I painted the brass filigree on the front of the sleigh and then pieces of the Arch Top Reliquary black. Glued my paper on the back piece of the reliquary and then glued the reliquary frame over it."
Grab your bag of birch branches and beat your way over to Lora's blog; there are more pictures and Lora tells you how she made everything else on the sleigh. (Including those horns!)
Well, with the darkness of Krampus there has to be something light and cheery, don't you think? How about some gorgeous fairy wings to play with? The Queen of Fey (and Design Team Member) Nichola Battilana has put together a new Fairy Wings Collage Sheet full of beautiful gossamer wings. As you can see in the photo of the amazing Frosty Winter Fairy Dress Nichola made, the wings look fabulous printed on clear transparancy.


Hooray for the Darkness and Light Giveaway!
I started with these items from Lora's Krampus Sleigh supplies:
– Chipboard Sleigh – Tabletop*
– Arch Top Reliquary – Single
– Large Bronze Fancy Filigree Set
And then added a few more things I thought would be a good match for an art project:
– Krampus Collage Sheet
– Krampus in Red Collage Sheet
– Mini Lantern with Battery Pack (Nice!)
And a few things in a lighter vein:
– Fairy Wings Collage Sheet (New!)
– Cotton Lace Sampler Set
– Miniature Acrylic Crystal Garland

To enter the Darkness and Light Giveaway drawing all you have to do is leave a comment BELOW on this blog post TODAY or TOMORROW (the deadline is 11:59 pm PST, MONDAY NIGHT, December 21, 2015).
AND TO ENTER THE DRAWING, please tell me: Wow… what could you make by mixing all of these items? Digital set of all the collage sheets in the Giveaway as a second prize to most creative answer!
Don't forget to leave your (hello! correct) email address, too, so I can contact the winner; your email address does not need to be made public. Note: I'm offering free shipping, too, but only within the USA. International shipping will still apply.
Please be patient! Spammers try to post crap here a lot so comments are moderated. So if you don't see your post in the comments section, be patient and check back in a few hours before re-posting it, please!
After midnight, I'll randomly pick the winner (via Random.org). So make sure to check back to see who won! And check your mailbox on SATURDAY morning for the next Giveaway and Newsletter! (That's the first day of the While the Cat's Away… Daily Giveaways!)
Hey, who won the Reindeer Do Fly Giveaway? That would be Abbee!
And she replied to my query "We're getting close to Christmas… still making presents? (Brave enough to admit) haven't started yet? Any last minute suggestions for gifts or decorations that could be made with downloaded Christmas Collage Sheets?"
Working on the last of my crafts. Everyone loves handmade personal ornaments. Use the round ornaments and mod podge images or scenes to the ball finish off with lace and hang a personalized tag. Sure to brighten someone's smile.

Posted by Leslie, December 20th, 2015