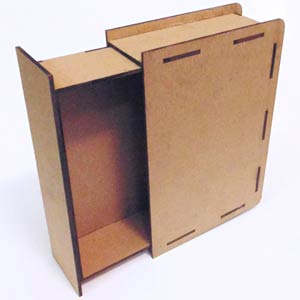 Before I get to Nichola's lovely artwork, do you remember the Chipboard Secret Spell Book Box? Well, this new Hidden Drawer Book Box has the same height of 6-1/4″ and is now laser cut from sturdier chipboard. Assembly is required, but it's super easy with a slat and groove system. It looks like a vintage book sitting in your bookcase, but there's a surprise inside!
And there's a new larger size, too! It's 8-1/2″ tall (only 2-1/4″ taller than the original, but it feels much larger).
Now back to the pretty artwork by Nichola Battilana:
"The base is a Hidden Drawer Book Box and I've used the Night Before Xmas Book Box Collage Sheets to bookify the exterior. It looks like an old book on the outside but slide out the secret drawer and…
"Inside is a darling little Christmas scene jam packed with tiny boxes. If you want to make your own tiny presents, I highly recommend gently scoring all of the edges you're going to fold. Trust me, it will save you a lot of frustration AND your boxes will look 100x's neater.
"Now, because I was crafting on a time schedule I simply painted the entire box black before embellishing. This hides any wonky edges and you can totally get away with not papering every single edge and still have a neat looking finished project.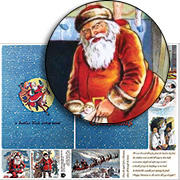 "You could make the inside as busy and cluttered with Christmas finery as you like. I love the big jumble of gifts in this box, but a little table with a plate of cookies for Santa or a fireplace with stockings would be just as sweet. It has great potential for you to put your own style inside.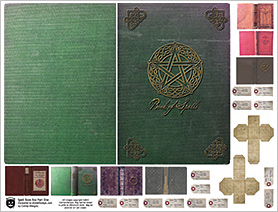 "With the mad dash to finish this piece, I can attest to the fact that you can put it together with relative ease. Imagine what a lovely little heirloom gift this would be to make someones Christmas extra special… even if you don't have oodles of time to spare."
See more of Nichola's supply list and more photos in her blog post.
Note: In addition to those timely Christmas collage sheets to make faux book covers, Teri Calia has also resized the earlier Spell Book Box Collage Sheets for this new box kit.

Highlights of Today's New Goodies – All on Sale!
Posted by Leslie, November 28th, 2015