Hey, it's Friday of the 4-day "Black Friday" sale! Today's theme is The Toy Shoppe.
Before I hand this post off to Miz Bella (Kim Ayers) for a short tour of Laura Carson's amazing Victorian Toy Shoppe, here's a short recap on how these themed sale days work:
I've pulled TWO lovely Toy Shoppe Giveaway Kits. One will be for a random comment BELOW on this blog post and the other will be to one lucky shopper!. The kit includes ALL 9 collage sheets used in Laura's Victorian Toy Shoppe artwork! (Actually 10 collage sheet as one is the new Toy Shoppe Collage Sheet Set!) Note: 7 of those are brand new today!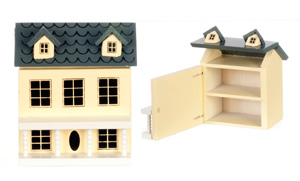 In addition, I have 2 of the new "Dollhouse for a Dollhouse" wooden dollhouses (one each of the two styles: hinged and unfinished) and one of those will be added to each Giveaway kit!
If you order on Friday you'll automatically be entered in the drawing for the Friday Giveaway Kit. PLUS: everyone who places an order during the 4-day sale will be entered into a drawing for a $100 shopping spree! Click here for more info on all the gifts & freebies going on during the sale!
(And since we didn't have a "normal" Thursday newsletter yesterday: who won Sunday's Rustic Christmas Tree Giveaway? That would be Jacqualine! Please check your email for my message about getting your mailing address.)181205

Today's Theme: The Toy Shoppe

Design Team Member Laura Carson is kicking off the Christmas season with a Victorian Toy Shoppe! It is delightfully whimsical and makes you wish you could live in the wonderment of a 5 year old, just for a bit.
"It's Christmas time in Victorian England and Mr. Brimble's Toy Shoppe is filled with things to delight both young and old. The village children wait in anticipation to see what new toys will fill the windows.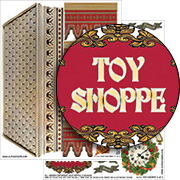 "Things are looking so cheerful at the shoppe. Notice the lovely lighted lamps above the bay windows and so many wonderful toys that fill the windows. Looks like Mr. Brimble is pulling out all the stops for this holiday season!
"Now I will let you in a little secret and I think you'll be surprised. The Victorian Toy Shoppe is constructed from pre-made chipboard kits which simplifies the construction process tremendously. If you can paper, paint and glue you can make a toy shop!
"The basic structure is one kit that fits together with tabs and groves. I also used three Bay Window Kits attached to the front and both sides. Then I went crazy with paper and paint."
Those fabulous Bay Windows are a custom bay window extension that fits the width of the window on the Storefront Room Boxes (and can also be used to add more display areas to the sides of any of the Deep Room Boxes). Pretty cool, hmm?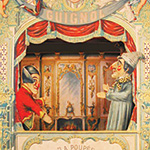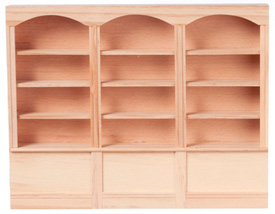 Enter the toy store and the first thing I'm drawn to is the amazing triple bookcase full of toys and games and books. Then there is a furry teddy bear in the window, a puppet theatre and a doll house that opens (and is fully decorated on the inside!) My inner-magpie can't stand it! I want to touch everything and ride the rocking horse like a little kid all hopped up on too much candy.
Also worth noting is the fancy schmancy chandelier that is inside the Toy Shoppe; it lights up! Don't worry about not knowing how to wire it – because Laura will show you how easy it is on her tutorial. For now, just gaze at the wonder of it – I'm always so enamored of working lights inside of these miniature works.
Laura has created 5 new collage sheets for this project (that are on the supply list) and if you go to her blog post you can see many more pictures, a plethora of details AND an amazing tutorial!

Posted by Leslie, November 27th, 2015