Design Team Member Rhonda Secrist Thomas has two projects for you today, both that you could make in plenty of time for Christmas.
Countdown to Christmas is another alternative advent calendar you'll love to make if you love playing with paper as much as we do here at Alpha Stamps!
Using the luscious papers from the Victorian Christmas Tags Kit along with the Library Pocket Organizer Box to create Countdown to Christmas. The Library Pocket Organizer Box is a flat kit to put together, wooden box designed to hold a lot (!) of decorated library card pockets with tags and tons of embellishments. The boxes are 4-1/2″ wide, 4″ tall and 8″ long. (Library Pocket Tabbed Dividers are also available to purchase separately.)
"I already have the Christmas Spirit. I wonder why that is? Ohhhh, it must be because of the recent Christmas Tags Swap over at Alpha Stamps! I've already been busy, creating Christmas art. It is never a hard thing to do and I tend to gravitate towards the older decor of the holidays.
In addition to lots of wonderful Festive Ephemera to use on tags, you can also find this easy to assemble Library Pocket Organizer Box. A dab of glue and some festive papers equals instant decor for any table top. Not only can you display it with tags, it's also the perfect size to hold your Christmas Cards. Scatter a few all around and feel the love of the Holidays! I also added 1 Inch Wooden Finials to the bottom of my box to give it more of a finished look.
Yes, it does look like a festive package that doesn't need to be unwrapped. Super simple, just add a thin line of glue, place your trim on top, a little wreath from a Pine Needle Stem, a sprig of Holly Berries and done! I used one long piece of ribbon within the other from the Advent Calendar Tags Ribbon Kit around the the whole box, and then cut strips to fit each side."
Countdown to Christmas Supply List
Visit Rhonda to see more pictures and for further details at her blog.

With all of the rainy weather we've been having in the South, Rhonda's next project makes me want to make a nice, hot pot of tea! Teeny Tiny Tea is an adorable banner that Rhonda made with the Tim Holtz Tea Time Teacup Die Set and the Provence French Country Kit.
"Leave it to me to make tea time a bit creepy. Alpha Stamps now carries this wonderful Tea Time Teacup Die Set and it is precious. I have a collection of my grandmother's tea cups but none of those contained Little Imps.
I used the Provence Paper Collection and must have made dozens of these wonderful cups in two styles. I especially love that there is already an opening in the top of the tea cup, waiting for a wonderful color of brew or a child or two.
I have to be honest, I never thought I would purchase a Big Shot Die-Cutting Machine, but I love it. I can run any size die through this machine and it's super easy to use. The Tea Time Tea Cup Die Set cuts out two types of teacups, one saucer and a teabag tag. Imagine all of the themes you could use this for. If my grandmother were still alive, I would create the most beautiful spring banner for her. She would have loved this, especially while telling me stories of old about the cups and saucers my great grandmother would paint."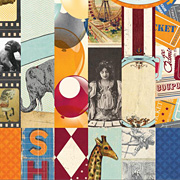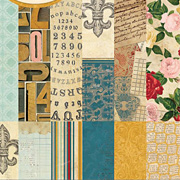 A Teeny Tiny Tea Supply List
Visit Rhonda's blog for more pictures as well as a quick tutorial on how she tinted the Pleated and the Crinkle ribbons with assorted Carved Pumpkin Distress mediums.

Psst! If you like the Provence 12×12 Collection Pack (or other big collections by Bo Bunny), Leslie just put all of them On Clearance! View them all here.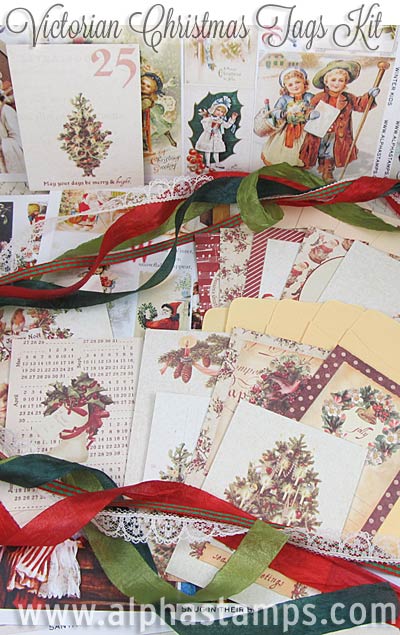 Hooray for the Christmas Tags Kit, Box & Dividers Giveaway!
I was inspired by Rhonda's Countdown to Christmas project, so this Giveaway has everything to make a full set of 25 Advent tags! (And/or to enter the Christmas Tags Swap)
First, there's one of the Victorian Christmas Tags Kits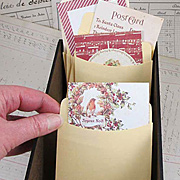 Next up, both the Library Pocket Organizer Box and a set of the Library Pocket Tabbed Dividers (and also a Christmas Tabs & Text Collage Sheet for tabs designed to fit the dividers)
And so you'll have enough tags, pockets (and extra ribbons) to make 25 advent tags, I'm including more manila tags with pockets, and an Advent Calendar Tags Ribbon Set!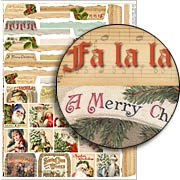 To enter the Christmas Tags Kit, Box & Dividers Giveaway drawing all you have to do is leave a comment BELOW on this blog post TODAY or TOMORROW (the deadline is 11:59 pm PST, MONDAY NIGHT, November 9, 2015). AND tell me: What would you make with the items in the Giveaway? Would you decorate the box like Rhonda did? Would you use the box for tags or holding Christmas cards or something else? And are you joining the swap?
Don't forget to leave your (hello! correct) email address, too, so I can contact the winner; your email address does not need to be made public. Note: I'm offering free shipping, too, but only within the USA. International shipping will still apply.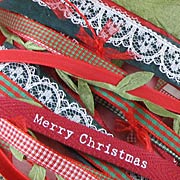 Please be patient! Spammers try to post crap here a lot so comments are moderated. So if you don't see your post in the comments section, be patient and check back in a few hours before re-posting it, please!
After midnight, I'll randomly pick the winner (via Random.org). So make sure to check back to see who won! And check your mailbox on Thursday morning for the next Giveaway and Newsletter!
Hey, who won the Tea Cottage Giveaway? That would be Barbara MacAskill!
And she replied to my query "If you win the drawing, will you make a tea cottage? Complete with all the foliage and tiny breads? Or what would you make from the Giveaway supplies?"
OMG!!! This is exactly what I have been trying to make on my own!!!! I NEED this fantastic Tea Cottage so that I can make my Fairy Village a Fairy Dust Room. This is where the fairies create the different fairy dusts that spread love, peace and happiness around the world!!! I have some miniatures that are just screaming out for this cottage and would love to win it!!! So many awesome goodies in this giveaway!!! May the Crafty Fairies sprinkle me with lucky dust!!!

Posted by Leslie, November 8th, 2015