Design Team Member Nichola Battilana is up with TWO projects for you today. I'm seriously starting to wonder if any of our Design Team Members ever sleep.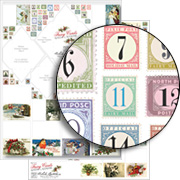 The first is the absolutely adorable Fairy Cards Advent Calendar Collage Sheet Set that she designed just in time to start getting ready or the holidays! Just think, a magical alternative to a standard Christmas advent calendar. Imagine waking up every day to a tiny holiday greeting card from the fairies helping you countdown to Christmas! The 25 cards feature classic Christmas imagery from the 19th and early 20th century, there are 25 teeny weenie numbered stamps and there are three templates included to make your own envelopes, fitting the three sizes of cards included.
"Now, when I showed this project to my kiddo he said "Yeah, but what about the treat?" The wheels in my mind starting turning and I thought of all the little things that would fit in those envelopes… letters, notes, coins, buttons, glitter, jokes, stickers, charms… then the light bulb above my head lit up.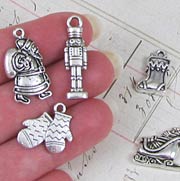 "Every few days a charm could be included in the tiny card and your little pixie could make their own Christmas charm bracelet when all the charms had been collected! The sets I've used here are the Santa Sleigh Silver Charm Set and the Silver Snowflake Charm Set."
How fabulous of an idea is that, to be able to make your own holiday charm bracelet whether you're using the Fairy Cards Advent Collage Sheet Set or a traditional advent calendar.
Visit Pixie Hill for more photos, a quick tutorial and tips on decorating the outside of your envelopes from the Fairy Cards Advent Collage Sheet Set. And/or see the Fairy Cards Advent Calendar Supply List.
Next is Nichola's minilicious Tea Cottage that is chock full of pastries, breads and gorgeous greenery.
The Tea Cottage is created from the Cottage with Open Front, a little house kit made from sturdy, laser-cut chipboard, with a big opening at the front (and 2 windows to let light in!); finished size is 9″ tall x 6″ square (at the base of the house… 7″ square including the roof).
The Cottage Base is also of laser-cut chipboard. It's a base for the Cottage with Open Front or any other little shrine you'd like to perch on a 1″ tall base (or have a place to hide wiring in); finished size is 9″ x 9″ x 1″ tall.
I love how Nichola made the floor of the Cottage Base look like real cobblestones. I'm sure she had her mini-minions working and hauling stones for the floor for days!
"One of my very favourite new things from Alpha Stamps are the Silicone Bread and Cake Molds used to make all the treats on the table. I used them with Creative Paperclay, pushing the product in mold then allowing to dry until the clay was stiff enough to remove without squishing. Don't they look yummy?
"To finish off the pastries and breads and used acrylic paint and a dusting of chalk pastels. Finish off with a thin layer of Diamond Glaze to achieve a subtle sheen on your crusty breads. Add a thicker layer for to look like a sugared glaze."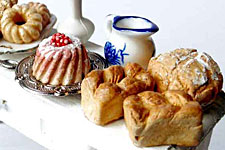 Note: Nichola has a tutorial for making the breads and pastries!
To see more pictures of the Tea Cottage, and for more details, visit Pixie Hill.

Posted by Leslie, November 5th, 2015