A quick reminder: The Autumn Tea Gift Tags announced in last Sunday's newsletter is still on offer! FREE for all orders, regardless of order size! More info and inspiration from the Eastern Estate Fairy Tea Booth No.5!

Design Team Member Shannon Cooper has created a super sweet (pun intended) diorama that is so amazing in all of its minute detail, called La Petite Patisserie.

La Petite Patisserie is inspired by the French Provence Country Kit and Add-On Kit. It's made out of the new Storefront Room Box that is an ample 10″ tall x 10″ wide (and with the extra 2″ above the "room", that facade will give you space to add signage or (like in Shannon's cute artwork) an awning. This design includes a nice, big window, and a door with a window and a transom above it. Doesn't La Petite Patisserie make you want to run out to the closest bakery and load up on butt-widening treats? I can smell the bread and pastries now!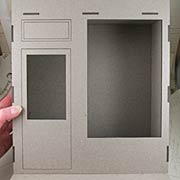 "Step into La Petite Patisserie for a croissant and un cafe, then enjoy them at the outdoor table with a little friend.
"Looking through the window we see delicious breads, creme filled cookies, macaroons, and cake, and on the new pretty scrolled table (that is actually a tiny plant stand), against the wall there are more cakes, creme puffs, and teddy cookies. The white shelf got a trimming of Dresden (that came in handy for the cake stand edges and "baseboards") before being topped with a plant, wee clock, and a metal teapot.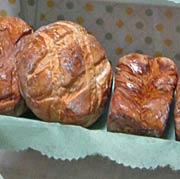 "My favorite part of this project was the cake stands and cake sitting on the ornate cake table. (Well, that's a toss-up as the new silicone molds made making the bread quick and easy: Smash polymer clay into mold. Bake. Add coloring with soft pastel. Bam! Done.) But back to cake: Alpha Stamps has a Cake Stand Kit, and the cakes are miniature wooden cakes that have a bit of trim glued around the middle! How many times can one use cake in a paragraph? I need cake."
La Petite Patisserie Supply List
If you like the Room Boxes, guess what? We have 2 additional NEW room boxes (in addition to the Storefront one Shannon used). There is the Arched Room Box and the Open Front Room Box. With 5 room boxes to choose from, what will you make next?
Head on over to Shannon's blog and see the cake decorating tutorial she's put together, and more pictures!


Hooray for the Tiny French Bakery Giveaway!
Wow! Did you check out Shannon's La Petite Patisserie Supply List? There were so many pretty little things to choose from, I had a hard time picking out what to put in today's Giveaway
– Storefront Room Box (whee!)
– Miniature Flour and Sugar Sacks
– White Mini Ceramic Urn (it's over on the left side of the door in Shannon's artwork)
– Miniature Bichon Frise Dog
– Miniature Cake Kit
– Mini Cake Stand Kit
– Set of Wooden Table Legs (Shannon made her own table that's in the window)
– Roosters Collage Sheet (did you notice the cute litttle rooster calendar on the wall inside Shannon's bakery?)
– White Dresden Border Sampler Set (Back in Stock!)

To enter the Tiny French Bakery Giveaway drawing all you have to do is leave a comment BELOW on this blog post TODAY OR TOMORROW (the deadline is 11:59 pm PST, FRIDAY, October 30, 2015)! And tell me: If you win the drawing, will you make your own French Bakery? Are there more food/baking-related miniatures you'd like to see? (If so, what things?)
Don't forget to leave your (hello! correct) email address, too, so I can contact the winner; your email address does not need to be made public. Note: I'm offering free shipping, too, but only within the USA. International shipping will still apply.
Please be patient! Spammers try to post crap here a lot so comments are moderated. So if you don't see your post in the comments section, be patient and check back in a few hours before re-posting it, please!

After midnight, I'll randomly pick the winner (via Random.org). So check your mailbox on Sunday morning to see who won and for the next Giveaway and Newsletter!
Hey, who won the Fall French Tea Giveaway? That would be Laurie Davis!
She replied to my query "What would you make with the items in the Giveaway? From tea cups to roosters, and gold number plates to miniature books… I'm not sure (anyone?) can replicate the Eastern Estate Fairy Tea Booth No.5, so tell me what you would make.":
Love this beautiful fall French country stuff! Pick my name please!!
Posted by Leslie, October 29th, 2015