Note: most of the links on this post no longer work, as we moved to a new Web site in 2018. However, you can see the supply list items from Katie's and Shanna's projects that are still available on the new site.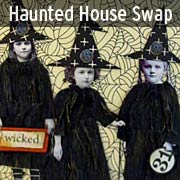 A couple quick reminders: are you participating in the Haunted House Book Swap? If so, your artwork should be mailed to Caroline TOMORROW (October 26th). More info. Please contact Caroline if you're running late.
After Miz Bella's introduction to artwork by TWO Design Team Members, don't miss some new, tiny miniature kitchen things that would be perfect for a little Fairy Tea Booth.
AND… see below in the Giveaway section for a brand new FREE Gift with all orders!


Today we have Design Team Members Katie Zoey Ho and Shanna Shands with their creations from the Provence French Country Kit and Add-On Kit.
Katie has made the whimsical Eastern Estate Fairy Tea Booth No.5 that is inspired by The Archies!
"I did this little fairy tea booth for something you could relate to The Archies' Riverdale Carnival. The difference between them is just a few era away, happening in Eastern Estate not Riverdale High School. Just imagine them jamming in with wings and having tea.
This tea booth is one of a kind, being No. 5 for what you could imagine; the Archies band has 5 members. A floral arch over the teapot with wings and on wheels.
Well well well, on the backside all tea glitters, sugar, honey, tea ware and doily mats are sold at teaspoonful each – no more no less. A wide variety of tea glitters are available in this little red catalog. Since the rich pollen bed is overly tempting, before you could browse through the catalog you would need to wear the pair of red gloves. Should any steals happen, any spots of pollen would be easily spotted.
Free tea session happens at 5 and 2/3 in the evening. Several range of sizzling glittering teas would be served on these shimmering teacup mats. Be sure to drop by before the booth is gone for good!


Grab a cuppa tea, while you browse the supply list and then visit Katie's blog to see Eastern Estate Fairy Tea Booth No.5 while The Archies play something sweet…
The next project is by Shanna Shands and she created a Hen House! Don't you think this would look so cute in an Autumn vignette somewhere in your home? Shanna used the House Box Shrine Kit as the base and added 'wallpaper' from the French Wallpaper Collage Sheet. I love the three rooster plates from the same sheet that go across the wall, so charming. The cutest part of Shanna's creation, are the Miniature Chickens and their Tiny Chicken Coop!
Visit Shanna's blog to see how she painted the exterior of the Hen House and for more photos.


Hooray for the Fall French Tea Giveaway!
Most everything in today's Giveaway is inspired by Katie's artwork (except for the Provence Cardstock Die Cuts, which I just thought would be good extras to mix in with this group).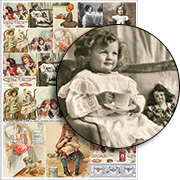 Here are the other 5 items (after those die-cuts), and check Katie's supply list for photos and links:
– Provence French Country Kit – October 2015 (that by itself has a big bunch of items, including the Sweet Tea Collage Sheet shown at left)
– Teaparty Chipboard Die-Cut Set
– Faux Metal Number Plates
– Paisley Gold Sequin Mix
– Set of Miniature Books
AND, a new FREE gift! I thought some tea-themed tags were in order. And one thing led to another and this little gift sheet turned into a Marie Antoinette tea party, too! Autumn Tea Gift Tags: one of these tiny wonders is FREE for all orders, regardless of order size! If you place an all-digital order, I'll send you this mini sheet as a pdf file.
To enter the Fall French Tea Giveaway drawing all you have to do is leave a comment on this blog post TODAY or TOMORROW (the deadline is 11:59 pm PST, MONDAY NIGHT, October 26, 2015).
AND TO ENTER THE DRAWING, please answer my question: What would you make with the items in the Giveaway? From tea cups to roosters, and gold number plates to miniature books… I'm not sure (anyone?) can replicate the Eastern Estate Fairy Tea Booth No.5, so tell me what you would make.

Don't forget to leave your (hello! correct) email address, too, so I can contact the winner; your email address does not need to be made public. Note: I'm offering free shipping, too, but only within the USA. International shipping will still apply.
Please be patient! Spammers try to post crap here a lot so comments are moderated. So if you don't see your post in the comments section, be patient and check back in a few hours before re-posting it, please!

After midnight, I'll randomly pick the winner (via Random.org). So make sure to check back to see who won! And check your mailbox on Thursday morning for the next Giveaway and Newsletter!
Hey, who won the Frame Front Room Box Giveaway? That would be Karen!
And she replied to my question "What would you make with that Frame Front Room Box??"
I see a nice Pumpkin teapot I'm thinking it's teatime so we'll need to create a Tea Room.
Posted by Leslie, October 25th, 2015