Today, Design Team Member Nichola Battiana is bringing you a fabulous little tutorial on how to make flower stems with a product we're all loving here at Alpha Stamps called Flower Soft. (You may remember some used as fluffy snow in Teri Calia's Christmas Magic Shadowbox last week.) Here is a teaser from Nichola's tutorial for you:
"Alpha Stamps is carrying a product called Flower Soft which is available in different colours (cross my fingers more will be listed shortly). I was asked to do a tutorial for creating the flowers with this fluffy stuff and I feel sort of guilty about it because it is INCREDIBLY easy to use.
"Gather some Stem Wire and a pour out a small pile of Flower Soft. A little goes a looonng way.
"Side note: Whenever I use little wired flowers, I trim them and am left with a short length of wire. These trimmings are perfect for creating these flowers because you really only need 1.5″ or so of wire. So save those scraps!"
How cute are the flowers? And with all of the colors that are available you can make all sorts of bouquets for every season. Whatever shall you keep these tiny little fluffy flowers in, you're asking yourself… never fear! We have a Miniature Vase Set for you that will hold the teeniest of floral bouquets and has 7 different vases!
Now, what to put those vases in? How about creating an adorable little diorama like Nichola did with The Wandry Room or The Wortcunner's Shed?
The Wandry Room uses the new Corner Room Box and is just like a boring laundry room… only for fairy wands and wings!
"Inside! I am smitten. I can't hardly believe I made it with my own stubby hands 🙂 There's a lot going on in there. Including a bottled magic, soap, baking soda, wand and wing starch, bars of soap, buckets, and a wandry machine for getting tough wand stains."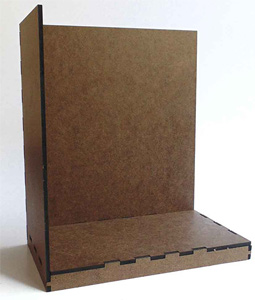 That Corner Room Box! Such a simple little corner of a room, but you'll find so many uses for it! Laser cut from Masonite, so nice and sturdy. Add some shelves… maybe some counter furniture for a little store? And it can be assembled so that the corner is on the right side instead of the left.
We're also smitten with Nichola's The Wortcunner's Shed, which uses the new Frame Front Room Box (cut from sturdy thick chipboard, so that windows can be cut into the piece wherever you please.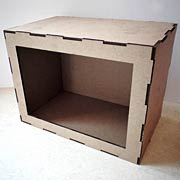 "A wortcunner is sort of an old fashioned word describing someone who works with herbs. The term would generally be applied to wise women, though some modern witches who use herbs magically use the term too.
"In every little room or house I create there is always something that I am most proud of. It may not be the fanciest or best part… but it's something I love. In this piece it's the little wood stove. The pipe reaches up through the ceiling and out to a mossy roof.
"And upon that roof of wild moss there is a trail of toadstools and purple flowers blooming. I suspect it's a good place for a picnic."
The Wortcunner's Shed Supply List
It is quite fabulous and if just one of Nichola's creations isn't enough to make you think that Nichola never sleeps, she has created two new collage sheets! Miniature Fairy Godmother Magazines and Miniature Tooth Fairy Letter. Both are absolutely adorable!
And remember: all the collage sheets are on sale for 15% off (and the digital downloads are on sale for 40% off!), so those new collage sheets are on sale, too!
Visit Pixie Hill for the Flower Soft tutorial and to see more pictures of The Wandry Room and The Wortcunner's Shed.

Posted by Leslie, October 22nd, 2015