You might remember in last Thursday's Newsletter that Design Team Emeritus Teri Calia created an adorable Christmas Magic Shadowbox. Teri so fell in love with that shadowbox that she's made a Halloween version! So now we present the Halloween Tea and Treats Shadowbox!
Made with the Mini Wood Printers Type Tray — I don't even have to tell you how much in love I am with this shadowbox! What's not to love about it?
See below for a close-up of the eensy weensie new Pumpkin Teapot. Teri even made the tiny green tendrils and leaves on the pumpkin (the leaves were just snipped from a leaf from the Mini Fern Garland).

Teri always includes such beautiful details in her artwork, like those tiny books (made from her own Tiny Little Books Collage Sheet). Or the up-ended Tiny Antique Silver 3D Crown as the base for a crystal ball (made from a 16mm Clear Glass Marble)? And if you love the Gargoyle Candle Holder as much as I do, guess what? You can make your very own with the (new) Gargoyle Candle Holder Kit.
Also, how about the contrast of the black shadowbox, the new Winged Metal Plaque (at the top… gorgeous!) and the Mini Fern Garland? Such a nice change from the standard black and orange Halloween palette!
See the Halloween Tea and Treats Shadowbox Supply List and more photos in the Gallery.

Design Team Member Tristan Robin Blakeman has created a gorgeous photo album entitled Coq dans la Campagne Francais (see the wide photo below), created with the equally beautiful Provence French Country Kit and Add-On Kit.
"When I found out the theme for the October Alpha Stamps kit was going to be Provence French Country, that included Tea and French Hens, I immediately knew I wanted to make a photo album. The kit was just filled with wonderful little treasures to make my album come alive!
"The lift up photo mat on page one has a meticulously reproduced Brass Flatware Setting. I think it makes a great embellishment for the advertisement for a country French inn! (and if you don't like the gold, there is a fabulous Antique Silver Flatware Setting as well!)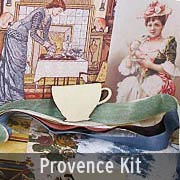 "There is also a page that features a 'waterfall' photo display, which will hold up to 8 photos. The chickens at the top of that page are from the Roosters Collage Sheet and the Provence chickens on the side pocket on page four are from the French Country Bonjour Scrapbook Paper."
I think that this would be the perfect album to put your Thanksgiving photos in, don't you? Visit Tristan's blog to see more pictures and a video walk-through of his festive Autumn photo album.
And if you're pressed for time, Tristan also shows a quick and easy ATC in the same theme!


Hooray for the Gargoyles & Sunflowers Giveaway!
Hm… except for that Orange Pumpkin Teapot over in the far corner, this Giveaway isn't that Halloween-y, but all those colors in the photo look like Halloween to me (ok… maybe the Gargoyle Candle Holder Kit looks like Halloween, too!)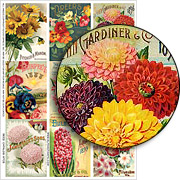 Beside those 2 new items I just mentioned, this package includes
– Enchanted Harvest Butterflies Scrapbook Paper (new!)
– Enchanted Harvest Seed Packets Scrapbook Paper (new!)
– Enchanted Harvest Sunflowers Scrapbook Paper (new!)
– Sunflowers Collage Sheet
– Seed Catalog ATCs Collage Sheet
AND I'm including one of the Fall Mix Gift Kits announced in last Thursday's newsletter — and that FREE gift is still on offer! More info

To enter the Gargoyles & Sunflowers Giveaway drawing all you have to do is leave a comment on this blog post TODAY or TOMORROW (the deadline is 11:59 pm PST, Monday Night, October 19, 2015.
AND TO ENTER THE DRAWING, please answer one of my questions: What would you make with the items in the Giveaway? Would you like to see more dollhouse scale mini kits? What little shrine or shadowbox scene would you use that pumpkin teapot in?
Don't forget to leave your (hello! correct) email address, too, so I can contact the winner; your email address does not need to be made public. Note: I'm offering free shipping, too, but only within the USA. International shipping will still apply.
Please be patient! Spammers try to post crap here a lot so comments are moderated. So if you don't see your post in the comments section, be patient and check back in a few hours before re-posting it, please!

After midnight, I'll randomly pick the winner (via Random.org). So make sure to check back to see who won! And check your mailbox on Thursday morning for the next Giveaway and Newsletter!
Hey, who won the Christmas Wonderland Giveaway? That would be Starqueen!
And she replied to my question "What breed of dog or cat would you like to see a dollhouse miniature of? What does your fur baby look like?"
Beautiful Christmas shadow box with gorgeous goodies! I love my black kitties, but I would love to see a Golden Doodle (or any Doodle) in miniature.

Posted by Leslie, October 18th, 2015