I'm handing the newsletter over to Miz Bella, to tell you about Teri Calia's Christmas Magic Shadowbox (and the related new Christmas and shadowbox goodies)!
Design Team Emeritus Teri Calia is once again offering up something that you'll want to make a bunch of to hand out as gifts for the holidays! (Really, this one is easy!)
How adorable is the Christmas Magic Shadowbox?! Made with the Mini Wooden Printers Type Tray Shadowbox, that sits on a Miniature Wooden Easel. Teri backed the tray with paper from the Christmas Wonderland Pad and created two new collage sheets for this piece, Christmas Favorites and Tiny Christmas Labels. The Christmas Labels are in a vintage style, — from "Naughty to Nice Elixir" to "Bottled St. Nick Laughter" — and they fit a wide variety of bottles.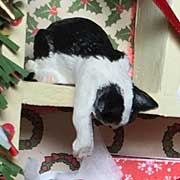 Aside from loving the piece itself, my most favorite part of the shadowbox is…the mischievous cat pawing at the tissue from the gift bag! Its cuteness is just too much to handle, I can't look at it for very long or I shriek like a banshee that I need one and scare Slim Daddy.
I'm also wanting to try out the Flower Soft, which is perfect for fluffy snow. Teri said it works great on top of the Dimensional Snow Writer as well, as you can see in the snow under the bottles.
Christmas Magic Shadowbox Supply List
Visit Teri's blog to see more pictures and read about her Christmas Magic Shadowbox!

New Collage Supplies


Corked Vials
Posted by Leslie, October 15th, 2015