Before Miz Bella tells you about Teri Calia's Creepy Little Row Houses, there's a new FREE gift! Following Teri's lead, I thought some tiny creepy ghouls and goblins were in order (to fit in the windows of the new Mini Haunted House Chipboard Set)!
This Tiny Ghouls Gift Sheet is FREE for all orders, regardless of order size (now through October 14th)! If you place an all-digital order, I'll send you the Gift Sheet as a pdf file. Needs some more creepy characters? Some of the images in this gift sheet were borrowed from these 4 Halloween collage sheets.
And… drum roll please! See the blog post announcing the winner of the Sugar Skull Swap Contest: Sheila Runkis!


Design Team Emeritus Teri Calia has created some awfully cute Creepy Little Row Houses with the new Mini Haunted House Chipboard Set.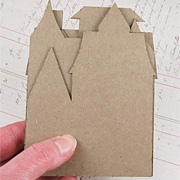 How adorable! A tiny 1/2-size version of the full-sized houses (and windows) from the Haunted House Black Chipboard Set. A set of 10 pieces for you to play with and create your own mini-creepy goodness.
I love how Teri has all of the houses laid out, with spatterings of text from the Creepy Words Collage Sheet. It kind of reminds me of an old Victorian novel come to life; at any moment you just know that something diabolical is going to happen! How about that Crescent Moon at the end of the houses? Which of course is needed to light the way of the villain so he can start on his fiendish deeds for the night…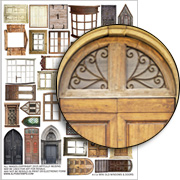 Teri covered the houses with the Regions Beyond Paper Stash, then used images from the new Mini Old Windows & Doors and Mini Gothic Architecture Collage Sheets to "build" her houses with.
From Teri's blog post:
I love the Regions Beyond Paper Stash by Tim Holtz as it is so perfectly creepy and the color pallet is wonderfully warm and muted. I'm also really proud of my embossed spiderweb as I am usually a complete failure at using rubber stamps. I was super careful this time and the result was just right!
It certainly did turn out right, the entire creation is fabulous!
Creepy Little Row Houses Supply List
Visit Teri's blog to see more pictures and read about her Creepy Little Row Houses!


Hooray for the Creepy Little Haunted Houses Giveaway!
I started with the new Mini Haunted House Chipboard Set (and the two collage sheets with coordinating images:
– Mini Gothic Architecture Collage Sheet
– Mini Old Windows & Doors Collage Sheet)
Then I went to Teri's supply list to pick out a few more items:
– A Witchy Encore Collage Sheet
– Black Chipboard Crescent Moon
– Clock Face Buttons
– Creepy Words Collage Sheet
THEN I added one of those ADORABLE new Miniature Owls
Plus one of those spooky Tiny Ghouls Gift Sheets! (Yes, there are a couple photos of Poe on that gift sheet… you can see in the little pic at right… they were just covered up by that big scary close-up of the incubus in the photo above!)

To enter the Creepy Little Haunted Houses Giveaway drawing all you have to do is leave a comment BELOW on this blog post TODAY OR TOMORROW (the deadline is 11:59 pm PST, FRIDAY, October 9, 2015)! AND tell me: What would you make with the new Mini Haunted House Chipboard Set? A tiny book? A banner? Wall hanging? Something else? BONUS: is Halloween a year-round event in your house?
Don't forget to leave your (hello! correct) email address, too, so I can contact the winner; your email address does not need to be made public. Note: I'm offering free shipping, too, but only within the USA. International shipping will still apply.
Please be patient! Spammers try to post crap here a lot so comments are moderated. So if you don't see your post in the comments section, be patient and check back in a few hours before re-posting it, please!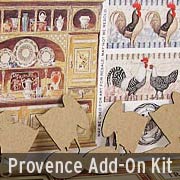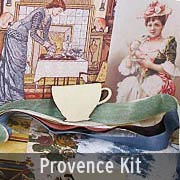 After midnight, I'll randomly pick the winner (via Random.org). So check your mailbox on Sunday morning to see who won and for the next Giveaway and Newsletter!
Hey, who won the Two Provence Kits Giveaway? That would be Orianna!
She replied to my query "Tell me one of these: Are you inspired to make a Princess Tea Crown? What Autumn project would you like to make with the new kits? (Perhaps something warm and cozy by the fire? I suppose that could be the subject of the art or you while making it!):
I would make warm and detailed cards to send to dear friends.

Posted by Leslie, October 8th, 2015