There is so much to cover today — I'll do my best to organize it into small, bite-sized morsels. So here's the short list of what's below.
– TWO Provence Kits (and related new collage sheets & papers)
– The Tea Princess's Crown by Caroline Ouzts-Hay
– Provence Kits Giveaway
– Finally, the Ghostmore Manor Gift Sheet (shown at left) announced in last Thursday's newsletter is still on offer! FREE for all orders, regardless of order size! And did you see Laura Carson's amazing Ghostmore Manor that inspired this gift sheet? More info

Maybe it's a change in the weather, but I've decided to move on to a Fall theme early. Otherwise with the November kit having a Christmas theme, there will be no time for Fall (hint, hint).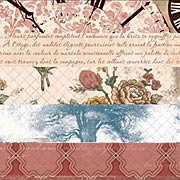 However, it's not really a Fall paper that's inspired me, but a vintage French country group (Provence), which can go lots of directions, including toasty warm kitchens/cooking or a tea party or gardening.
I like the rust/tan/teal/golden yellow palette… which looks like Fall without being filled with leaves or pumpkins.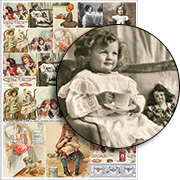 Starting with 3 tea-inspired collage sheets:
– New Sweet Tea Collage Sheet
– New Ladies Tea Collage Sheet
– Tea #2 Collage Sheet
More info is on the Provence French Country Kit page.

The Tea Princess's Crown by Caroline Ouzts-Hay
Is that not the sweetest crown you've ever seen? I love that this month's kit is so versatile — it has images from tea parties, tea cups (and teapots and silverware), French provincial wallpapers (and roosters), florals… and both ladies and children drinking tea.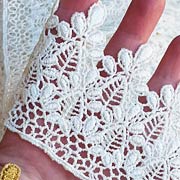 And Caroline created this precious lace and ribbon-flower Tea Princess's Crown! Beside showing how to stiffen the (gorgeous!) new 2-3/4 Inch Wide Ivory Venice Lace to make the crown, she has also provided a video tutorial on making ribbon leaves! She even shows how different widths of ribbon will make different sizes leaves (see that chart at right as an example).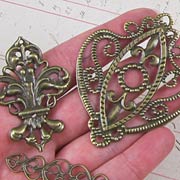 Caroline also used a couple pieces from the new Large Bronze Fancy Filigree Set to embellish her crown (I love this new filigree set!)
Plus, in the center of the crown (close-up on right side of photo above) is that adorable child from the Sweet Tea Collage Sheet (mounted on a chipboard tea cup — how appropriate — from the Teaparty Chipboard Die-Cut Set; and that chipboard set is also in the October Add-On Kit).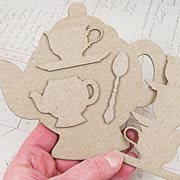 Here's the full supply list.
Quoting Caroline: "steep a bag, don your finest attire, pull out all the bling, and sit back and relax while you check out The Tea Princess's Crown".

More New Goodies

(Not in either kit)

– ALL On Sale!

Provence French Country Add-On Kit
As the Design Team often receives a wider group of products to play with around the monthly themes, I've gathered together some of what they received (beyond what's in the regular Provence French Country Kit) and I've put together this Provence French Country Add-On Kit.
This kit contains 3 New collage sheets:
– French Wallpaper. So cute! Small enough for 1:12 scale dollhouse projects. The wallpapers and borders also fit the width of the House Shrine Box Kit (or other little shadowboxes 4″ wide).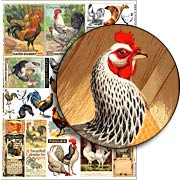 – Roosters. So very French! A mix of vintage cigarette card images, sized from a tiny 1:12 scale calendar to ATCs.
– Cabinet Card Girls with Dolls Collage Sheet. Sweet! By request: some larger images of little girls. Also includes a few photos of tea parties.
More info is on the Provence French Country Add-On Kit page.

Highlights from the Provence French Country Add-On Kit – ALL On Sale!

Hooray for the Two Provence Kits Giveaway!
No surprise here! Today's Giveaway includes BOTH KITS announced today:
– Provence French Country Kit
– Provence French Country Add-On Kit
To enter the Two Provence Kits Giveaway drawing all you have to do is leave a comment on this blog post TODAY or TOMORROW (the deadline is 11:59 pm PST, Monday Night, October 5, 2015. AND tell me either (or both): Are you inspired to make a Princess Tea Crown? What Autumn project would you like to make with the new kits? (Perhaps something warm and cozy by the fire? I suppose that could be the subject of the art or you while making it!)
Don't forget to leave your (hello! correct) email address, too, so I can contact the winner; your email address does not need to be made public. Note: I'm offering free shipping, too, but only within the USA. International shipping will still apply.
Please be patient! Spammers try to post crap here a lot so comments are moderated. So if you don't see your post in the comments section, be patient and check back in a few hours before re-posting it, please!

After midnight, I'll randomly pick the winner (via Random.org). So make sure to check back to see who won! And check your mailbox on Thursday morning for the next Giveaway and Newsletter!
Hey, who won the Ghostmore Manor Giveaway? That would be Orlie Severson!
(And she replied to my question "Of all the lovely details in Laura's Ghostmore Manor project, which part inspires you the most (which part would you like to try)? And bonus: are you entering Laura's contest?":
It is just like a little town by it's self. Who needs anything else. Love all the ideas and time it takes to make.)
Posted by Leslie, October 4th, 2015