Note: most of the links on this post no longer work, as we moved to a new Web site in 2018. However, you can see the supply list items from Tristan's and Teri's projects that are still available on the new site.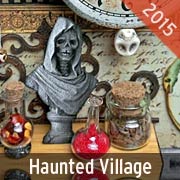 Before Miz Bella introduces TWO Marie Antoinette projects, here are a couple quick reminders: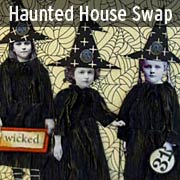 FIRST, Laura Carson's Haunted Village Halloween Event is live!! See this newsletter for an introduction, the Haunted Village Event Supplies Section, and Laura's site for the full experience!
NEXT, a new FREE gift, it's all about Marie Antoinette! Check down in the Giveaway section of this newsletter for more info.
LAST, are you participating in the Haunted House Book Swap?? Sign up by Monday, September 21st — NEXT Monday. Artwork postmarked by Monday, October 26th.


There's no time to go running around losing your heads, today is Marie Day so grab a cup of tea and get comfy! Design Team Member Tristan Robin Blakeman and Design Team Member Emeritus Teri Calia are having dueling, spectacular Marie Antoinette-themed creations.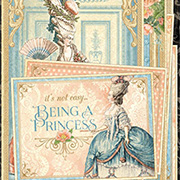 Tristan is up first with the crazy cool Marie Antoinette Carriage (that he designed himself!) that also houses a Lace-Storage Album inside of it (beautiful and useful). Both pieces are made from the highly-hoardable and gorgeous, Gilded Lily Paper Collection.
Also used throughout are the Bonjour Paris Framelits Dies & Stamp Set that Tristan that used to cut portraits and frames with. I love the shapes in that set — there's a lot of possibilities with the upcoming holidays for those shapes!
I love the storage album idea (see wide photo below). And ingenious that Tristan used the Pointed Scallop Chipboard Pennants (large size) inside of the Tim Holtz Large Worn Book Cover – Chronicle as flip pages (tethered swatch cards… not sure what to call them) to wrap different lace samples on. You could make a similar album to organize your ribbons. Or gift one to a crafty friend, filled with beautiful ribbons & trims for them to use in future projects! And ALL of the lace trims are on sale!
Marie Antoinette Carriage Supply List
Tristan's next Marie-themed project (I know! He didn't stop at the first project!) is the Magic Potion Shop that is made from a Blank Altoids Tin and the Magic Potions Kit. A cute little project, less ambitious in scale.
All of the bottles I used, I filled with glitter and micro beads — and the bead flasks are small beads with miniature beads used as lids and/or stoppers from the Magic Potions Kit. The other items are from my stash of crafting treasures!
Visit Tristan's blog to see a video where he walks you through his Marie Antoinette Carriage.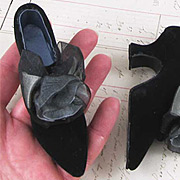 Next up: Marie Antoinette was a Witch with a Magic Flying Shoe — or so Teri says! (I knew we'd get Halloween into this newsletter!) How fabulous is that fancy new 4 Inch Black Velvet Marie Shoe? I'm loving the contrast of the black velvet from the shoe and the bright green from the new Mini Fern Garland (that links up nicely with the green decor on Marie's hat, an image from the new 18th Century Witch Collage Sheet). Also worth noting, those new Mini Bat Wings!
Marie seemed a bit naked by herself, and I wanted to play with an image from my other collage sheet, so I threw together this triptych as a background for her.
Ahuh… I love what Teri just "throws together"! The triptych is made from an Arch Top Reliquary – Triptych with a center image from her new Saucy Witches Collage Sheet — and it is gorgeous!
Here's a partial list of additional supplies:
– Mini Rose Buds – Purple
– Tiny Felt Black Bat Stickers
– Tim Holtz Mini Paper Rosettes Die
– 20mm Rhinestone Flat-Back Setting (used as a setting for an eyeball!)
Click here for all of Teri's supplies with photos and links.
Read more in her Marie Antoinette was a witch… blog post.


Hooray for the Marie Antoinette for Halloween Giveaway!
I mixed up items from both Teri and Tristan's artwork. Working my way around the photo at right (left to right starting with the top row):
– Acrylic Black Sitting Cat Cut-Outs
– White Curly Petal Paper Flower Spray
– Mini Rose Buds – Purple
– 40x30mm French Ovals Collage Sheet
– 4 Inch Black Velvet Marie Shoe
– Saucy Witches Collage Sheet
– 18th Century Witches Collage Sheet
– Dark Circus ATC Frame Set Collage Sheet
– Cotton Lace Sampler Set

AND, a new FREE gift! Continue our recent trend: I went looking at our large stock of Marie Antoinette Collage Sheets and picked out a few that work well shrunk down to 1/4 size! Tiny Marie Antoinette Gift Sheets: one of these tiny wonders is FREE for all orders, regardless of order size! If you place an all-digital order, I'll send you a special Marie Antoinette Gift Sheet as a pdf file.
(Psst, the images shown are from the Pink Fans and Romantic Perfume Labels Collage Sheets.)

To enter the Marie Antoinette for Halloween Giveaway drawing all you have to do is leave a comment BELOW on this blog post TODAY OR TOMORROW (the deadline is 11:59 pm PST, FRIDAY, September 18, 2015)! AND tell me: in addition to the 54 collage sheets in the Marie Antoinette & French Fashion Collage Sheets section, what else would you like to see? OR what historic images in that same collage sheet section would you make Halloween art with?
Don't forget to leave your (hello! correct) email address, too, so I can contact the winner; your email address does not need to be made public. Note: I'm offering free shipping, too, but only within the USA. International shipping will still apply.
Please be patient! Spammers try to post crap here a lot so comments are moderated. So if you don't see your post in the comments section, be patient and check back in a few hours before re-posting it, please!
After midnight, I'll randomly pick the winner (via Random.org). So check your mailbox on Sunday morning to see who won and for the next Giveaway and Newsletter!
Hey, who won the Halloween Tic Tac Toe Giveaway? That would be Kathy Bumb!
(And she replied to my question "Tell me what you'd make from this collection! A Halloween Tic Tac Toe game of your own? Or can you think up another project that would use all of these items??": I love the idea of a spooky Tic Tac Toe game, but I just might use different game pieces, such as scary pumpkins. Love your designers and tutorials so much.)
Posted by Leslie, September 17th, 2015