Miz Bella is caring for a sick kid and I'm like a whirling dervish, getting all the Halloween goodies ready to post (or to ship), so it's a short intro — but that doesn't mean short on eye candy! But before the miniature produce (!) a couple quick reminders: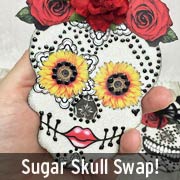 FIRST, I cannot believe it's already September!… Only 3 days (!) until Laura Carson's annual Halloween event, and this year is a Haunted Village!! See Laura's site for a free collage sheet offer starting now!
NEXT, a new FREE gift, inspired by all the tiny fruit & veg in todays artwork! Check down in the Giveaway section of this newsletter for more info.
LAST, are you participating in the Sugar Skulls Swap? If so, you've got about 10 days left to finish your artwork and mail them to Caroline. More info.


Kristin Batsel and Teri Calia both started with the same miniature peaches, carrots, oranges, grapes and apples (all 1:12 Dollhouse Scale) but look at how different are the results! Once Kristin told me she wanted to make Carmen Miranda, I also found her some mini bananas & pineapples. Her little peg dolls are too cute! And that little bunny she made is a heart-stealer.
Here's a link to see all of Kristin's supply list. And read more about her Fruity Friends on her blog.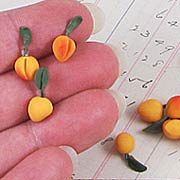 Next, to Teri's 24 Carrot Farms Produce Stand! (See the wide photo below.) This is just a fabulous little scene… all starting with this Wood Photo Box with Slide Lid. Teri used the main part of the box as the back of her produce stand, then used the lid as the floor (turned sideways so it extends out on the right side, beyond the width of the box… perfect as a little ledge to sit that white table with baskets). And she used a new basket with a handle that's the perfect size to mix with the baskets that come with that table. The woodgrain-patterned paper from the new Heritage 6×6 Paper Pad was a perfect small scale for the floor and the back of the produce stand.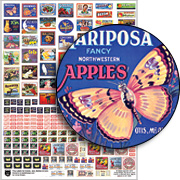 Teri designed 2 new collage sheets, too:
– 24 Carrot Farms Stand Accessories Collage Sheet (with signage, shopping bags, an awning and tiny boxes to make your own dollhouse scale produce stand)
– Tiny Labels for Crates, Jars, & Cans Collage Sheet
And that last collage sheet is perfect for adding labels to the new Set of Unlabelled Jars, Bottles & Tins (and to the mini wood crates, like the 2 tall crates Teri used as shelves in the back of her produce stand).
Here's a link to see all of Teri's supply list. (Ans see more new supplies from Teri's project below.) Read more about her 24 Carrot Farms Produce Stand on her blog.


Hooray for the Tiny Produce Giveaway!
So many items to choose from… I picked these (in the photo at right, left to right starting with the top row):
– Miniature Wooden Crates
– Mini Wooden Barrel
– Homegrown 6×6 Paper Pad
– 24 Carrot Farms Stand Accessories Collage Sheet
– Mini Black Wrought Iron Fence (did you recognize it? painted white in Teri's produce stand)
– Red Apples – Set of 12
– Pumpkin Pods
– Miniature Bale of Hay
– Tiny Labels for Crates, Jars, & Cans Collage Sheet

AND, a new FREE gift! I've made a new mini gift sheet: a mix of vintage fruit & vegetable labels (most from my own stash… and different designs than those in Teri's new collage sheet)! The Fruit Crate Labels Gift Sheet is FREE for all orders, regardless of order size! If you place an all-digital order, I'll send you the Fruit Crate Labels Gift Sheet as a pdf file.

To enter the Tiny Produce Giveaway drawing all you have to do is leave a comment BELOW on this blog post TODAY OR TOMORROW (the deadline is 11:59 pm PST, FRIDAY, September 4, 2015)! AND tell me what you'd make with the Giveaway goodies (and/or what other kinds of tiny produce you'd like to see).

Don't forget to leave your (hello! correct) email address, too, so I can contact the winner; your email address does not need to be made public. Note: I'm offering free shipping, too, but only within the USA. International shipping will still apply.
Please be patient! Spammers try to post crap here a lot so comments are moderated. So if you don't see your post in the comments section, be patient and check back in a few hours before re-posting it, please!
After midnight, I'll randomly pick the winner (via Random.org). So check your mailbox on Sunday morning to see who won and for the next Giveaway and Newsletter!
Hey, who won the Mad Scientist Giveaway? That would be Sheila Rodriguez! (She commented: "I'm doing a vignette in a metal & glass shadowbox from Hobby Lobby, and these "parts" would be perfect!")
PLUS, there was a second prize for most creative comment (2nd set of all 3 new keys in the Giveaway)… which goes to Russell Stone (And he commented: "Late at night when most are asleep, into my lab (Art Studio) I do creep. A drop of glue, a layer of paint, some apothecary labels are out on the table. I mix, I pour and soon you will see a creepy cabinet will come to be. Halloween night fast approaches.. oh that reminded me to add some roaches. Yes, creepy bugs are all part of the scene, after all it is HALLOWEEN.")
Posted by Leslie, September 3rd, 2015