It's a catch-up newsletter! That's my favorite kind. I can wander around and see what treasures were overlooked (when trying to keep each newsletter to a single theme).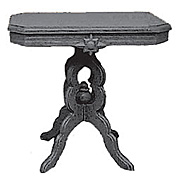 So I started with this little park bench (which could certainly be used in a cemetery scene like the fab art below by Shanna Shands).
Which then led to some other furniture: these adorable table kits (yes, 1:12 dollhouse scale).
Then, since the style of those tables are Victorian (or just because the details are so ornate) that led me to this miniature picture frame (of Marie Antoinette).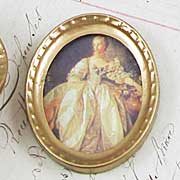 Then to these beautiful bronze bookmarks — with round and oval matching glass cabochons (perfect for making some Christmas gifts… maybe use an image from the 25×18 French Ovals Collage Sheet, just one of a whole section of collage sheets sized for pendants or ornaments).
Then an abrupt swing back toward Halloween: this set of 3-1/2″ skeletons! A bit small for those park benches, but they have lots of potential.
And finally, these pewter witch (or wizard) hat charms.
Photos of any of those lovelies that did not fit in this introduction are below (after Miz Bella's introduction of Shanna's Goblin Zombie Rise).
Oh, and how could I skip mentioning it: All of your comments from the Potion Bottles Giveaway inspired me to find more sizes of glass bottles with corks and to put together the (New and On Sale!) Potion Bottles Sampler Set!
And see the Potion Bottles Sampler Giveaway below for one of these new sets, along with SIX collage sheets with tiny labels sized to fit the bottles.


Coming in with one arm at the end of the month is Design Team Member Shanna Shands and her creation that she made with the Cemetery Kit and the Cemetery Add-On Kit.
Shanna created a Goblin Zombie Rise. where goblin grave robbers turn dead bodies into zombies!!!
Shanna started off by using the Extra Large Rectangular Kraft Shadowbox as the base for her cemetery and while she tells you step-by-step how she made it, some of the little details worth pointing out are the:
– Acrylic Black Sitting Cat Cut-Out
– Acrylic Black Bat Cut-Outs
– Clump Foliage – Fall Mix
– Gnarly Tree and Crows
Also in Shanna's misfit cemetery are my most favorite little ghouls from the Skeleton Slide Mailers Collage Sheet. How can you not smile when you see them with their little mortar and pestle, sitting with crossed legs or reaching up for a bottle of poison off the shelf? They're so awfully adorable.
Peppered with crooked tombstones and tiny little coffins all askew, those goblins sure are very messy workers!
Goblin Zombie Rise Supply List
Visit Shanna's blog for a step-by-step tutorial on how she created the Goblin Zombie Rise!


Hooray for the Potion Bottles Sampler Giveaway!
Beside one of the new Potion Bottles Sampler Sets, I included SIX collage sheets with labels sized for the bottles:
– Tiny Magic Books & Potion Labels Collage Sheet
– Witchy Little Labels & Ephemera Collage Sheet
– Fairy Dust Collage Sheet
– Goblin Labels Collage Sheet
– Little Potions Collage Sheet
– Secret Spell Book Parts One Collage Sheet
(See the bottom of the Sampler Set Page for links to the 6 collage sheets — and more info on all 9 bottles in the set.)

AND, a new FREE gift! After the success of the Tiny Alice Gift Sheets announced in last Thursday's newsletter, I've made a similar miniature gift sheet, but this time it's a mix of labels taken from all 6 of the collage sheets shown at right (some reduced for tiny bottles… some were already pretty tiny) and mixed in a few more new labels. The Mini Labels Gift Sheet is FREE for all orders, regardless of order size! AND if you spend $20 or more on an order, I'll include a couple tiny bottles, too! If you place an all-digital order, I'll send you the Mini Labels Gift Sheet as a pdf file.

To enter the Potion Bottles Sampler Giveaway drawing all you have to do is leave a comment BELOW on this blog post TODAY OR TOMORROW (the deadline is 11:59 pm PST, FRIDAY, August 28, 2015)! AND tell me which of the tiny labels on those collage sheets you plan on using on your bottles (and/or what other kinds of labels you'd like to see).
Don't forget to leave your (hello! correct) email address, too, so I can contact the winner; your email address does not need to be made public. Note: I'm offering free shipping, too, but only within the USA. International shipping will still apply.
Please be patient! Spammers try to post crap here a lot so comments are moderated. So if you don't see your post in the comments section, be patient and check back in a few hours before re-posting it, please!

After midnight, I'll randomly pick the winner (via Random.org). So check your mailbox on Sunday morning to see who won and for the next Giveaway and Newsletter!
Hey, who won the Zombie Cars Giveaway? That would be Roxanne! (She commented: "Well lately I've been into the western type of scenes, so the wheels reminded me of stagecoaches. I would make a scene of several 'coffin stagecoaches', all open with their sweet smiling zombies having a great ride heading to their Crypt before the sun rises…bats and creepy trees in the background… already have it all figured out! Hoping to win. 🙂")
PLUS, there was a second prize for most creative comment… which goes to marla b (And she commented: "I'm thinking… a zombie circus wagon! The coffin and wheels (of course) as base and the fence on top to create the cage for a mixed media ghoul. The zombie puppet could pull the wagon with the spoons being the yoke. Fun! A Halloween table top beginning…")
Posted by Leslie, August 27th, 2015