Before Miz Bella introduces TWO very different projects both using the same China Cabinet kit (and some adorable little Halloween pins), there's are 2 announcements:
FIRST, it's that time of year… Laura Carson is gearing up for her annual Halloween event, and this year is a Haunted Village!!
NEXT, a new FREE gift! Inspired by Teri Calia's tiny dollhouse inside a china cabinet — The White Rabbit's Hutch, I kinda went crazy looking at our large stock of Alice in Wonderland Collage Sheets and picked out a few that work well shrunk down to 1/4 size! Tiny Alice Gift Sheets: one of these tiny wonders is FREE for all orders, regardless of order size! AND if you spend $20 or more on an order, I'll send TWO! (That's 2 different mini sheets — I've made a few!) If you place an all-digital order, I'll send you a special Alice Gift Sheet as a pdf file.


Design Team Member Lora Mahaffey is here to tell us a little story about Lady Divina's Cupboard:
"Lady Divina, (also known as Jane Chester) after years of palm reading and crystal ball gazing, has packed up her side show tent and retired to the countryside. She found a lovely cottage with a view and spends lots of happy hours puttering away in the pretty little garden she's planted there. If you are lucky enough to be asked to tea, Jane may take you on a little tour of her past.
Against a long wall in her parlor is a large old cupboard where Jane keeps the memorabilia of her past life, including her crystal ball collection and the many bits and pieces that tell the story of a rich, full life.
Inside the cupboard are all manner of tools for divining the future and reading the past, including a skull for Phrenology reference, palm reading guides, astrology charts, a 'third eye' energy booster, a Ouija board and Tarot cards. Plus a few little knick-knacks and interesting bits that Jane picked up in her travels."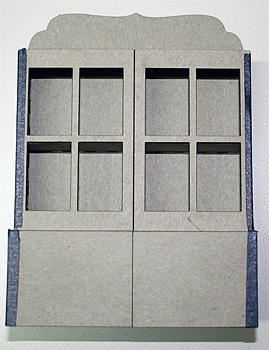 How cute is the Miniature China Cabinet that Lora used to house Lady Divina's past? The cabinet is a flat kit, laser cut from heavy chipboard that is almost 1/8″ thick. It is supercalifragilousinexialidociously easy to assemble that requires any type of craft glue with a finished size of approx 5″ wide x 7″ tall. Can't wait to get mine!
Lady Divina's Cupboard Supply List
And she's made more artwork! Look at these adorable tiny houses Lora made; some of them are actually jewelry pins, too! They are all one inch wide and the tallest (the house with the tree and love birds) is two and a half inches. Because jewelry gets a lot of hard wear, Lora stuck to papers only for the pins and sealed them with an acrylic finish.
These are a lot of fun and fairly quick to make. Since they are small, it's a great way to use scraps and bits of paper and inchie collage sheets.
Imagine some cute Christmas pins to give as gifts. They would also make adorable ornaments! See the little house with the clock on the top of Lady Divina's cupboard? You could make loads of these for the holidays with the Small Wood House Shape and a pin back. Talk about easy!
If you go to Lora's blog, she will tell you how she assembled and achieved that luscious red color she used for the cupboard (and giving some handy tips as well too)! And you can view more photos in the Gallery.

The White Rabbit's Hutch: a tiny dollhouse inside a china cabinet!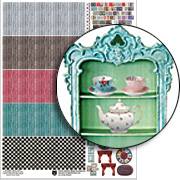 Oh my! What ideas this gives me! Teri Calia built a tiny, 1/4″ scale dollhouse INSIDE that same china cabinet (and gave it a white-washed, shabby chic finish so you might not recognize it as the same china cabinet Lora used).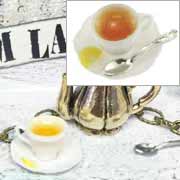 Teri always takes such care in choosing components for her collages… like the teaspoons as handles on the doors — and that tiny little cup of tea on top the hutch (also shown at left)! And adding little splashes of red to bronze charms, like that bow tie on the rabbit (see top right of the photo below).
And Teri designed two new collage sheets with teeny, tiny papers and trims for making your own 1/4 scale dollhouse inside the Miniature China Cabinet (with an Alice in Wonderland/White Rabbit theme)!
Note: 1/4 scale is also called 1:48 scale ("1/4 inch to 1 foot scale"… 4 times as small as the "1 inch to 1 foot scale" items in the 1:12 Dollhouse Section).
Plus, see below for some new 1/4 scale furniture and props!
Here's Teri's supply list for the The White Rabbit's Hutch and you can pay Teri a visit at her blog to read more (like Teri's theory on why the rabbit is always late). You can also view lots more photos in the Gallery.

Posted by Leslie, August 20th, 2015