A couple quick notes before getting to the amazing artwork by Laura Carson (and related new miniatures):

– FIRST, the Mini Eyeballs Gift Sheet announced in last Thursday's newsletter is still on offer! (It's a tiny little taste of all the eyeballs on the bigger (New!) Eyeballs Collage Sheet… this tiny version has eyes sized for 10mm and 13mm cabochons). AND if you spend $20 or more on an order, we'll also include a set of the New 10mm Clear Glass Cabs, as shown in the photo.

NEXT, it's that time of year… Laura Carson is gearing up for her annual Halloween event, and this year is a Haunted Village!!


The Design Team Member who never sleeps, Laura Carson, is bringing you the most beautilicious Boutique Exquisite (with a Video Tutorial)!
To quote worker Elf Chris when he saw the Boutique video, "Wow. Just wow wowowowowow." Wow. Yes indeed!
"Have you ever wanted to own a sweet little shabby chic boutique filled will lovely goodies? Now you can! In my boutique I've created all kinds of furniture from a chipboard kit, matchboxes, a plant stand, glass & paper, hat boxes, doll house furniture and a folding screen. I've filled the pieces with hats made from bottle caps, perfume bottles, purses, jewelry and other bits and bobs."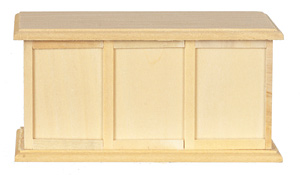 Starting off with the Perfume Counter — how fabulous is that Vintage Cash Register that Laura antiqued?! The counter is 2-5/8″ tall x 5-1/4″ long, with open shelves on one side and unfinished wood before Laura worked her magic on it.
Sorry, I won't be going into HOW Laura did anything — there's too much candy to spank your eyeballs with to cover in this issue to do that! The mirror stand is made from a hand mirror and a piece of filigree (and I'd hazard a few colors of Gilder's Paste). And another piece of filigree (held up by two new bead caps) makes a perfect little display for tiny perfume bottles.

The Glass Cabinet…is my WOW wowowowow that I can't get enough of staring at; and as Laura tells you it is also her favorite piece as well.
"I think my favorite piece is the glass cabinet. It's made using an image from the (New!) Boutique Exquisite Collage Sheet, a piece of chipboard in the back, Glass Slides and Box Feet that serve as brackets.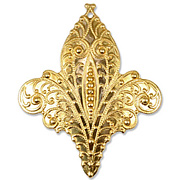 You won't believe how simple it is to make and what a wow factor it gives your shop. I put many of the prettiest things on the glass shelves; the White Mantle Clock, Mini Ivory Jardiniere and the Antique Queen Mask."
Glass Cabintet Supply List (Note: that list also includes the ottoman and the wonderful items on the ottoman, shown below, next to the folding screen photo.)
The amazing and beautiful Folding Screen (see photo below) is so easy to put together! You'll be thinking up ideas for more uses just so you can make more of them after you've created your first one. Even if you don't make screens, how pretty are the base of the screens that are actually Lace Laser-Cut Chipboard Tags?
More goodies in the folding screen photo (and related hats & hat boxes, etc) are the adorable Bronze Clothes Hangers, Mini Brass Coat Hooks, and the Junque Gypsy 6×6 Paper Pad (back in stock)!

Also worth noting are the stunning labels on the assorted perfume bottles (and tiny hand mirrors and compacts) used throughout the boutique, that Laura created from the (New!) Mini Perfume Labels Collage Sheet (another of the many collage sheets Laura created and used in the project).

Visit Laura at Artfully Musing to view the video tutorial and see more photos to find out how she made everything.


Hooray for the Boutique Exquisite Giveaway!
Wow! There were so many options I didn't know where to start (and there are even more items in the Giveaway than those in the image)!
I started with ALL 6 of Laura's new Collage Sheets:
– Boutique Exquisite
– Dress Forms
– Fabulous Hats & More
– Mini Perfume Labels
– Narrow Matchbox Drawer Fronts
– Matchbox Drawer Fronts
Then moved on to these pretty little embellishments:
– A set of 8mm Faceted Clear Glass Cube Beads
– A Pink Resin Perfume Bottle
– A foot of Miniature Acrylic Crystal Garland
– A Bronze Umbrella Charm
– Antique Bazaar Scrapbook Paper – Limited
– Antique Bazaar Scrapbook Paper – Collectors
– A set of 15mm Antique Bronze Filigree Bead Caps
To enter the Boutique Exquisite Giveaway drawing all you have to do is leave a comment on this blog post TODAY or TOMORROW (the deadline is 11:59 pm PST, Monday Night, August 17, 2015. AND tell me which part of Laura's project (or tutorial) do you find most inspiring (that you'd like to try or maybe create your own variation of).
Don't forget to leave your (hello! correct) email address, too, so I can contact the winner; your email address does not need to be made public. Note: I'm offering free shipping, too, but only within the USA. International shipping will still apply.
Please be patient! Spammers try to post crap here a lot so comments are moderated. So if you don't see your post in the comments section, be patient and check back in a few hours before re-posting it, please!
After midnight, I'll randomly pick the winner (via Random.org). So make sure to check back to see who won! And check your mailbox on Thursday morning for the next Giveaway and Newsletter!
Hey, who won the Eyeballs & Cabochons Giveaway? That would be Ritva! (And she replied to my question "Tell me what you would make with all of those eyeballs?!": Poison bottle labels – an eye in the middle, exciting!) Please check your email for my message about getting your mailing address.
Posted by Leslie, August 16th, 2015