Before we get to TWO very different but equally lovely (haunting? haunted?) Halloween stencil projects by Rhonda and Katie, there's a new FREE gift! Inspired by the NEW TIM HOLTZ HALLOWEEN GOODIES (whew! been waiting for these): Pick Your Poison Gift Sheet (it's a half-page sheet, so there are lots of little images… and most of the poison labels have taken a detour into odd vintage rat poisons). This mini collage sheet is FREE for all orders, regardless of order size! If you place an all-digital order, I'll send you the Gift Sheet as a pdf file. See the Giveaway below for a larger photo.


What month is it now…August? It's so hot I feel like Dali's infamous melted timepiece and can't keep track of time. However! I do know that it is time for that delightful wordsmith from Singapore, Design Team Member Katie Zoey Ho and her Salvaged Love Bride.
"The glaze of her eyes filled with hope and desires. Her heart, felt burdened and heavy; as if it weighed a few tonnes worth of Silver. Though she felt warm at heart as she waited for the love she had for her Man was so generous, her heart was tearing. Drop by drop, she salvaged.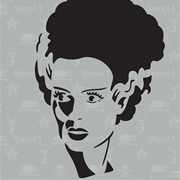 She lamented in despair on each drop of love she salvaged. She felt pain; a pain so immensely deep that she could feel pricks of sharps piercing through her heart. Her Man never returns. Oh! How long more I would have to wait? For my love has left no more to salvage yet I yearn and desire for your everlasting love. She withered as nights went past. And goodbye… my love."
I do adore the image from the (New!) Bride of Frankenstein Stencil in the background; perhaps she's angry for the poor, withered, skeletal bride? Katie used some of the Molding Paste with the Tim Holtz Gothic Stencil for texture and a subtle lacy pattern behind (over?) the image (and silver filigree as her earring and the bauble in her hair).
The Flaming Hearts Ex Votos II by Relics & Artifacts really is the centerpiece (of the inside of the shadowbox) and is quite stunning, painted with White Gesso, enhanced with White and Silver Gilders Paste. I love the little tiny suitcases and the Pride & Prejudice book.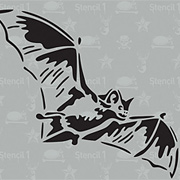 Before you hit the melancholy fainting couch have a peek at Katie's supply list. Visit Katie's blog for further details about the project and the scene.
And using more of the new Halloween stencils (and in a variety of projects… more than the Grungeboard banner and paper bag luminaries shown below) is Design Team Member Rhonda Secrist Thomas! The images look great in black and white (and nice to see that bat reversed on either end of the mantle… another nice thing about using a stencil rather than a rubber stamp).
Here's a link to Rhonda's supply list; and visit her blog for more info and inspiration.


Hooray for the Salvaged Love Bride Giveaway!
Wow. This one is an odd group, but after seeing Katie's artwork, I think all of these things should live together happily ever after. Note: everything in the Giveaway (save that bottom row showing a close-up of some of the images in the Pick Your Poison Gift Sheet) are all from Katie's Salvaged Love Bride Supply List.
Starting from the large photo in the top left (and working clockwise):
– Relic & Artifacts Casts – Flaming Hearts Ex Votos II (Beautiful pieces to leave white or paint (they take color really well… they're similar to cast plaster; they are a plastic or resin version as they are not as fragile as plaster). They have wire loops embedded so they're ready to hang.)
– Set of Miniature Books (A set of 8; and the Little Library Collage Sheet is sized to fit these books.)
– Plastic Skeleton
– Little Library Collage Sheet
– 6×6 Stencil – Bride of Frankenstein (6″ x 6″ flexible plastic stencil (or template for tracing).)
– Mixed Silver Filigrees (Lightweight, silver-plated aluminum. A mixed set of 10 pieces.)
– AND one of the new Pick Your Poison Gift Sheets (see the bottom row of the photo at right for a close-up of some of the images)!

Oops.. and one more thing: I'm including one of the Harmony 6×6 Paper Pads, that I just put on 50% Clearance! I put 5 paper pads on clearance so grab 'em fast; click here to see all 5.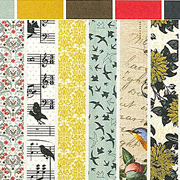 To enter the Salvaged Love Bride Giveaway drawing all you have to do is leave a comment BELOW on this blog post TODAY OR TOMORROW (the deadline is 11:59 pm PST, FRIDAY, August 7, 2015)! AND tell me what you would make with all of these Giveaway items? (Or what do you find most inspiring from any of the stencil art today?)
Don't forget to leave your (hello! correct) email address, too, so I can contact the winner; your email address does not need to be made public. Note: I'm offering free shipping, too, but only within the USA. International shipping will still apply.
Please be patient! Spammers try to post crap here a lot so comments are moderated. So if you don't see your post in the comments section, be patient and check back in a few hours before re-posting it, please!
After midnight, I'll randomly pick the winner (via Random.org). So check your mailbox on Sunday morning to see who won and for the next Giveaway and Newsletter!
Hey, who won the Cemetery Giveaway? That would be Emily N! (And she commented: "Love the cemetery fence and the trees! Another great giveaway!") Please check your email for my request for your mailing address.
Posted by Leslie, August 6th, 2015