Miz Bella is here today to tell you about TWO projects by Design Team Member Laura Carson! Let's get right to it!

Today kicks off my favorite part of the year here at Alpha Stamps, when Laura Carson starts releasing Halloween-themed projects! Today Laura brings you Two Alchemy Themed Altered Books with Video Tutorials AND New Collage Sheets! Don't know when the woman ever sleeps but I'm glad that she doesn't because we love Laura's creations! I also love Alchemy so this is a perfect start to my most favorite season of the year.
Both of Laura's projects feature altering books where she has used egg shells (!) to create a texture on the cover of the books.The first altered book, Altered Dragon Book, features a dragon's-eye cover surrounded by its scales. Two holes cut into the pages on the side of the book, accommodate small tins filled with tiny bottles containing substances the alchemist would use in their quest to transmute elements into gold (and I love the use of the Antique Bronze Talon Pendants holding skulls as handles on the drawers). Faux suede cord wrapped around the book keeps the dragon contained and the tins in place.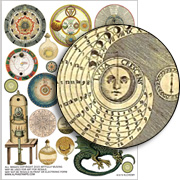 You agree that the first book is quite a feat, yes? Wait until you see the second book. It's truly an amazing work of art! The second altered book is an Alchemist's Workshop (see the wide photo below). The texture on the cover is created by applying Creative Paperclay stamped with an Alchemy Symbols Rubber Stamp and once again, egg shells. Accenting the cover are collaged celestial embellishments. Standing guard above is a chipboard dragon coated with egg shells, and the images you see are mostly from the new Alchemy and Alchemists Workshop Collage Sheets that Laura created to coordinate with the two projects.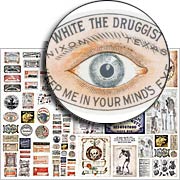 When you look at the other side of the book, you're going to be blown away once again by the minute detail that Laura pays to detail. The aromatherapist in me is just freaking out over the little distillation unit that Laura created. (And I'm needing to get my hands on everything she used to create my own mini version!)
"By folding and cutting the pages in the book, you can create architecture. Inside the book is distilling equipment made from bottles, a working hourglass (made from 2 little bottles) and all kinds of bottles, bowls, candles, a scale and weights and other items that would outfit and alchemist's workshop."
Stunning work as always from Laura Carson! Here is the supply list for the Altered Dragon Book and another for the Alchemist's Workshop. Head over to Artfully Musing to find TWO video tutorials for directions on how Laura created her fabulous books and she has a couple of freebie downloads for you as well!


Hooray for the Alchemy Giveaway!
This week has a mix of items in the Giveaway: some back in stock items and a few of the fab alchemy things from Laura's Alchemist's Workshop:
– Paper Mache Coffin Set (Ok.. so I may not be giving you a book to alter but how about a set of coffins?)

– Large Ceramic Raven Bead
– Fancy Brass Sun or Starburst
– Dragons Die-Cut Chipboard Set
– Laura's Alchemy Collage Sheet
– One of the Mini Resin Honey Jars
– 1 Inch Brass Star No Loop

– A set of Tiny Round Bottles (Laura used 2 to make her working hourglass)
– AND one of the new Mini Alchemy Half Sheets (see the bottom row of the photo at right for a close-up of some of the images)!

To enter the Alchemy Giveaway drawing all you have to do is leave a comment BELOW on this blog post TODAY OR TOMORROW (the deadline is 11:59 pm PST, FRIDAY, July 31, 2015)! AND tell me if you can think up a project using all of these Giveaway items, what would that project be and what other supplies would you add? Special second prize (both of Laura's new Alchemy Collage Sheets) for most creative project idea!
Don't forget to leave your (hello! correct) email address, too, so I can contact the winner; your email address does not need to be made public. Note: I'm offering free shipping, too, but only within the USA. International shipping will still apply.
Please be patient! Spammers try to post crap here a lot so comments are moderated. So if you don't see your post in the comments section, be patient and check back in a few hours before re-posting it, please!
After midnight, I'll randomly pick the winner (via Random.org). So check your mailbox on Sunday morning to see who won and for the next Giveaway and Newsletter!
Hey, who won the Witch's Cottage Fireplace Giveaway? That would be sheilaAR! (And she commented: "Incredible job, Shannon! I've been collecting some elements for a witch room but haven't gotten there yet…you've inspired me! Could look at the contents of the cottage all day and still not see everything in it. Love!!!") Please check your email for my request for your mailing address.
Posted by Leslie, July 30th, 2015