Note: most of the links on this post no longer work, as we moved to a new Web site in 2018. But you can try searching on the same names (as links below) on the new site.
A quick reminder before getting to the fun (and very colorful) artwork, new goodies and a NEW swap(!): The Matchbox Labels & Keys FREE Gift Kit announced in last Thursday's newsletter is still on offer! More info and photos

And if you missed it, Design Team Member Rhonda Secrist Thomas' The Great Harry Houdini Museum in that newsletter is fabulous! Go see it!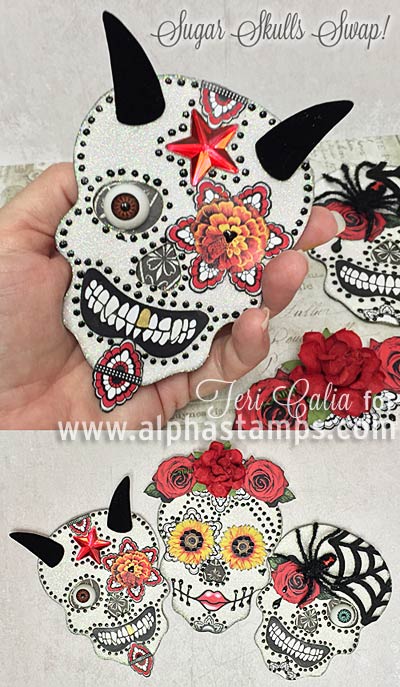 We're hosting a Chipboard Sugar Skulls Swap!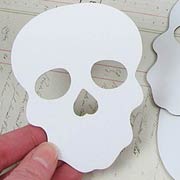 Colorful Sugar Skulls! Paint, mist, distress, glitter, add flowers, use stencils, or whatever tickles your muse's fancy! And think of all the fun ways to use the art you receive in trade: beside single Hallowe
en decorations, you could string some together and make a banner (for just one idea).
Each of your Sugar Skulls must include an Alpha Stamps rubber stamp or collage sheet image. You must also use the Chipboard Sugar Skulls, but they're supplied after you sign up!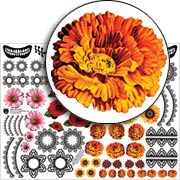 Hey, and beside the brand spanking new (and On Sale!) Sugar Skull Parts Collage Sheet that Teri Calia created specifically for this swap, ALL of the Collage Sheets are On Sale! You could start with Halloween Collage Sheets, then maybe wander over to the florals in the Spring & Summer Flowers section to get started.
Sign up by Monday, August 3rd. Artwork must be postmarked to our swap hostess, Design Team Member Caroline Ouzts-Hay, no later than Monday, September 14th (2015).
In addition to Teri's crazy skulls at right, see below for more fun sugar skulls (made with the new Lindys Stamp Gang Starburst Sprays!) by Miz Bella!
Get more info and sign up on the swap page. And see more of those crazy colorful creations by Teri and Bella in the Gallery!


Next up: Bella had way too much fun playing with the (New!) colors of Lindys Stamp Gang Starburst Sprays!
I loved playing with the Lindys Stamp Gang Sprays on the Chipboard Sugar Skulls; especially since the skulls were already white to begin with. If you haven't used any of the Lindys sprays before you have been missing out on some fabulous, luscious colors that have a separate colored sheen to them at the same time.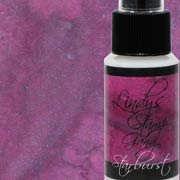 Sweet Violet Purple Teal is one of my favorite colors to use. It is one of those unique colors that changes depending on how much you spray, paint or dab. It starts as a bright magenta pink and turns to a deeper, plum-y purple the more you spray. The dark plum looks gorgeous with the way the teal just flecks around here and there. Either way, it has a beautiful teal shimmer when you move your project.
Screamin' Banshee Black is a deep black with subtle blue shimmer. I used it on the 'Arachnae Montescalia' Sugar Skull and while it is supposed to be black with and have a blue shimmer, sometimes it seems like it has a purple shimmer. Maybe if I had sprayed it a lot closer than what I did it would have been a darker black; I'll have to try that next time. I dabbed some Distress Stain Black Soot over a mask to darken it up a bit; the Distress Stain is sheer enough that the shimmer still shows through. Even though you can't tell by the picture it is a very cool effect!
Hottie Patottie Hot Pink is a hot, hot pink with a subtle pink shimmer but I could have sworn that it kind of looked a little silvery to me. Then it looked light pink again. Could have been the lighting, could have been the naughty fairies playing tricks but either way — it's a a keeper.
Jack In The Pulpit Teal is a greenish teal with a soft teal shimmer. Sprayed from a distance it has more of a teal appeal (just couldn't resist on that one) and if you spray close up then you'll get a gorgeous, deep, dark, sparkly green.


Hooray for the Dia de los Muertos Shrine Giveaway!
Now don't hyperventilate… I'm not giving away Teri's finished artwork! What I am giving away is pretty much EVERYTHING she used to make that lovely shrine!:
– Tiny Paper Roses – Bright Yellow (New!)
– Miniature Fruit Plate (New!)
– 40x30mm Halloween 3D Skull Cameo (New!)
– Paper Mache Tombstones Set
– Happy Haunting – Border Strips Scrapbook Paper
– Faux Suede Sheets
– Tim Holtz Small Talk Sticker Book
– 40x30mm Black Resin Cameo Setting
– Metal Flowers (Black Roses)
– Thin Looped Dresden Borders – Black
– A Plastic Skeleton
– AND even the White Gesso to paint that skeleton!

To enter the Dia de los Muertos Shrine Giveaway drawing all you have to do is leave a comment on this blog post TODAY or TOMORROW (the deadline is 11:59 pm PST, Monday Night, July 20, 2015. AND tell me if you're planning on joining the Sugar Skull Swap and what crazy colored embellishments you'll use on your skulls (or what crazy colored items you like from today's newletter even if you can't join the swap).
Don't forget to leave your (hello! correct) email address, too, so I can contact the winner; your email address does not need to be made public. Note: I'm offering free shipping, too, but only within the USA. International shipping will still apply.
Please be patient! Spammers try to post crap here a lot so comments are moderated. So if you don't see your post in the comments section, be patient and check back in a few hours before re-posting it, please!
After midnight, I'll randomly pick the winner (via Random.org). So make sure to check back to see who won! And check your mailbox on Thursday morning for the next Giveaway and Newsletter!
Hey, who won the Houdini Kit Giveaway? That would be Janet Turner! (And she commented: "I love the great ideas. I like using the key charms for collage boxes I make. It adds extra interest.") Please check your email for my message about getting your mailing address.
Posted by Leslie, July 19th, 2015