Note: most of the links on this post no longer work, as we moved to a new Web site in 2018. However, you can see the supply list items from
Kristin's
and
Teri's
projects that are still available on the new site.
A few quick notes before getting to the beautiful artwork and new goodies:

– The Pretty Penny FREE Gift Kit announced in last Thursday's newsletter is still on offer! More info and photos.

– The Sale on the New Rare Oddities Paper (and Stamp) Collection and the ENTIRE Halloween Charms Section, both announced in last FRIDAY's newsletter. is still going strong! (And don't forget those Halloween Grab Bags!)

– AND… yes! It's getting to be that time of year… Be sure to sign up for the Newsletters (if you're reading this on the blog and not from the Newsletter itself) because on Sunday, July 19th we'll be announcing a HALLOWEEN SWAP!

NEW Magic Potions Kit

This month's kit is Magic Potions! And it should be subtitled "a study in size contrasts" because in addition to this teeny, tiny kit, there is another kit with a larger, chipboard book with a hidden drawer (Secret Spell Book Box Kit — more info and artwork below).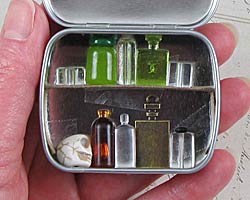 Starting with the tin in this kit: the Small Hinged Tins are smaller than the Altoids Tins. This one is 2-1/2″ x 2″ x 1/2″ tall. And I made a Covers for Apothecary Tins Collage Sheet with covers to fit this new small size tin (and the Altoids Tins) with lots of fortune teller image options (and a couple options for making your tin look like an old magic book or a vintage card deck box). The collage sheet is also included in the kit.
I had such fun finding tiny little bottles to fit inside (even in 2 rows… see the photo at left with me holding the tin). Also a tiny marble (and a little bead cap to sit it on) to make a crystal ball. And with these small sizes, the bottles and "crystal ball" are perfect for 1:12 scale dollhouses!
I've also included 2 more new collage sheets:
– Tiny Divination Cards Collage Sheet
Not standard tarot cards but 19th century French fortune cards. Card are in 3 sizes; the largest are 1-3/4″ tall (still small). Note: the tiniest cards are approx 1/2″ tall and can be used for 1:12 scale dollhouse miniatures.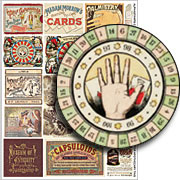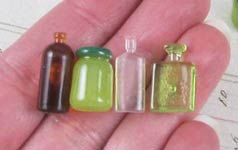 – Tiny Magic Books & Potion Labels Collage Sheet
Beside the teeny tiny bottles in the Magic Potions Kit, this sheet has labels sized to fit bottles from the Even Tinier Bottles, up to the 2 Inch Glass Bottles (and lots of things in between, including the set of Corked Vials, Mini Inkwell Bottles, 12 Tiny Glass Bottles, 3cm Tall Bottle with Cork and 1-1/2 Inch Glass Bottles).
(And remember: all the collage sheets are on sale for 15% off (and the digital downloads are on sale for 40% off!), so those 3 new collage sheets are on sale, too!)
More info is on the Magic Potions Kit page.


That Kristin Batsel is so clever! She connected 3 of the new tins (well… actually 1-1/2 tins as she used 2 lids) to make a tiny triptych!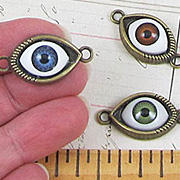 Before the Apoxie Sculpt Epoxy Clay had time to dry, I pushed the half round filigree into the top, and then added the metal pieces. I also draped the rosary chain where I wanted it to be, and pushed the corner beads into the clay so that when I glued that in with some E6000, those beads would have a nice indentation to sit in. I removed the chain for painting.
I also love the Eyeball Cab in Setting (also in the kit) and new Silver Skeleton Pendant Kristin used to embellish that center panel (and don't forget the bottle with the 18x13mm Oval Filigree Setting behind it).
You can read more about Kristin's project on her blog post. And/or see the other new goodies Kristin used in her supply list. AND more photos in the Gallery.
But don't forget to come back and enter the Giveaway, below, as it includes supplies from Kristin's artwork (plus BOTH of today's new kits)!

Ohh… a book that looks "normal" when sitting on a shelf, but pull out the spine and there's a secret compartment inside!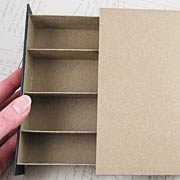 This kit contains the Chipboard Secret Spell Book Box and 3 collage sheets used to make the sample artwork by Teri Calia shown at far right (all 4 items in the kit are also available to purchase separately). Teri used quite a few bottles, scrapbook papers, and other embellishments not in this kit, so check her supplies list for all the parts.
Note: the chipboard book arrives flat, but is completely cut and scored and ready to put together.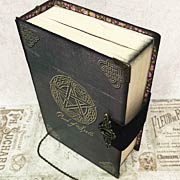 See Teri's Snapguide tutorial with instructions and tips on how to put the box together.
The collage sheets include covers, spine, faux "pages" (for the top, bottom and sides of the closed book), and a wood-look drawer (if you choose to put a drawer in the bottom of your box, like Teri did) along with some specimen tags, boxes and a big bunch of miniature labels & book covers. See the individual collage sheet pages for more information.
More info is on the Secret Spell Book Box Kit page.


Hooray for the Magic Potions & Spells 2 Kit Giveaway!
I started with BOTH of today's kits: Magic Potions Kit and the Secret Spell Book Box Kit.
Then I added these goodies from Kristin's Love Potion #9 (note: that's a link to photos of ALL the supplies):
– 12 Tiny Glass Bottles
– Silver Skeleton Pendant
– Rosary Chain – Garnet
– 18x13mm Oval Filigree Setting
– 7mm Flower Washers
– An extra Small Hinged Tin (beside the one in the kit) in case you want to make a triptych lke Kristin did!
To enter the Magic Potions & Spells 2 Kit Giveaway drawing all you have to do is leave a comment on this blog post TODAY or TOMORROW (the deadline is 11:59 pm PST, Monday Night, July 6, 2015. AND tell me either (or both): which of the tiny kit bottles you like the best (and why); or what do would you make with the prize.
Don't forget to leave your (hello! correct) email address, too, so I can contact the winner; your email address does not need to be made public. Note: I'm offering free shipping, too, but only within the USA. International shipping will still apply.
Please be patient! Spammers try to post crap here a lot so comments are moderated. So if you don't see your post in the comments section, be patient and check back in a few hours before re-posting it, please!
After midnight, I'll randomly pick the winner (via Random.org). So make sure to check back to see who won! And check your mailbox on Thursday morning for the next Giveaway and Newsletter!
Hey, who won the Pretty Penny Emporium Giveaway? That would be Rise St Arno! (And she commented: "Victorian like its namesake Queen Victoria are timeless, more please.") Please check your email for my message about getting your mailing address.
Posted by Leslie, July 5th, 2015