Just one reminder before getting to the beautiful artwork and new goodies: the Clothespin Clips FREE Gift Kit announced in last Thursday's newsletter (with those adorable circus puzzle blocks) is still on offer! Through Wednesday night, July 1st (!) we'll include this mini kit FREE for all orders over $15! AND the cute little Clothespin Clips Gift Sheet, exclusive to this Gift Kit, is FREE for all orders, regardless of order size! If you place an all-digital order, we'll send you the Clothespin Clips Gift Sheet as a pdf file. More info and photos.

You know how crazy we are over Dollhouse Miniatures here at Alpha Stamps, so Leslie has decided to add more categories so finding them is even easier. AND there are some new miniature items this week as well — yay! See below for more info and pics of the new items… And ALL the categories in this new Dollhouse Miniatures section are On Sale!

On to the artwork! Resident archaeologist and Design Team Member Katie Zoey Ho is offering to show us (with the Mermaids Kit) what really happened to the Little Mermaid's tail, after her ascension into the air where she dissolved and became foam in Hans Christian Anderson's tale (oh yes, pun intended!)
"It was till very recently, a group of archaeologists discovered her tail, foam ashes and various marine and human artifacts at the Northern Celestial Pole of The Meridian, providing an insight story of The Mermaid's life; a series of mysteries therefore gradually unfolds.
It seriously took that much amount of effort, to restore and preserve the mermaid tail, her foam ashes and other discoveries which ultimately exhausted an enormous amount of energies and years. As much as we think we know this much about the marine and human life of The Mermaid, much of the discoveries reveal much more details than we ever thought of. With all the accomplished effort by the experts, The Mermaid Museum is finally fully erected, available for public viewing for the very first time in history.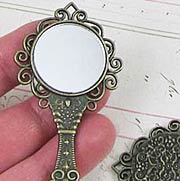 Walk into the aftermath story of The Mermaid's life and experience the journey like you've never been before, for she has forsaken her tail for a pair of human legs in exchange for a human life. It's also for the first time, a Treasure Chest of her various belongings as a human are revealed."
Let's have a look in that Treasure Chest! I see (in my best Miss Nancy, Romper Room imitation) a magical (New and very pretty!) Fancy Hand Mirror, Fancy Gold Buttons, and some Iridescent Pearl Strands!
The real treasure of course is The Mermaid's tail, showcased against a Shabby Chic Tart Tin Frame with its gorgeous mermaid palette and framed with the (New!) Artsy Large Chipboard Frame Set. Turn it around and there right in the middle is a Small Corked Bottle of Mermaid Foam Ashes! True story.
See some of the special tools and chemicals that were used in the excavation of the Mermaid's Tail in Katie's supply list and the Gallery for more photos. And see Katie's blog post for entrance to the museum!
Design Team Member Shanna Shands also used the Mermaids Kit and created a beautiful Mermaid Pearls in a Bottle with an aqua and gold color palette. The bottle is dripping with embellishments and has a great finish to it, and Shanna shows you how to achieve the colors (and make pretty hanging charms from bottles and sea glass) in a tutorial on her blog!


Hooray for the Mermaid Seashells Giveaway!
I started with these goodies from Katie's The Mermaid Museum (note: that's a link to photos of ALL the supplies… even more than this list):
– Fancy Bronze Hand Mirror (New!)
– Large Seashells (New!)
– The Sea Fiber Set
– Shabby Chic Tart Tin Frame
– Mermaids #3 Collage Sheet
– 3cm Tall Bottle with Cork
– Wooden Knobs
– Brass Shell Scroll
– 1/2 Inch Bronze Starfish Charms
– Fancy Gold Buttons in Tin
– Iridescent Plastic Pearls (Strands)
– Iridescent Glass Micro Beads in Bottle

Then, a few more items I like:
– Fancy Acorn Drawer Knob (New!)
– Mini Antiqued Treasure Box (New!)
– Small Bronze Hand Mirror (New!)
– Iridescent Glass Spheres – 2mm in Bottles
– Little Mermaid Rubber Stamp (Just put on sale at 50% off! See other clearance items on sale at 50% off.)
To enter the Mermaid Seashells Giveaway drawing all you have to do is leave a comment on this blog post TODAY or TOMORROW (the deadline is 11:59 pm PST, Monday Night, June 29, 2015. AND tell me what Dollhouse Miniatures you'd like to see more of.
Don't forget to leave your (hello! correct) email address, too, so I can contact the winner; your email address does not need to be made public. Note: I'm offering free shipping, too, but only within the USA. International shipping will still apply.
Please be patient! Spammers try to post crap here a lot so comments are moderated. So if you don't see your post in the comments section, be patient and check back in a few hours before re-posting it, please!
After midnight, I'll randomly pick the winner (via Random.org). So make sure to check back to see who won! And check your mailbox on Thursday morning for the next Giveaway and Newsletter!
Hey, who won the Circus Toys (& Alice in Wonderland) Giveaway? That would be Kristie Norman! (And she commented: "What a great give away. I love the puzzle blocks !!!") Please check your email for my message about getting your mailing address.

Posted by Leslie, June 28th, 2015