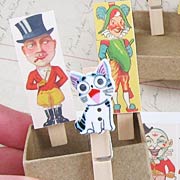 Before I let Miz Bella tell you about all the fun, colorful artwork… there's a new Clothespin Clips FREE Gift Kit! I've made a little Clothespin Clips Collage Sheet, with images sized for decorating the new Small Wooden Clothespins! From circus performers to characters from Alice in Wonderland, there's a lot of silliness in a little space. The kit includes the new mini collage sheet, two of the Small Wooden Clothespins and two painted wooden buttons. These are so easy to put together and who knows where you'll clip them… from a kid's lunch bag to a photo on the fridge. This mini kit is FREE for all orders over $15! AND the cute little Clothespin Clips Gift Sheet, exclusive to this Gift Kit, is FREE for all orders, regardless of order size! If you place an all-digital order, I'll send you the Clothespin Clips Gift Sheet as a pdf file.


What's more fun than going to the circus? Clowning Around and playing with Circus Toys made by Design Team Members Shannon Cooper and Kristin Batsel!
Both Shannon and Kristin have made some very cool vintage-themed blocks that could provide hours of fun for tiny tots OR adults (whether they happen to be inebriated or not.) Both used the (New!) Funny Mixies Collage Sheet that was inspired by vintage childrens blocks (and split-page books) where you can rearrange the heads, torsos and legs to make funny combinations.
Also used in both creations are the adorable 1 Inch Wooden Blocks and the 3-1/2 Inch Square Box. Cover the box in some cute paper such as the Mother Goose Stars & Solids Pad that Shannon used (or Kristin's collage sheet decor, I just can't list it all out but you could check out Kristin's supply list if you like how she decorated her box better!)
Keeping up with the block theme Shannon made an awesome Sideshow Tower with the Circus Folk and Sideshow Folk Collage Sheets. This time she used the slightly larger 1-1/2 Inch Wooden Cube Blocks and they spin around a 1/4 Inch Wooden Dowel. AND Shannon provides a tutorial! They're so fabulous that either set would make great gifts for both children and adults.
Then! As if that wasn't enough vintage toy fun, Shannon decided to play with the Vintage Circus Toys Collage Sheet. These images all came out of Leslie's vintage magazines stash again! These are all mechanical toys (they all have arms, heads, etc. that move; and they all stand up so you can arrange them in a little scene). The artwork's pretty cute, too, so you could cut out the figures and use them without using as moveable toys. Not only did Shannon put them together, but she also shot a quick little video of them in action and provides some tips for how to put them together.
And remember: all the collage sheet are on sale for 15% off, so those 2 new collage sheets I just mentioned are, too! (As well as those vintage sideshow collage sheets!)
See more pics and tips on Kristin's and Shannon's blogs.


Hooray for the Circus Toys (& Alice in Wonderland) Giveaway!
Wow… let's just dive in! This Giveaway includes:
– Vintage Circus Toys Collage Sheet
– Funny Mixies Collage Sheet
– Reversible Clowns Collage Sheet
– 3-1/2 Inch Square Box
– 1 Inch Wooden Cube Block (nine!)
– Tiny Dot Dresden Borders – Red (Back in Stock)
– Round Wooden Ball – 1/2 Inch
– Black & White Striped 20mm Resin Beads (New!)
– Small Wooden Clothespins
– Mushroom & Caterpillar Charm (New!)
– 3D Bronze Alice in Wonderland Charm (New!)
– Antique Bronze 3D Rabbit Charms
– Clothespin Clips FREE Gift Kit!

To enter the Circus Toys (& Alice in Wonderland) Giveaway drawing all you have to do is leave a comment BELOW on this blog post TODAY OR TOMORROW (the deadline is 11:59 pm PST, FRIDAY, June 26, 2015)! AND tell me which of the silly images on the Clothespin Clips Gift Sheet you like best and how you'll use your Clothespin Clips! That's the FREE mini collage sheet in the Clothespin Clips FREE Gift Kit so go take a gander!
Don't forget to leave your (hello! correct) email address, too, so I can contact the winner; your email address does not need to be made public. Note: I'm offering free shipping, too, but only within the USA. International shipping will still apply.
Please be patient! Spammers try to post crap here a lot so comments are moderated. So if you don't see your post in the comments section, be patient and check back in a few hours before re-posting it, please!
After midnight, I'll randomly pick the winner (via Random.org). So check your mailbox on Sunday morning to see who won and for the next Giveaway and Newsletter!
Hey, who won the Mermaid Garden Giveaway? That would be Ronda Liebert! (And she commented: "I love this mix. I would like to make a minibook called "Under the Sea".") Please check your email for my message about getting your mailing address.
Posted by Leslie, June 25th, 2015