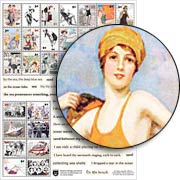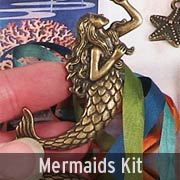 A Summer/beachy sale reminder before jumping to the new things: because of this month's Mermaids Kit, the ENTIRE beach theme section is on sale; including collage sheets, rubber stamps, charms, ribbons, paints, stains… over 150 summer products! ON SALE through Thursday night, June 18th (and remember: all the collage sheet are on sale, too). FREE Beach-Themed Collage Sheet with every order! Pick your own from this large group or Leslie will pick one for you (just type your beach collage sheet choice into the comments section when you check out). That sheet at right is the Beachy Postage & Words Collage Sheet… just one of 47 to choose from!


Design Team Member Caroline Ouzts-Hay has discovered how much fun the (New and On Sale!) Tim Holtz Portfolios are to work with and has created a Circus Folio.
The folio comes in Small and Large sizes with an elastic band closure, cascading tabs for attaching artwork and gusseted to hold layered/thick mementos. The center "cascading" part is shipped unattached, which lets you paint or stamp it (or fasten ephemera to it — or even stitch on it) before attaching to the center of the outer "wrapper). The best thing about these folios are that they can certainly take a lot of mixed-media abuse!
Caroline chose the Small Portfolio and the Run Away to the Circus Kit for her project and just like a circus complete with a big top and a sideshow, there's a lot to take in and look at with her project!
"On the inside bottom flap I used images from the Carnival Scrapbook Papers – Sideshow and Big Top. My lovely lady is from the Tattooed Ladies Collage Sheet. I finished it off with a fun saying stamped directly on and some stenciled stars from the Punchinella Stencil.
"I put a Tiny Brown Kraft Envelope on the inside of each of the left and right flaps to hold goodies. The "twin" circus ladies nearby are mounted on a die cut from Tim Holtz Thinlits Mini Label Die Set.
And now for the really fun part. All the stuff that flips!"
The page that flips to the Women Circus Performers and a horse from (my favorite) Tiny Circus Collage Sheets is just a sampling of things that you can do with the Portfolios. There's so much you can do with them, you'll flip yourself coming up with ideas for them!
We have the Circus Folio supply list so you can see what Caroline used, more pictures in the Gallery, and you'll want to head over to Caroline's blog to see the rest of the show to see all of the stuff that flips!


Hooray for the Circus Folio Giveaway!
Wow… with the NINE collage sheets in Caroline's artwork (and that Tim Holtz Small Portfolio, too) there's an extra photo below to show all the goodies in this Giveaway!
Starting with these goodies from Caroline's Circus Folio (note: that's a link to photos of ALL the supplies… and there are a lot!):
– Tim Holtz Small Portfolio (New!)
– Vintage Circus or Carnival Tickets
– Gypsy Moments Poses & Reflections Scrapbook Paper
– Carnival Scrapbook Paper – Big Top
– Carnival Scrapbook Paper – Sideshow
– Junque Gypsy Scrapbook Paper – Carpe Diem
– 3cm Tall Bronze Elephant Charms
– Tiny Envelopes – Brown Bag Kraft
And here's a listing of those NINE collage sheets (in Caroline's artwork and in the Giveaway):
– Circus Equestrienne Collage Sheet
– Aerialists Collage Sheet
– Tiny Circus Collage Sheet
– Circus Folk Collage Sheet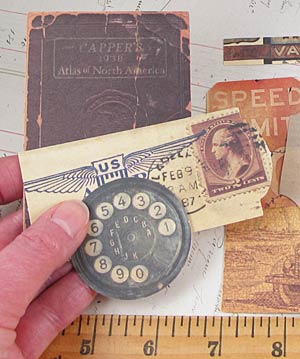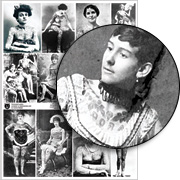 – Tattooed Ladies Collage Sheet
– Circus Performers #1 Collage Sheet
– Clowns #3 Collage Sheet
– Reversible Clowns Collage Sheet
– Women Circus Performers Collage Sheet
Then I added these items that aren't in Caroline's artwork:
– Circus Poster Cling Stamp (this one is special… the last one we have)
– Mini Ephemera – American Vintage (New and On Sale! Maybe you'll make a summer vacation folio?)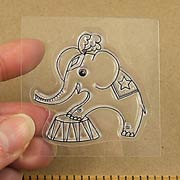 – Circus Elephant Clear Stamp (hey, that stamp is On Sale for 50% off!)
To enter the Circus Folio Giveaway drawing all you have to do is leave a comment on this blog post TODAY or TOMORROW (the deadline is 11:59 pm PST, Monday Night, June 8, 2015. AND tell me which of those flippy pages from Caroline's Circus Folio you like best (and why). Here's a repeat of the link to Caroline's blog post.
Don't forget to leave your (hello! correct) email address, too, so I can contact the winner; your email address does not need to be made public. Note: I'm offering free shipping, too, but only within the USA. International shipping will still apply.
Please be patient! Spammers try to post crap here a lot so comments are moderated. So if you don't see your post in the comments section, be patient and check back in a few hours before re-posting it, please!
After midnight, I'll randomly pick the winner (via Random.org). So make sure to check back to see who won! And check your mailbox on Thursday morning for the next Giveaway and Newsletter!`
Hey, who won the Crazy Housewives Giveaway? That would be Gilda! (And she commented: "Love the 50s theme — my childhood. The little TV is great.") Please check your email for my message about getting your mailing address.

Posted by Leslie, June 7th, 2015