A couple quick announcements before getting to the beautiful artwork by Shanna Shands: ALL Die-Cut Chipboard is ON SALE for 20% off! Sale Ends Tuesday night, May 26th.
And the FREE circus collage by Laura Carson announced in last Sunday's newsletter is still on offer! Through Saturday night, May 23rd we'll be including a cardstock version of The Circus is Coming to Town Collage Sheet in all orders! It includes fun stylized "CIRCUS" and "FUN" text and signage (and balloons) used in Laura's artwork.

We have more runaways from the circus with two projects by Design Team Member Shanna Shands! The first is the Magician's Assistant Trunk. Shanna used the Run Away and Join the Circus Kit (and Add-On Kit) and the Vintage Vagabond Kit to create her little runaway's trunk full of necessities for a life full of fun and adventure!
The Magician's Assistant has her Steamer Trunk full of everything an assistant to Houdini would need — as well as a reminder of what she left behind at home. Magic books to study so she doesn't get herself sawed in half, Houdini posters, fashion magazines to help with designing her costume and even a picture hanging on the wall of dear old mom.
In the Circus Memory Box are adorable little books, posters and the really super cute Tim Holtz Picture Wheel Die that is like a vintage View-Master wheel (with little windows for pics or transparencies). Those used to be so much fun; so let's make some of our own! They'd make REALLY cute cards for Halloween or Christmas, don't you think?
Check out the supply list for both of Shanna's projects and see more photos in the Gallery. Then head on over to Shanna's blog where she has a detailed, step-by-step tutorial on how to make the Magician Assistant Trunk AND the sweet Circus Memory Box!


Hooray for the Chipboard Circus & Posies Giveaway!
Wow… this one had a mind of its own! Seven collage sheets (!) so there's an extra photo below to show them all.
I started with these goodies from Shanna's Running Away to the Circus Projects (note: that's a link to photos of ALL the supplies… even more than this list):
– Women Circus Performers Collage Sheet
– Vintage Magician Posters Collage Sheet
– Haunted Ship Travel Collage Sheet
– Circus Equestrienne Collage Sheet
– Circus Performers #1 Collage Sheet
– Tiny Circus Collage Sheet
– Travel Reading Collage Sheet
– Sea Fiber Set
– Chipboard Steamer Trunk
– Carnival 6×6 Paper Pad
– Bronze Binoculars Charm
– Gypsy Moments Poses & Reflections Scrapbook Paper
And a couple of the items from the Die-Cut Chipboard Sale:
– House Shaped Die-Cut Chipboard
– Curtains Die-Cut Chipboard Set
Then one of the 40% Off Sale Vintage Wooden Crates:
– Wooden Vintage Mini Crate – Stained (it's hiding over on the right side of the photo, under flowers and fibers)
And finally, two of the recent additions to the lovely Vintage Velvet Flowers:
– Vintage Velvet Hydrangea Picks – Royal Blue
– Vintage Velvet Pansies – Apricot
To enter the Chipboard Circus & Posies Giveaway drawing all you have to do is leave a comment BELOW on this blog post TODAY OR TOMORROW (the deadline is 11:59 pm PST, FRIDAY, May 22, 2015)! AND tell me which color Vintage Velvet Flowers you like best. (A close-up of the two sets in today's Giveaway is at left BUT look at ALL of the color options!)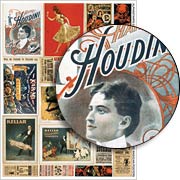 Don't forget to leave your (hello! correct) email address, too, so I can contact the winner; your email address does not need to be made public. Note: I'm offering free shipping, too, but only within the USA. International shipping will still apply.
Please be patient! Spammers try to post crap here a lot so comments are moderated. So if you don't see your post in the comments section, be patient and check back in a few hours before re-posting it, please!
After midnight, I'll randomly pick the winner (via Random.org). So check your mailbox on Sunday morning to see who won and for the next Giveaway and Newsletter!
Hey, who won the Clowns & Tricycles Giveaway? That would be Emily N! (And she commented: "I love this project! My favorite collage sheet is the vintage magicians posters. They are all great!" Good call, Emily, as that collage sheet is also in todays artwork and Giveaway!) Please check your email for my message about getting your mailing address.

Posted by Leslie, May 21st, 2015