A reminder before getting to the beautiful artwork by Lora Mahaffey (and New Miniatures!), the Half Price Sale on Circus Rubber Stamps and Circus Collage Sheets (and FREE collage sheet offer) continues through Friday, May 15th — that's TOMORROW! The circus goodies are on sale because of the May Kit Theme: Run Away and Join the Circus. Note: the Tim Holtz stamp sets are on sale for 20% off — still a great deal!


Design Team Member Lora Mahaffey has had her head in the clouds, floating over far-away locales, finally landing in her hot air balloon as The Lepidopterist Explorer!
How sweet are all of those butterflies carrying the trunk via the hot air balloon that Laura designed from the Time Keeper Scrapbook Papers? (See the wide photo below for more of this big project.) The trunk is made from the Chipboard Steamer Trunk covered with paper from the Serengeti 6×6 Paper Pad, Faux Suede Paper (for the straps on the steamer trunk), and Tiny Faux Ring Handles are used on the outside of the trunk.
When everything is opened up, and The Lepidopterist Explorer is at work observing her butterfly friends she has everything she needs handy within reach. Binoculars, a nice Pot of Tea, and a Hurricane Lamp to write by once it starts to get dark. Then it is time to plan out her next area to explore!
I love all that lime green, to contrast with the tans & browns in the Time Keeper Scrapbook Papers. The green comes from a mix of Double Dot Vintage Wasabi Green Scrapbook Paper and the Forever Green 6×6 Paper Pad.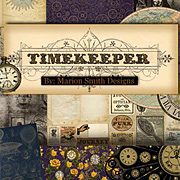 And… finally(!) the Time Keeper 6×6 Paper Pads have arrived! Whew! Didn't know if they'd ever finish their journal to this continent.
Here's a bit more info from Lora:
"I made the butterfly net from tulle and copper wire, the camp stool, bed roll and pillow are from an old flour sack towel." (Clever!)
"Nearly all the butterflies (there are 64 of them!) are from the Forever Green 6×6 Paper Pad (and the, sadly, sold out Butterfly Specifics Scrapbook Paper)."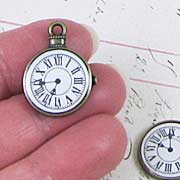 You'll want to explore The Lepidopterist Explorer Supply List before you trek on over to Lora's blog. She has more photos and she talks about how she put the balloon together AND how she made the butterflies look like they're floating!
Then come back and see the new goodies below AND the Giveaway Leslie pulled together, with a mix of butterflies, new miniatures, and papers from Lora's supplies! (And one of those new items would be perfect in Lora's trunk: the Bronze Stopwatch Clock Charm – Roman Numerals — and one is in today's Giveaway, too!)


Hooray for the Time Keeper Butterflies Giveaway!
I've included these goodies from Lora's The Lepidopterist Explorer (note: that's a link to photos of ALL the supplies… even more than this longish list):
– Chipboard Steamer Trunk
– Time Keeper Scrapbook Paper – Cogs & Gears
– Time Keeper Scrapbook Paper – Marchant
– Time Keeper Scrapbook Paper – Portfolio
– Time Keeper Scrapbook Paper – Tinker
– Double Dot Vintage Wasabi Green Scrapbook Paper
– Bronze Binoculars Charm
– Tiny Faux Ring Handles
– Small Compasses
– 3D Bronze Tea Time Teapot Charm
– Miniature Hurricane Lamp
– Little Library Collage Sheet
And a couple more miniature or butterfly things:
– Tiny 3D Bronze Sewing Machine New
– Bronze Stopwatch Clock Charm – Roman Numerals New
– Resin Butterflies
– Butterflies Collage Sheet
– Just Wings Collage Sheet
– Bronze Hot Air Balloon Charm
– Bronze Passport Charm

To enter the Time Keeper Butterflies Giveaway drawing all you have to do is leave a comment BELOW on this blog post TODAY OR TOMORROW (the deadline is 11:59 pm PST, FRIDAY, May 15, 2015)! AND tell me which of the Dollhouse Miniatures you find most useful (could be from the new ones above or any in that section).
Don't forget to leave your (hello! correct) email address, too, so I can contact the winner; your email address does not need to be made public. Note: I'm offering free shipping, too, but only within the USA. International shipping will still apply.
Please be patient! Spammers try to post crap here a lot so comments are moderated. So if you don't see your post in the comments section, be patient and check back in a few hours before re-posting it, please!
After midnight, I'll randomly pick the winner (via Random.org). So check your mailbox on Sunday morning to see who won and for the next Giveaway and Newsletter!
Hey, who won the Blushing Bees & Bottles Giveaway? That would be Marilyn H! Please check your email for my message about getting your mailing address.
Posted by Leslie, May 14th, 2015