We have an amazing project for you today from Design Team Member Nichola Battilana using an Arch Top Reliquary!
Nichola has created a reliquary that any mom (or sister or friend) would love to receive as a gift! Of Summer & Bees Reliquary. Nichola used the Arch Top Reliquary – Triptych that comes with THREE sets of 2 pieces (2 laser-cut chipboard pieces — a solid back and a matching front but the front has a window cut out). Use them separately or hinge them together (with paper tape, metal hinges, etc.) to make into one wider group.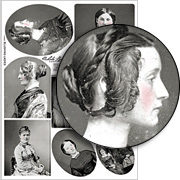 If you love the images on Nichola's reliquary, guess what? She has created a new Blushing Ladies Collage Sheet that is full of beautiful women that includes the images she used. Also worth noting: Nichola used the new Honeycomb & Bees Die-Cut Chipboard Set, new Faux Metal Number Plates and that luscious, Giant Bronze Bee Charm.
View the Of Summer & Bees Reliquary Supply List, then buzz yourself on over to Pixie Hill because Nichola has a great video tutorial for you!
Posted by Leslie, May 10th, 2015