A couple quick announcements before getting to the eye candy…
First, we have a NEW FREE collage sheet offer starting today: a FREE Steampunk Collage Sheet with every order! Your free sheet will be Leslie's choice from the Steampunk Collage Sheets. PLUS: that section is ON SALE for 50% off for this week only (and remember: all the collage sheet are on sale for 15% off). Note: if you order any of the Steampunk Collage Sheets, we'll try to give you a free one that doesn't duplicate your order (so you'll have a surprise). Steampunk Collage Sheets Sale ends Friday night, April 24th.
AND the Spring Cleaning SALE announced in Thursday's Newsetter continues through tomorrow! The ENTIRE Scrapbook Papers Section is On Sale for 40% off! Except for the New Junque Gypsy Papers (still on sale at the 15% discount price that all scrapbook papers and paper pads are normally priced at), everything in that big section is priced to clear some space! (Big section indeed: over 250 designs to choose from! Note: that may have decreased a bit as a few have already sold out.)
The Scrapbook Papers Sale ends Monday night, April 20th.


It's time for another spectacular creation by Design Team Member Laura Carson. Expedition Africa — which includes Out of Africa & Vintage Maps Collage Sheets (and a Vintage Maps Digital Image Set). (And I'd recommend beginning by scrolling down a bit to see the broad view of Laura's artwork.)
Perhaps you would like to join a group of intrepid explorers armed with only cameras and an adventurous spirit? You would? Well then get ready to delve into the heart of the Dark Continent… where animals are the esteemed explorers and humans? Meh, the mere species to be studied. (Which sounds about right to me!)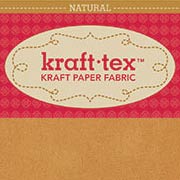 To start you'll need a good travel trunk (that is made from our Steamer Trunk Mini Kit). I bet you thought that was a leather trunk, didn't you? It's actually covered in this amazing Kraft-Tex Paper Fabric (New and On Sale!) that looks and feels like leather but sews, cuts and washes just like fabric! Laura stained it with Vintage Photo Stain and then after it dried, coated it with Rock Candy Distress Crackle Paint. Pretty fabulous how it looks like a real little animal skin trunk, don't you think? Then again, it is Laura Carson we're talking about so moving on!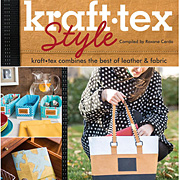 What's next? A clever little suitcase made out of a Blank Altoid Tin, painted with Metal Patinas and then covered with cork sheet from the Tim Holtz Texture Surfaces pack to cover the front and back of the tin. The Texture Surfaces is pretty handy-dandy; it's collection of adhesive-backed textured surfaces that can also be altered. Laura used a section from the burlap piece on a matchbox to make the smallest suitcase, put travel labels on all of the suitcases from the Vintage Travel Tags & Hardware Collage Sheet while the straps and handles are made from the Faux Suede Sheets.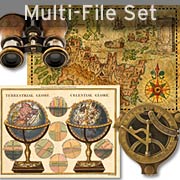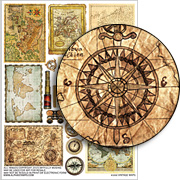 The chest is made from a Paper Mache Treasure Chest and covered with paper from the Serengeti 8×8 Paper Pad (and is the paper pad that Laura used for her entire project). I love all of the tiny, rolled-up maps in the chest. Those are from the (New!) Vintage Maps Collage Sheet (also as a Digital Download Set — with 10 additional images not on the collage sheet) that Laura created just for this project. I think they're adorable. Know what else I think is adorable? Sir Stompington III in his boots and hat looking into the trunk! I definitely need the Out of Africa Collage Sheet where he and all of his friends can be found so that I can create my own little story with them.
The crates which start from a 2 Inch Wooden Cube Block are SUPER easy to make, as are the trees which are made from the Kraft-Tex Paper Fabric. By the way, the Kraft-Tex Paper comes in TWO different colors! Natural and Black, both of which I need to get my hands on…
We have Laura's Out of Africa Supply List for you to explore before you end up at Artfully Musing. Once you get to Artfully Musing, you'll find a lot more pictures, tutorials and some free images (including Sir Stompington III's cute little boots!) and bios on each explorer!


Hooray for the Mini Hardware Giveaway!
I've included these goodies from Laura's Expedition Africa (note: that's a link to photos of ALL the supplies — yes, lots more than this list!):
– Vintage Maps Collage Sheet
– Steamer Trunk Mini Kit
– Haunted Ship Travel Collage Sheet
– Out of Africa Collage Sheet
– Tiny Vintage Letters & Postage Collage Sheet
– Vintage Travel Tags & Hardware Collage Sheet
– Blank Altoids Tin
– Bronze Binoculars Charm
– Bronze Small Box Hinges
– Pronged Metal Handles
– Tiny Gold Buckles
– Fluted Ring Pull
– Mini Fancy Latch Set
– Small Box Latches
– 1 Inch Bronze Keys
And from the Steampunk Collage Sheet Sale:
– Hardware Collage Sheet (which brings us up to 7 collage sheets… so many I had to take another photo below to show them all)
And one of the new items:
– Antiqued Brass Winged Heart Charm

To enter the Mini Hardware Giveaway drawing all you have to do is leave a comment BELOW on this blog post TODAY or TOMORROW (the deadline is 11:59 pm PST, MONDAY NIGHT, April 20, 2015). AND tell me either what part of Laura's project you'd like to try your hand at OR what technique Laura used that you found most surprising.
Don't forget to leave your (hello! correct) email address, too, so I can contact the winner; your email address does not need to be made public. Note: I'm offering free shipping, too, but only within the USA. International shipping will still apply.
Please be patient! Spammers try to post crap here a lot so comments are moderated. So if you don't see your post in the comments section, be patient and check back in a few hours before re-posting it, please!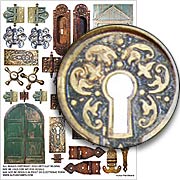 After midnight, I'll randomly pick the winner (via Random.org). So make sure to check back to see who won! And check your mailbox on Thursday morning for the next Giveaway and Newsletter!
Hey, who won the Bookcase of Darkness Giveaway? That would be Dana Desmond! Please check your email for my message about getting your mailing address. (And Dana commented, "I would make a cabinet that might be found in the Dark Arts classroom at Hogworts." Can't wait to see it!)

Posted by Leslie, April 19th, 2015