Design Team Member Nichola Battilana has been busy doing the bidding of her bossy band of fairies and has created a variety of Fairy Dust Bagatelle Boxes.
The Bagatelle Boxes are so adorable! If you aren't familiar with the term Bagatelle, it is a French word that means knick-knack, bauble, or trinket; so just imagine the possibilities of the items that could be showcased AND all of the different ways to do so! The boxes come in SIX different sizes:
– 1-1/2 x 3 Inches
– 2 x 2 Inches
– 2 x 3 Inches
– 1-1/2 x 4 Inches
– 3 x 3 Inches
– 3 x 4 Inches
"I had a few ideas but the fairies were demanding and I ended up with these fairy dust shrines. Don't they look like they just came out of a fairy godmother's cupboard?!"
They do, indeed; and magical as well! They're fabulous!
The boxes can also accommodate various sized bottles and vials such as the 12 Tiny Glass Bottles, 24mm Glass Bottle with Cork, Mini Inkwell Bottles, 2 Glass Bottles w Round Lid – 23mm Tall or the 3cm Tall Bottle with Cork. See the 4 smallest box pages for tips on which bottles fit those boxes.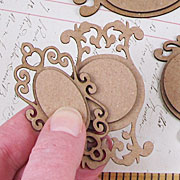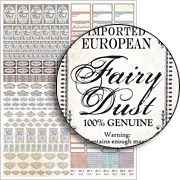 If you want to create your own bit of magic, Nichola has created a (New and On Sale!) Fairy Dust Collage Sheet with lots of tiny labels for tiny bottles.
Tea and crumpets are not required to check out the Fairy Dust Bagatelle supply list, but you may want to grab a cuppa to visit Nichola and view the video tutorial on her blog!
And, check below 'cause that crazy Leslie pulled a Giveaway package full of little bottles and a set of ALL 6 Bagatelle Boxes! (And she included some extra fairy-themed collage sheets, too.)

Next up in our month of Vintage Vagabond, we have Design Team Member Shanna Shands' Safari Hut. Shanna used background papers and images from the Serengeti 6×6 Paper Pad and Out of Africa Collage Sheet. I love the leopard looking at the map… I wonder where he's planning a vacation…
The kit this month can be used in so many different ways. The little suitcase (or steamer trunk) strapping and hardware from the Vintage Travel Tags & Hardware Collage Sheet inspired Shanna to create tiny little suitcases (that open like matchboxes) — and thankfully Shanna provides a tutorial for how she made them.
And those suitcases are really tiny! The scrapbook shown in the lower right of that photo is the smaller of the 2 sizes from the Tiny Vintage Scrapbook Collage Sheet. Shanna's suitcase is just 1-1/2″ by 1-1/8″!
Here is the Supply List and see Shanna's blog for more info and her tutorial! And I can't wait to see the variety of projects during the rest of the month from the Design Team!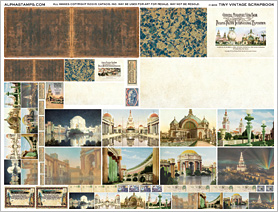 Hooray for the Fairy Dust Bottles Giveaway!
I started with these goodies from Nichola's Fairy Dust Bagatelle Boxes (note: that's a link to photos of ALL the supplies):
– ALL 6 Bagatelle Boxes
– Miniature Bookplates Die-Cut Set (New!)
– Fairy Dust Collage Sheet (New!)
– Candlestick Holder
– 12 Tiny Glass Bottles
– Mini Inkwell Bottles
Then I added a bunch more bottles and fairy collage sheets (linked here and some repeated with photos below):
– Fairy Labels and Ads Collage Sheet
– Green Fairies Collage Sheet
– Pink Fairies ATCs Collage Sheet
– Amber Even Tinier Bottles
– Squat Little Bottles
– Tiny Round Bottles
– 1-1/2 Inch Glass Bottles
– 3cm Tall Bottle with Cork

To enter the Fairy Dust Bottles Giveaway drawing all you have to do is leave a comment BELOW on this blog post TODAY OR TOMORROW (the deadline is 11:59 pm PST, FRIDAY, April 10, 2015)! AND tell me what you'd make with your Bagatelle Boxes. (You all had such great ideas for what to make from the Chipboard Steamer Trunk in the last Giveaway!)
Don't forget to leave your (hello! correct) email address, too, so I can contact the winner; your email address does not need to be made public. Note: I'm offering free shipping, too, but only within the USA. International shipping will still apply.
Please be patient! Spammers try to post crap here a lot so comments are moderated. So if you don't see your post in the comments section, be patient and check back in a few hours before re-posting it, please!
After midnight, I'll randomly pick the winner (via Random.org). So check your mailbox on Sunday morning to see who won and for the next Giveaway and Newsletter!
Hey, who won the Vintage Vagabond Giveaway? That would be Linda Ellis! Please check your email for my message about getting your mailing address. (And Linda said "This travel theme is my cup of tea. I am definitely going to make Agatha Christie's "Death on the Nile" from the trunk!" Wow! I hope you do and I'd love to see it when you're done!)

Posted by Leslie, April 9th, 2015