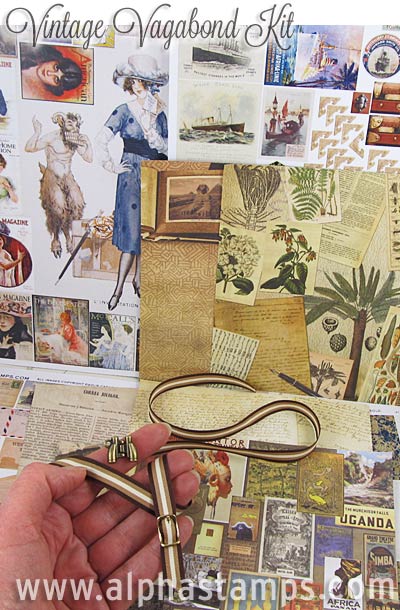 The theme this month is Vintage Vagabond. This year is the 100th anniversary of the 1915 Panama-Pacific International Exposition (that was held in San Francisco) and I have fallen down the rabbit hole! So many collage sheet images in this kit are from that World's Fair.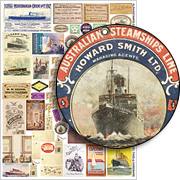 All FOUR (!) of the new collage sheets in this kit also have more photos and info on their individual pages:
– Vintage Travel Tags & Hardware Collage Sheet
– Tiny Vintage Letters & Postage Collage Sheet
– Tiny Vintage Scrapbook Collage Sheet
– Travel Reading Collage Sheet
I've included 6 double-sided sheets from the new Serengeti 6×6 Paper Pads. Even if you can't imagine a vintage safari, the backs of the papers have some nice small prints in a tan/sepia palette that are good background papers for some dusty old luggage (like the outside of the artwork below).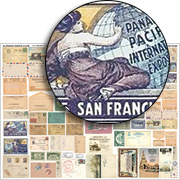 Look at that sweet artwork by Design Team Member Kristin Batsel (below at left)! Kristin mixed the papers and collage sheet images with the Chipboard Steamer Trunk (a related item, available separately) to make a Tiny Traveler Chest.It's so cute that everything gets packed away in the finished chest. It's amazing that whole group: fold-out bed, table, chair, light, fold-down desk (cleverly rearranging the dividers from the steamer trunk to make room for a desk), tiny books and letters from the Tiny Vintage Letters & Postage Collage Sheet in that little desk area — everything (including the girl), all came out of that chest, like clowns from a circus car!

You'll want to see all the tips Kristin shares on her blog post. And/or see the other new goodies Kristin used (like the wooden doll she painted, and the faux suede sheets she cut the straps from) on Kristin's supply list.
See the Vintage Vagabond Kit page for more kit details. Note: all the papers, metal bits, ribbon and collage sheets in the kit are On Sale, too!
And there are FOUR MORE new collage sheets, more tiny trunk hardware, and a related Steamer Trunk Mini Kit (see below for more info).
And don't forget to scroll down to check out today's Giveaway that includes bunches of the new goodies!




Vintage Vagabond Kit Highlights – ALL On Sale!

Hooray for the Vintage Vagabond Giveaway!
I started with a Vintage Vagabond Kit.
And (beside the four new collage sheets in that kit), added the other FOUR NEW collage sheets announced today:
– Steamer Trunk Parts Collage Sheet
– Fun Photos from the Fair Collage Sheet
– Art Deco Travel Posters Collage Sheet
– Out of Africa Collage Sheet
AND these other new goodies announced today:
– Chipboard Steamer Trunk
– Faux Suede Sheets
– 2mm Brass Flat-Back Studs.

To enter the Vintage Vagabond Giveaway drawing all you have to do is leave a comment BELOW on this blog post TODAY or TOMORROW (the deadline is 11:59 pm PST, MONDAY NIGHT, April 6, 2015). AND tell me what you'd make with your Chipboard Steamer Trunk.
Don't forget to leave your (hello! correct) email address, too, so I can contact the winner; your email address does not need to be made public. Note: I'm offering free shipping, too, but only within the USA. International shipping will still apply.
Please be patient! Spammers try to post crap here a lot so comments are moderated. So if you don't see your post in the comments section, be patient and check back in a few hours before re-posting it, please!
After midnight, I'll randomly pick the winner (via Random.org). So make sure to check back to see who won! And check your mailbox on Thursday morning for the next Giveaway and Newsletter
Hey, who won the Mermaid Altered Tin Giveaway? That would be Michelle Toops! Please check your email for my message about getting your mailing address.

Posted by Leslie, April 5th, 2015