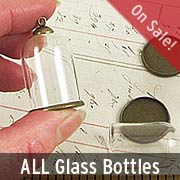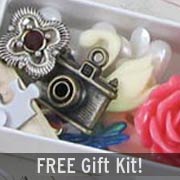 A short intro before Design Team Coordinator Miz Bella (Kim Ayers) introduces a sweet project by Caroline Ouzts-Hay AND one she made herself!
NEW SALE: Glass Bottles! From the cute little vial on Caroline's artwork, to (take a breath…) preorders on the Tim Holtz Mini Mason Jars… ALL the glass bottles are on sale now through Sunday night (April 5th). See them all here!
And I'm continuing the FREE Gift with Order announced on Sunday: Miniatures Matchbox (in honor of TWO adorable miniatures projects by Teri Calia and Nichola Battilana).
AND keeping with the miniatures theme, a reminder: FINAL SALE DAY on Dollhouse Miniatures! The Sale ends TONIGHT (April 2nd at midnight PST)!


March is over and we're not quite ready to release the April kit just yet so Design Team Member Caroline Ouzts-Hay has created a dreamy little Mermaid Altered Tart Tin Trinket Box for you.
"Tart tins are so pretty. You can do practically anything with them and end up with a gorgeous piece. Because of this it is hard to think outside the box sometimes, to use the shabby chic tins in a new way."
For the base of her project, Caroline used two of the New Shabby Chic Tart Tin Frames. These are cream with rusty and antiqued look and are a very generous 3-1/4″ diameter, and already being distressed is an added plus (and time-saver!)
To create the main focal point, Caroline used a mermaid from the Caribbean Blue Mermaids Collage Sheet, Clear Acrylic Bead Sprays – Asymmetrical, Cream Pearl Assortment and Stitched Leaf Ribbon – Moss Green.
"To create the blue spray on the top cover I took 22 gauge wire and coated it with hot glue. While the glue was drying I mixed three different colors of 1mm Micro Beads – Aqua, Clear and Turquoise Pearl, in a small container. I coated the dried (and bumpy) hot glue with a thick fast drying glue and rolled it in the micro bead mixture. Ever so gently I pressed the beads into the glue and set it aside to dry."
See the painted architectural flourishes on the side of the tin? Caroline cast them with the Silicone Mold – Architectural Flourishes and hot glue! Pretty clever, don't you think? Then added a few Tiny Real Seashells and a brass charm finish off the opening.

Here's the list of items used in the Mermaid Altered Tart Tin Trinket Box, and you can visit Caroline's blog to see more pictures and to find out how she created the inside of her treasure box. (And remember to come back and enter today's Giveaway Drawing for most all the parts to make your own Mermaid Altered Tin!)

A quick aside for a beautiful little Paper Moon Shrine (and video tutorial!) by Design Team Member Nichola Battilana! (Using her own New Theatre Clouds Collage Sheet!) Yay! Short and very sweet… go check it out! OK… back to Bella, for an intro for her own project (including felt animals Bella made, too!)

The Little Dreadfuls' Outing
(See photos below.)
On the first day that Spring finally came to the South, Little Olive Dreadful loaded up the youngest Dreadfuls from Mockingbird Manor and off they went, including the very, very naughty children. It seems that yesterday they ran off to the old cemetery (by themselves!) and were raising the dead; having tea parties with them and all without any adult supervision. Those silly children know they're not supposed to raise the dead without an adult present, such naughtiness!

To make the car for Little Olive Dreadful, I used a Shabby Chic Tart Tin Frame and set it on 4 Vintage Ribbon Spools that I painted black. The wheels are the 20mm Rhinestone Flat-Back Setting; to get the gum drop look I used hot glue in the middle of the settings and then quickly poured 1mm Micro Beads in Turquoise Pearl and Pink Pearl over the glue. (Do it quickly and don't go for perfection or you'll end up ruining 3 of your settings like I did!)
The carts that the little mice sit in are made from the top of a Paper Mache Treasure Chest. The top of the chest was cut off, and then cut in half. Under each seat is a 1/8 Inch Wooden Dowel with a Wood Mini Spool at each end of it, then a 'gum drop' wheel attached to each end. Each seat also needed a Wood Mini Spool laid on its side, glued on the bottom behind the dowel so that the car was balanced and wouldn't topple over. (The same for the birdcage, it required a 1-1/4 Inch Wooden Wheel laid on its side so that it wouldn't tip over.)
Not wanting the little mice to fall out of their cars, I took one of the frames from the Sweet Paris Wooden Frame Set and snipped it in half, then cut it down to size (for handle bars). Those were covered in 1mm Micro Beads – Clear AB.
To get the naughty children to stand up (in the cage… see below) I cut the two reverse images out of the Little Darlings Collage Sheet and glued each set to a Mini Wooden Clothespin.
Here is The Little Dreadfuls' Outing Supply List. (And I have to add a final note: Bella forgot to mention that the gearshift is a mushroom!)


Hooray for the Mermaid Altered Tin Giveaway!
I decided (of all the pretty artwork choices today) to choose these items from Caroline's Mermaid Altered Tart Tin Trinket Box (note: that's a link to photos of all the supplies):
– Shabby Chic Tart Tin Frame (TWO of them)
– Caribbean Blue Mermaids Collage Sheet
– 1mm Micro Beads – White Pearl
– 1mm Micro Beads – Turquoise Pearl
– 1mm Micro Beads – Aqua Clear
– Tiny Real Seashells in Tin
– White Plastic Pearls (Strands)
– Stitched Leaf Ribbon – Moss Green
– Medium Glass Trumpet Flowers – Sapphire Blue
– Clear Acrylic Bead Sprays – Asymmetrical
– The Sea Fiber Set
– Cream Pearl Assortment

To enter the Mermaid Altered Tin Giveaway drawing all you have to do is leave a comment BELOW on this blog post TODAY OR TOMORROW (the deadline is 11:59 pm PST, FRIDAY, April 3, 2015)!
Don't forget to leave your (hello! correct) email address, too, so I can contact the winner; your email address does not need to be made public. Note: I'm offering free shipping, too, but only within the USA. International shipping will still apply.
Please be patient! Spammers try to post crap here a lot so comments are moderated. So if you don't see your post in the comments section, be patient and check back in a few hours before re-posting it, please!
After midnight, I'll randomly pick the winner (via Random.org). So check your mailbox on Sunday morning to see who won and for the next Giveaway and Newsletter!
Hey, who won the Rococo Boxes Miniatures Giveaway? That would be Barb! Please check your email for my message about getting your mailing address.
Posted by Leslie, April 2nd, 2015