Update!
A newer post about
Teri's artwork is here
.
Note: most of the links on this post no longer work, as we moved to a new Web site in 2018. However, you can see the supply list items from Nichola's and Teri's projects that are still available on the new site.
A brief intro before Design Team Coordinator Miz Bella (Kim Ayers) introduces projects by Nichola Battilana and Teri Calia… All of the artwork today involves miniatures (and there are some adorable new miniatures below, too) so the ENTIRE Dollhouse Miniatures Section is On Sale!
There's a new FREE Gift with ALL Orders: Miniatures Matchbox (inspired by all the new miniatures and artwork using miniatures in today's newsletter).

AND… the Collage Sheet Sale and FREE Collage Sheet offer is still going strong! For every $20 you spend, you can pick out a FREE Collage Sheet! The "pick out a free collage sheet" offer has expired BUT check the current newsletter for a NEW FREE collage sheet promo!
Final note: in case you missed Thursday's Newsletter, you can still view a Cupcake Stand Topper by Katie Zoey Ho (and that newsletter includes the Tim Holtz "Tag of the Month" for March… with all of the supplies for the tag On Sale)!


With the Marie in Wonderland Kit, Design Team Member Nichola Battilana has created two pieces that are quite tiny, measuring in at just 2-1/4″ tall! (See the little photo of one sitting in Nichola's hand in the lower left corner of that large photo at right.)
The stages are created with two Tiny Paper Mache Boxes and embellished with pretty Gold and Black Dreseden Borders.
Nichola actually cut up some of the dresses from the very popular Marie Takes Tea Collage Sheet to make the theatre curtains for the stage with the Gold Dresden and used the Tall Paper Theatre and Curtains Collage Sheet for the curtains in the theatre with the Black Dresden. The minuscule dancers also come from Marie Takes Tea Collage Sheet.
Dance on over to the Ornate Miniature Marie Theatres supply list then pop in for a visit with Nichola at Pixie Hill to see more pictures AND for a tutorial on how to make the cute little theatres!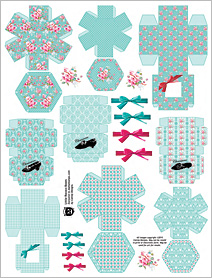 Teri Calia has created an adorable, and very versatile Little Rococo Boxes Collage Sheet and look how sweet her Marie's Boudoir, A Shabby Chic Shadowbox is with all the assorted boxes! (See the wide photo below.) Shoe boxes, hat boxes, boxes with a sweet treat, topped off with a "cherry" (that is actually a Flower Stamen – Cherry). Not to mention the amazing "boudoir" itself; that is the Altered Metal Frame – Ornate with Legs. This 7″ x 9-1/2″ x 1-3/4″ (big!) vintage-style frame comes with a distressed look and the back can be removed for easy embellishing. Do I even have to ask you how versatile that can be? (I think it would be a REALLY cute doll bed for the small animal dolls I am currently making.)
The best thing about the Little Rococo Boxes Collage Sheet, aside from how many different uses there are for the boxes, is how quickly and super easy they go together. Nichola made boxes and put tiny paper cakes inside (with frosting made from the bead mix in the Marie in Wonderland Kit). It's super sticky-sweet, isn't it? Although I wouldn't be adverse to seeing a raven or a bouquet of black roses, or even an eyeball or two in a tiny box after a month of all this pink sweetness but moving on…
Back to Teri's project, here's a link to (all the many items in) Marie's Boudoir, and if you visit Teri's blog you can see more pictures and details.
Guess what? So that you an go as crazy over miniatures as we are, ALL of the Dollhouse Miniatures are on SALE! OK. I'll wait 30 minutes while you go place your order before I place mine!


Hooray for the Rococo Boxes Miniatures Giveaway! (Marie Antoinette and garden gnomes… who knew?)
This one is jam packed with goodies (and all those rich reds and golds make me think of Christmas… hm). Let's start with the items from Teri's Marie's Boudoir Shabby Chic Shadowbox supply list (note: that's a link to photos of all the supplies):
– Little Rococo Boxes Collage Sheet
– More Marie Antoinette Collage Sheet
– Tiny Little Books Collage Sheet
– Sweet Paris 8×8 Paper Set (so busy it didn't fit in the main pic… bt see below)
– Miniature Glass Pitcher & Glasses (did you notice Teri used the pitcher as a vase?)
– Light Tan Wide Lace
– Brass Fans
– 1/2 Inch Pale Pink Paper Roses
– Ceramic Cupcake Beads
– Mini Heart Tart Cake
– Mini Strawberry Cake
– Small Paper Theatre Box – Clear Window Insert
– Flower Stamen – Cherry
– White Foam Stamen
Next, items from Nichola's Mini Theatre Boxes supply list (again, that's a link to photos of all the supplies):
– Mini Floral Dresden Borders – Antique Gold
– Thin Looped Dresden Borders – Gold
– Thin Looped Dresden Borders – Black
– French Ballet Costumes Collage Sheet
– Dragonfly Wing Beads
– 3mm Brass Flat-Back Studs

– Tall Paper Theatre and Curtains Collage Sheet
– Raw Brass Flourish
– Tiny Paper Mache Box Set
THEN, more items (some brand new) that I liked in the mix (ALL On Sale!):
– 12mm Wooden Drawer Pull or Box Feet (New)
– Garden Gnomes Resin Embellishments (New)
–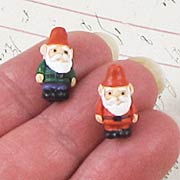 Mini Ceramic Garden Gnome Bead
– Mini Silver Wind Chimes (New)
– Miniature Garden Tools (New)
– Mini Gardening Hand Tools (New)
– Miniature Rusty Metal Lantern (New)
– Mini Garden Plant Stand (New)
– Gold Sweeper Fringe
– Pink Sweeper Fringe
– Miniature Open Book
– Miniatures Matchbox Gift Kit

To enter the Rococo Boxes Miniatures Giveaway drawing all you have to do is leave a comment BELOW on this blog post TODAY or TOMORROW (the deadline is 11:59 pm PST, MONDAY NIGHT, March 30, 2015).
Don't forget to leave your (hello! correct) email address, too, so I can contact the winner; your email address does not need to be made public. Note: I'm offering free shipping, too, but only within the USA. International shipping will still apply.
Please be patient! Spammers try to post crap here a lot so comments are moderated. So if you don't see your post in the comments section, be patient and check back in a few hours before re-posting it, please!
After midnight, I'll randomly pick the winner (via Random.org). So make sure to check back to see who won! And check your mailbox on Thursday morning for the next Giveaway and Newsletter
Hey, who won the TWO Lots of Ovals Giveaways? That would be Lu L AND Ginette Proulx! (Note: the second Giveaway was a random drawing from orders placed during the contest.)

Posted by Leslie, March 29th, 2015