A brief intro (ok.. maybe a bit longer than "brief") before I hand this newsletter off to Miz Bella (Kim Ayers) (to tell you all about a project by Design Team Member Lora Mahaffey AND the BIG Tim Holtz SALE). (And note: today's Giveaway (farther below) is all about Lora's project!)
There's a new FREE Gift with Order offer: Double Dot Vintage Color Swatchbook (inspired by the new colors of the popular Double Dot Vintage line that Lora used in her witty little The Disastrous Tea Party — more info and photos of those new products below).

AND… the Collage Sheet Sale and FREE Collage Sheet offer is still going strong! For every $20 you spend, you can pick out a FREE Collage Sheet! The "pick out a free collage sheet" offer has expired BUT check the current newsletter for a NEW FREE collage sheet promo!
Final note: in case you missed Thursday's Newsletter, you can still view High Tea with Marie by Shannon Cooper (and that newsletter includes that long anticipated Sweet Paris Mini Kit with artwork by Teri Calia)!


Lora Mahaffey has had a bit of fun with the Marie in Wonderland Kit with all of its tea, sweets, food and frills. I am afraid its touched her in the head a bit more than normal — although we wouldn't have her any other way so there's nothing to worry about. The Disastrous Tea Party… or What Really Happened to Marie Antoinette is Lora's made-up little story to go with all the teeny, tiny, yummy things that inspired Lora from the kit, but if only Marie wasn't so cheap… well I won't give away the ending!
Lora used the ATC Book Box for her "book", and my, what a lovely book it is! Your attention is immediately drawn to the lovely double tiered tables (that clever Lora used Wood Finial Chess Pawns for the legs) with a Mini Strawberry Cake, Mini Heart Tart Cake, assorted pastries from the Marie Takes Tea Collage Sheet and a bouquet of Mini Rose Buds – Pale Pink in a tiny vase (made from a bead)! Pull the table insert away from the box and…
There's a big party going on with everyone having a grand time drinking, dancing and carrying on like no one is watching! The adorable dancing fools come from the French Ballet Costumes Collage Sheet and the super-duper versatile paper that Lora has used is the Double Dot Vintage Scrapbook Paper Shadow (Back in Stock!), Passion Fruit (New!) and Pink Punch (New!). It seems like no matter what color this particular paper comes out in, it becomes a neutral staple in your stash because you can use it for so many different things.
Here is Lora's supply list.
Wait… what is this? A note on the spreadsheet that we use for upcoming newsletters. (Yes, I'm snooping around; it's the only way I find things out!) "NEW Tim Holtz Distress Color: Mermaid Lagoon." Mermaid Lagoon! Doesn't the name alone make you want the color? There is a Mermaid Lagoon Paint, Stain, Ink Reinker, Ink Pad, Distress Marker, and Spray Stain in the collection. All of them can be Pre-Ordered (and you'll be first to get them when the first order arrives… more info is on each of those pages, including a link to a video demo).
Looks like there's a couple of new Distress Markers, too, in Cracked Pistachio and Abandoned Coral. Sahweeet! Think I'll add those to my next order as well.
Since almost all the new items being announced today are by Tim Holtz… Leslie just put the ENTIRE Tim Holtz Products Section On Sale! Over 400 products! Catch 'em quick 'cause the sale will end this Thursday, March 26th!
Telling you about all this makes me want to pull out my paints, stains, embossing folders and everything else; I'm off to run with scissors!


Hooray for the Disastrous Tea Party Giveaway!
This one is a short list but packed with goodies from Lora's The Disastrous Tea Party supply list (note: that's a link to photos of all the supplies):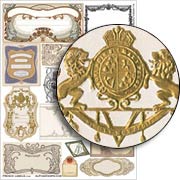 – March 2015 Kit – Marie in Wonderland
– French Labels Collage Sheet
– ATC Book Box
– Wood Finial Chess Pawns (3 sets)
– Double Dot Vintage Shadow Scrapbook Paper
– Double Dot Vintage Passion Fruit Scrapbook Paper
– Double Dot Vintage Pink Punch Scrapbook Paper
– 8×8 Heavy Chipboard (for the table tops)
– Mini Heart Tart Cake
– Ceramic Cupcake Beads
– Mini Strawberry Cake
– 27mm Resin Tea Party Heart Doilies
To enter the Disastrous Tea Party Giveaway Drawings (yes, plural, as I pulled two of these prize packages!):
1. you can leave a comment BELOW on this blog post TODAY OR TOMORROW
and/or
2. you can place an order TODAY OR TOMORROW (all orders will be in the drawing for the 2nd prize package)
The deadline for both drawings is 11:59 pm PST, MONDAY NIGHT, March 23, 2015)!
Don't forget to leave your (hello! correct) email address, too, so I can contact the winner; your email address does not need to be made public. Note: I'm offering free shipping, too, but only within the USA. International shipping will still apply.
Please be patient! Spammers try to post crap here a lot so comments are moderated. So if you don't see your post in the comments section, be patient and check back in a few hours before re-posting it, please!
After midnight, I'll randomly pick the winners (via Random.org). So make sure to check back to see who won! And check your mailbox on Thursday morning for the next Giveaway and Newsletter!
Hey, who won the TWO Sweet Paris Mini Kit Giveaways? That would be Orianna AND Kimberly Baier! (Note: the second Giveaway was a random drawing from orders placed during the contest.)
Posted by Leslie, March 22nd, 2015