Before Design Team Coordinator Miz Bella (Kim Ayers) introduces projects by Shannon Cooper and Teri Calia (and I get to announce a new kit), a reminder that we are again having TWO Giveaway drawings! More info below.
And I'm continuing the FREE Gift with Order announced on Sunday: All that Glitters (in honor of the new All that Glitters Foiled Scrapbook Paper and Gold Tapes from Sunday's newsletter).
AND… the Collage Sheet Sale and FREE Collage Sheet offer is still going strong! For every $20 you spend, you can pick out a FREE Collage Sheet! The "pick out a free collage sheet" offer has expired BUT check the current newsletter for a NEW FREE collage sheet promo.


It's mid-month, one day after everyone has stuffed themselves silly with corned beef and cabbage, among other naughty excesses so let's lighten it up a bit with with Design Team Member Shannon Cooper's High Tea with Marie!
Like the rest of us here at Alpha Stamps, Shannon loved the Marie in Wonderland Kit since it is full to the brim with tasty sweets, an outrageously poofy Die-Cut Chipboard Panniers Dress, tea sets, and Marie of course! It's the perfect kit to create invites for a High Tea with Marie out of and that's just what Shannon did.
"I started by making tea party place settings with a fun twist. A Lot of my paper projects tend to be interactive and I thought it would be great to have articulated Maries to play around with while daintily sipping your tea. The paper dolls were made by cutting out three separate pieces of the same image from the Marie Takes Tea Collage Sheet, punching holes with a tapestry needle through the shoulders, upper arms, and forearms, and then attaching them together with Metallic Mini Brads.
I covered the back of the Die-Cut Chipboard Panniers Dress with paper from the Harmony 6×6 Paper Pad, inked the edges, and then glued it to the back of the poseable Marie. Marie's front was decorated with Diamond Stickles, Stickles Dry Fine Glitter – Lagoon, and tiny adhesive gems. Lots of those scrumptious cakes and teacups were cut from the same Marie Takes Tea collage sheet and I glued the short ends of a sliver of paper to the back so Marie could hold her cake and eat it too! Plus, it's fun to put cookies on her head."
Making paper dolls from the Marie Takes Tea Collage Sheet was so clever! I love how it looks like they're pouring each other a cup of tea as well, as if they're saying, "Yes, I'll have just a spot more, thank you!"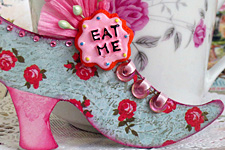 So that Marie doesn't topple over — from what you ask? From all those cookies on top of her head of course, and not from the booze that Marie has snuck into her tea! Sheesh. What kind of party do you think we have around here? Anyways, Shannon created lovely little ornaments that are housed inside of each box AND she has made a quick tutorial for you as well! But first! Before you run over to visit Shannon, sneak a peak at the memento that she made for herself (at right) using the 18th Century Chipboard Shoe and some Flower Stamen – Aqua Blue. Super cute!
Drop some cookie crumbles over the High Tea with Marie supply list, then grab your cuppa and visit with Shannon at her blog for more pictures and a tutorial!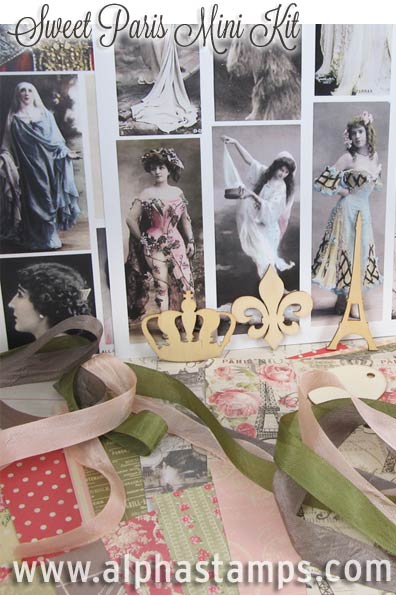 A New Kit!

This month is a little out-of-the-ordinary. Instead of an add-on kit that contains extras sent to the Design Team with the main March Kit, I've put together this coordinating Sweet Paris Mini Kit.
So if you want more papers, collage sheets and trims with a French theme (and with one click), here's your chance.
This kit includes:

– New! 1 sheet each of 12 designs from the Sweet Paris 8×8 Paper Set
– New! A Sweet Paris Wood Elements Set (1 each of 4 wood cut-outs, including The Eiffel Tower, a Fleur de Lis, a tag and a crown)
– One yard each of three seam binding colors that coordinate perfectly with the new papers: Serbin Brown, Grecian Pink and Mottle Brown (all from Seam Binding – Art Nouveau Colors).
Plus 3 collage sheets:
– Paris Showgirls #2 Collage Sheet
– Caroline Otero Collage Sheet
– Vintage French Ads Collage Sheet
More info is on the Sweet Paris Mini Kit page.
And check out the cute Rococo Ladies in Hats artwork by Teri Calia below (and at right)! I love art that has pieces that can be rearranged in different ways (and ladies riding in teacups and shoes like they're chairs or boats — and I love the little underskirt Teri made for the standing lady (in the photo at right) with rows of gathered seam binding). See more photos in the Gallery.


Hooray for the Sweet Paris Mini Kit Giveaway!
In addition to a Sweet Paris Mini Kit, I added these items from Teri's Rococo Ladies in Hats:
– Sweet Paris Wooden Frame Set (New!)
– Rococo Busts Collage Sheet (New!)
– 1/2 Inch Bright Pink Paper Roses (New!)
– 1/2 Inch Pale Pink Paper Roses (New!)
– Die-Cut Chipboard Panniers Dress
– 18th Century Chipboard Shoe (two of them)
– Chipboard Tea Set
– Large Wooden Theatre Base
– Wood House Shape – Large

To enter the Sweet Paris Mini Kit Giveaway Drawings (yes, plural, as I pulled two of these prize packages!):
1. you can leave a comment BELOW on this blog post TODAY OR TOMORROW
and/or
2. you can place an order TODAY OR TOMORROW (all orders will be in the drawing for the 2nd prize package)
The deadline for both drawings is 11:59 pm PST, FRIDAY NIGHT, March 20, 2015)!
Don't forget to leave your (hello! correct) email address, too, so I can contact the winner; your email address does not need to be made public. Note: I'm offering free shipping, too, but only within the USA. International shipping will still apply.
Please be patient! Spammers try to post crap here a lot so comments are moderated. So if you don't see your post in the comments section, be patient and check back in a few hours before re-posting it, please!
After midnight, I'll randomly pick the winners (via Random.org). So check your mailbox on Sunday morning to see who won and for the next Giveaway and Newsletter!
Hey, who won the TWO Golden Eggs Giveaways? That would be Karen AND Deborah Thomas! (Note: the second Giveaway was a random drawing from orders placed during the contest.)
Posted by Leslie, March 19th, 2015