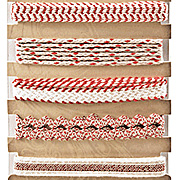 A couple quick announcements before I tell you about the ADORABLE (!) miniatures by Teri Calia.

First: there's a new FREE Gift Kit: Homespun, as we're continuing our button mania this month (and I was inspired by Teri's artwork — and all the New and On Sale! Home Sweet Home papers and rubber stamps)! More info

Second (inspired by that little gift kit): I've just put all the Twill Tape Ribbons On Sale! — from 20% to 40% off! (And, yes, that includes that cute little trim set at left by Tim Holtz!)


I love the miniatures that Teri Calia creates! And Teri has outdone herself, as she made THREE tiny sewing projects for today's newsletter!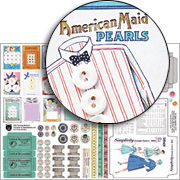 Teri's New! Mini Sewing Notions Collage Sheet (On Sale! now through Sunday night, February 22nd) is filled with tiny things to make a sewing project: miniature versions of vintage button cards and other sewing ephemera (including mini boxes to fold together).
Note: this collage sheet includes tiny spool labels sized for the Wood Mini Spools and New! Small Wooden Spools (shown at left with the New! Vintage Ribbon Spools and Small Wooden Finials — also used in Teri's projects… it's deceiving from looking at all the details in the finished artwork just how tiny those wooden spools are).
See the tiny spools in the box at the top of the photo at right? Those are the Wood Mini Spools and have labels from the new collage sheet — and they're inside a tiny box put together from the collage sheet, too… like that aqua pin box just to the right of my thumb.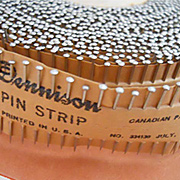 And sneaking behind that aqua pin box is a little strip of Dennison Brass Pin Strip (new to the site but a vintage item: originally made for Dennison Pinning Machines).
Here's a link to Teri's supply list (that covers all 3 of her sewing projects). And visit Teri's blog for more pictures and info on the two miniature sewing chests that I've run out of time to discuss (but two photos of one of them are at the bottom of the photo at right); and Teri's blog post includes tips on making a mini pin cushion, too.
But don't forget to come back, and enter the Tiny Sewing Basket Giveaway drawing (info below) that includes many of the items from Teri's artwork!


Hooray! A Tiny Sewing Basket Giveaway!
I picked out quite a few of the items from Teri's Mini Sewing Vignettes (note: that's a link to photos of all the supplies):
– Small Wood Box – with Lid
– Mini Sewing Notions Collage Sheet
– Wood Mini Spools
– Vintage Ribbon Spools
– Small Wooden Spools
– Small Wooden Finials
– Jewelers Tins
– 6mm Heart Buttons
– Japanese Cat Buttons
– Iridescent Ribbons with Edge-Stitching
– Satin Ribbon Sampler Set
– Giant Brass Scissors
– Pronged Metal Handles
– 7mm Flower Washers
– Rainbow Spheres in Tube
AND one of the NEW Homespun Gift Kits!
(Note: I've just put all the Twill Tape Ribbons On Sale!)
To enter the Tiny Sewing Basket Giveaway drawing all you have to do is leave a comment BELOW on this blog post TODAY OR TOMORROW (the deadline is 11:59 pm PST, FRIDAY, February 20, 2015)!
Don't forget to leave your (hello! correct) email address, too, so I can contact the winner; your email address does not need to be made public. Note: I'm offering free shipping, too, but only within the USA. International shipping will still apply.
Please be patient! Spammers try to post crap here a lot so comments are moderated. So if you don't see your post in the comments section, be patient and check back in a few hours before re-posting it, please!
After midnight, I'll randomly pick the winner (via Random.org). So check your mailbox on Sunday morning to see who won and for the next Giveaway and Newsletter!
Hey, who won the Fabric Needle Book Giveaway? That would be Bobbie Kangas! Please check your email for my message about getting your mailing address.
Posted by Leslie, February 19th, 2015