A couple quick announcements before Miz Bella (Kim Ayers) introduces THREE Land of the Butterfly Queen projects by Laura Carson!

The 25% off Sale on ALL of the Gilded Life Pendants, Embossing Folders & Dies ends TODAY! See last Thursday's Newsletter for the new pendants that inspired this sale, AND for the Valentine Chocolate Box by Caroline Ouzts-Hay that inspired the Mini Chocolate Box FREE Gift Kit.


No time for sentiments today, my darlings! She who never sleeps, Design Team Member Laura Carson, has been burning the midnight creative oil again. You already know how fab she is, so I'm just going to jump right into things.
Starting off: Laura designed 5 new collage sheets and a digital download set that goes along beautifully with the Sanctuary Scrapbook Papers. Land of the Butterfly Queen Collage Sheets #1 and #2, Butterflies & Moths Collage Sheet, Floral Panels Collage Sheet, AND the Butterflies & Moths Digital Download Set. Get ready because your Springtime Muse is going to wake up and want to play once you see these! AND, all 6 of the Sanctuary Papers AND the 5 NEW collage sheets are On Sale!
Next: Laura made 2 tiny glass books. (Yes, I said GLASS!) A Tiny Square Glass Book (photos below) made with 1-1/2 Inch Square Glass Slides and a Tiny Glass Accordion Fold Glass Book made with 1×2 Inch Rectangular Slide Glass. Can you believe that these books are hinged?! Should I make an accordion book with floral panels or the square book with butterflies and adorable 15mm Bronze Bow Connector Charms? Decisions, decisions!
Finally: the Large Glass Book (photos at left and right). Goooorjuhhss!!! Seriously — what's not to love about this book? Laura said:
"The centerpiece of the cover of the book is a piece of glass that is stamped, embossed and painted. The cover of the book is made from three pieces of chipboard and the center piece holds the glass, while the front and back pieces keep the glass in place by creating a sandwich."
My favorite part of the cover, aside from everything? The Creative Paperclay ornament on the front cover from new Silicone Mold – Ornaments & Settings. Another favorite element that I can't wait to get my hands on is the Springtime Robin Unmounted Rubber Stamp. This is such a pretty stamp! Like an embroidered lace panel with butterflies, eggs, daisies and a robin.
There is a supply list for each of these projects! Tiny Square Glass Book, Tiny Accordion Fold Glass Book and the Large Glass Book. Once you get over to Laura's blog, you won't be able to peel your eyeballs off the screen there are so many gorgeous pictures (and tutorials)!
And come back after you've recovered from you swoon: Leslie pulled together a very pretty Sanctuary Giveaway based on Laura's projects, and there are lots of yummy new items, most of which Laura used in her books!

More New Goodies – All on Sale! View All

Hooray for the Sanctuary Giveaway!
Starting off this purdy Giveaway with ALL 6 of the Sanctuary Papers AND ALL 5 of Laura's NEW collage sheets! (Yes, and that link includes the Into the Woods Collage Sheet that Laura also used in her artwork, so I'm including that one, too!)
Next, all of these items I gathered from one or another of Laura's Land of the Butterfly Queen projects:
– Bronze Branch Connectors
– 15mm Bronze Bow Connector Charms
– Gold Metallic Mini Braid
– 25mm Round Antique Bronze Setting
– White Foam Stamen
– Old Fashioned Roses (in White)
– 12mm Acrylic Rose Beads – Mixed Colors
– 3/8 Inch Looped Ivory Lace
– 7/8 Inch Fancy Fan Ivory Lace
– White Curly Petal Paper Flower Sprays
– 1×2 Inch Rectangular Slide Glass (hard to see but they're in the left of the photo… with the two bronze metal connectors on the glass)
Then I added all three of these goodies (they just looked good with the palette):
– Stitched Leaf Ribbon – Ivory
– Stitched Leaf Ribbon – Moss Green
– 1/4 Inch Sheer Iridescent Ribbon (Celery with Pink Edge color)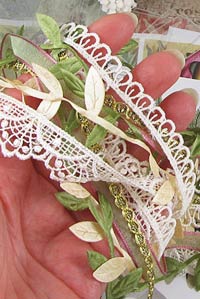 To enter the Sanctuary Giveaway drawing all you have to do is leave a comment BELOW on this blog post TODAY or TOMORROW (the deadline is 11:59 pm PST, MONDAY NIGHT, January 26, 2015).
Don't forget to leave your (hello! correct) email address, too, so I can contact the winner; your email address does not need to be made public. Note: I'm offering free shipping, too, but only within the USA. International shipping will still apply.
Please be patient! Spammers try to post crap here a lot so comments are moderated. So if you don't see your post in the comments section, be patient and check back in a few hours before re-posting it, please!
After midnight, I'll randomly pick the winner (via Random.org). So make sure to check back to see who won! And check your mailbox on Thursday morning for the next Giveaway and Newsletter
Hey, who won the Chocolate Box Giveaway? That would be Dawn! Please check your email for my message about getting your mailing address.
Posted by Leslie, January 25th, 2015