We're all mad here at Alpha Stamps, and the maddest of us all is Design Team Member Laura Carson. Who else could design a set of awesome, Alice in Wonderland Tarot Cards AND a Diorama AND coordinating collage sheets? See what I mean? The woman is quite mad, but we wouldn't have it any other way!
"I'm kicking off the New Year with a trip to Wonderland where anything is possible. When I saw the Star Crossed Lovers Kit at Alpha Stamps all I could think of was Alice, and with a set of Alice tarot cards you can unlock your own future."
What's not to love about the tarot cards? The bases of the cards are made from Blank Playing Cards. The Star-Crossed 12×12 Collection Pack and the Star-Crossed 6×6 Paper Pad have the perfect palette for Alice-themed projects with a lot of red, black and aqua blue. Laura's two new collage sheets, We're All Mad Here and Wonderland, go with the new papers beautifully. Guess what? There's also a 62 piece, Wonderland Set Download, too. (The frames you see on each card are from the Wonderland Collage Sheet and the Wonderland Set Download.)
The Wonderland digital image set includes all of the images in both the We're All Mad Here and the Wonderland Collage Sheets along with 14 more images (and silhouetted .png files so they're a breeze to layer over each other for digital collages). Just imagine how much fun you could have falling down the rabbit hole with all those images!
For instance: as much fun as Laura had creating her We're All Mad Here Diorama (see photo below). You know I have to ask, as I always do when speaking about Laura: When does she sleep?!
One of my favorite elements from the diorama is the lacy paper heart atop the house of cards. It's cut out from the new and on sale Die-Cut Red Lacy Heart Wraps that is actually meant for wrapping cupcakes, but the die-cut hearts are perfect for using in a collage. (As you can see!)
Of course, Laura explains on her blog how she made everything, including the tarot cards AND the adorable house of cards in her diorama. Before you run on over to Laura's wonderland, here's a list of the supplies she used. There is a FREE download for you if you'd like to make your own tarot cards on her blog so hurry, hurry… don't be late!(And don't forget to come back (or just scroll down) to enter today's Giveaway.)

Highlights from Laura's Supplies – ALL On Sale!

Hooray for the We're All Mad Here Giveaway!
What a fun, colorful Alice in Wonderland and Valentine's Day mash-up!
First, let's start with all of these items from BOTH of Laura's Alice Projects (note: that's a link to photos of all the supplies):
– We're All Mad Here Collage Sheet
– Wonderland Collage Sheet
– Yesterday Papillon Scrapbook Paper
– Die-Cut Red Lacy Heart Wraps
– 18mm Matte Puffy Heart Beads
– Blank Playing Cards
– Star-Crossed Vanity Scrapbook Paper
– Small Playing Card Decks
– 1 Inch Playing Card Deck
– Red Floral Dresden Hearts
– Mushrooms – Orange
– Mushrooms – Brown
– Tiny Green Leaf Garland
Then, I added a couple more items that fit in with Laura's theme (ALL On Sale!):
– Key To My Heart – Dreamy Scrapbook Paper
– Key To My Heart – Flattered Scrapbook Paper
– The Red Queen Collage Sheet
– 4mm Fused Pearls – Red
And an unmounted Alice's Adventures Rubber Stamp Set! (AND I just put that rubber stamp set AND the Alice Tea Party Rubber Stamp Set On Sale!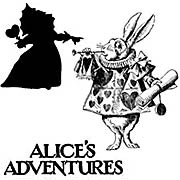 To enter the We're All Mad Here Giveaway drawing all you have to do is leave a comment BELOW on this blog post TODAY or TOMORROW (the deadline is 11:59 pm PST, MONDAY NIGHT, January 12, 2015).
Don't forget to leave your (hello! correct) email address, too, so I can contact the winner; your email address does not need to be made public. Note: I'm offering free shipping, too, but only within the USA. International shipping will still apply.
Please be patient! Spammers try to post crap here a lot so comments are moderated. So if you don't see your post in the comments section, be patient and check back in a few hours before re-posting it, please!
After midnight, I'll randomly pick the winner (via Random.org). So make sure to check back to see who won! And check your mailbox on Thursday morning for the next Giveaway and Newsletter
Hey, who won the Juliet & Roses Giveaway? That would be Linda K! Please check your email for my message about getting your mailing address.
Posted by Leslie, January 11th, 2015