Wow! That week of kits and Giveaways went by like a blur. A few things have sold out, but the items put on sale (to coordinate with the daily kits) will be on sale through tomorrow night (Monday, January 5th). See this blog post (the yellow box with the list of themes) to jump to each post and see the sale items (and the kits — the kits are still available, either via that list or here in the current kits category).

Next up: Design Team Call! We are excited to announce that we are looking for new Design Team Members and Guest Designers for Alpha Stamps!


It's time to announce the January Kit: Star-Crossed Lovers!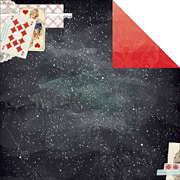 When I saw the Star-Crossed Collection, I knew I'd have to work it into a kit (a Valentine's Day kit with lots of red, but with some black mixed in, too, for those doomed, "star-crossed" lovers, Romeo and Juliet). I love all the themes mixed into the collection: from star constellations, typewriter keys and playing cards to Alice in Wonderland.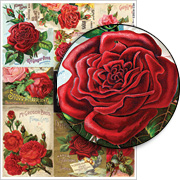 And I couldn't leave well-enough alone: I mixed in another scrapbook paper — Papillon from the Yesterday Collection (and added the New Red Roses and Vaguely Valentine collage sheets).
Plus some Red and Pink Glass Heart Charms and Red Floral Dresden Hearts.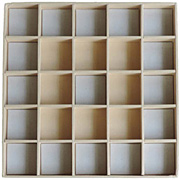 See the Star-Crossed Lovers Kit page for more details.
And check out the wonderful artwork using the new kit, by Design Team Member Kristin Batsel! Kristin used the New and On Sale! Countdown Chipboard Shadowbox as the structure (and way to organize) a galaxy of little 2″ x 2″ collages (all united by the turquoise and red color palette). There is so much to take in… and I love the way Kristin mixed in everything from Juliet, circus elephants, the Queen of Hearts, and Casanova… all the way through the Easter bunny!
Here is the stupendous Supply List and learn more about the project (and see more photos) at Kristin's blog. More of Kristin's photos plus more artwork made from this kit is in the Gallery. (And don't forget to come back (or just scroll down) to check out the second kit and today's Giveaway.)


Hooray for the Star-Crossed Lovers TWO-Kit Giveaway!
Yes, you've already had a preview of both kits so I'm not repeating the photos here, but the Giveaway today is for both the Star-Crossed Lovers Kit and the Star-Crossed Lovers Add-On Kit!
To enter the Star-Crossed Lovers TWO-Kit Giveaway drawing all you have to do is leave a comment BELOW on this blog post TODAY or TOMORROW (the deadline is 11:59 pm PST, MONDAY NIGHT, January 5, 2015).
Don't forget to leave your (hello! correct) email address, too, so I can contact the winner; your email address does not need to be made public. Note: I'm offering free shipping, too, but only within the USA. International shipping will still apply.
Please be patient! Spammers try to post crap here a lot so comments are moderated. So if you don't see your post in the comments section, be patient and check back in a few hours before re-posting it, please!
After midnight, I'll randomly pick the winner (via Random.org). So make sure to check back to see who won! And check your mailbox on Thursday morning for the next Giveaway and Newsletter!
Hey, who won the Rose Cafe Kit Giveaway? That would be Jackie! Please check your email for my message about getting your mailing address.
Posted by Leslie, January 4th, 2015