I am at a loss for words. Laura Carson has created a fantabulous Santa's Village Tutorial & New Collage Sheets! Seriously — the woman creates this amazing little village and collage sheets on top of it. I want whatever Laura is having — perhaps it's better than the tequila I'm partaking of at this moment.
There is so much to take in with the village, I'll have let Laura introduce it while I go for a refill.
"Ho! Ho! Ho! it's off to the ice and snow of the North Pole where Santa's Village awaits. I love presenting projects that have lots of options; you can start by making just one piece, or make them all. And this is the kind of project you can add to over time, perhaps making one special piece each year. I've started mine off with a Toy Workshop, Santa's House, Reindeer Barn, and the Sweets & Treats Factory. I used all kinds of things for bases and houses (a paper pattern, a masonite kit, a 5 Inch Chipboard House Kit and Small Paper Mache Houses). I've also create new collage sheets and digital image sets that fit with the project. I'll walk you through the details of how I made each piece and include a supply list that corresponds to the piece."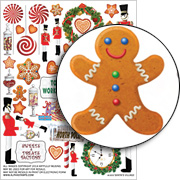 Oh she just throws it out there so casually, doesn't she? I will tell you that I am obsessed with the 5 Inch Chipboard House Kit. OBSESSED! The Evil Queen has only sent me one of these little houses (when I wanted 10) and I can't wait to get more; don't you think they'll make the most adorable glitter houses to go with the December 2014 – House Ornament Kit?
As Laura said, she has new collage sheets that go with her amazing Santa's Village: Santa's Village and Winter Wonderland. By the way, both of those collage sheets are also available as digital downloads (with separate silhouetted .png files)!
Being the big-hearted artist that she is, Laura has put together a tutorial for you so that you can start creating your own village. Of course, my village will have to have a fully stocked liquor store (run by elves named Chris and Liza) but I digress! Grab your cup of hot chocolate (or two!) while you peruse Laura's Supply List; then head on over to her blog to be amazed by her latest creation and tutorial.

Aren't those snowman ornaments adorable?! Miz Bella used the template from the 3D House Ornament Collage Sheet to create them!
And those retro '50s images from the Silly Snowmen Ornaments Half Sheet go perfectly with the writing style of the Mini Handwritten Holidays Cling Stamp Set.
Check out Miz Bella's Supply List.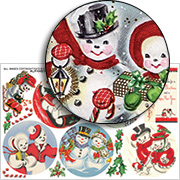 Posted by Leslie, December 7th, 2014